Each year New Contemporaries invites three established artists with diverse practices and aesthetic sensibilities to select a group of final-year students and recent graduates to showcase their work in a touring exhibition. Inevitably, the exhibition is always vibrant and diverse, but this year's edition (currently available to view via a digital platform designed by HATO) does more than celebrate artistic brilliance, it demonstrates the incredible power of art to reflect, transport, entertain and connect disparate audiences.
Of course, this effect is heightened by our current situation as the majority of us continue to be confined to our homes and separated from all cultural interaction except via our computer screens. Life is repetitive, laboured and tiresome; even the smallest choices – what to watch, what to eat, where to walk – are challenging and so, the idea of immersing yourself in the experimental artworks of 36 rising artists understandably might be slightly overwhelming, but strangely enough, the show delivers a sense relief. 'Yes!' you'll find yourself thinking as you dive into each virtual, artistic microcosm. 'I'm not completely numb! Creativity still exists!' Or, at the very least, there's the joy and satisfaction of witnessing culture-in-the-making and potentially discovering 'the next big thing.' Over the past 70 years, the New Contemporaries exhibitions have helped to launch the career of artists such as Tacita Dean, Sunil Gupta, Mona Hatoum or Lynette Yiadom-Boakye.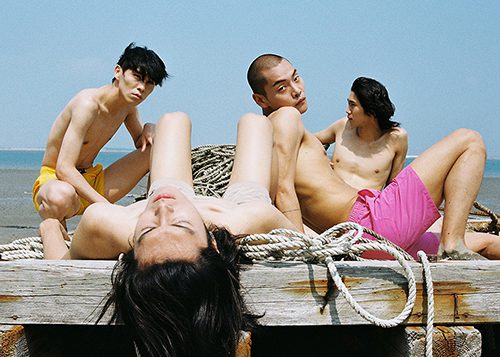 This year's group of participating artists were selected by Alexandre da Cunha, Anthea Hamilton and Linder through a two part process and whilst it would be wrong to try and reduce the exhibition to any one specific theme or focus, an intimate and existential current flows throughout the works. Amongst the most pertinent of questions are those relating to the cybersphere. How do we represent ourselves using digital technologies? How do these technologies effect our understanding and perception of the world? Admittedly, these aren't exactly new topics in the art world, but these artists are approaching them from unusual, sideways perspectives.
Chen Si-zuo's work is amongst the strongest – and strangest. The artist's 2-minute video Murmur (2019) transforms the artist's paintings of doll-faced female figures into animated, writhing, cyborg characters who inhabit a futuristic floating island in space. At the same time as being deliciously surreal, the piece meditates on historical and contemporary representations of women, who have, in the words of one of Si-zuo's captivating, supine figures, 'at best, been understood to be a deficit version of a humanity which is already male.'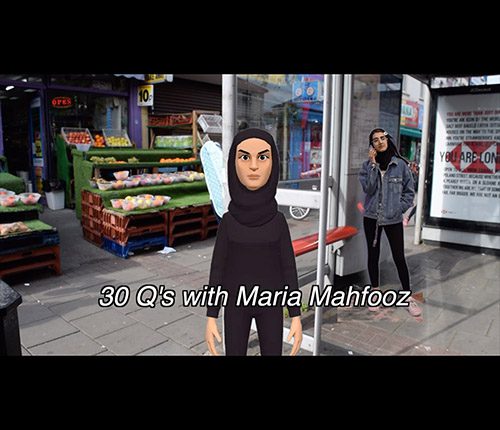 Maria Mahfooz also plays with digital characters to explore her position as 'a visibly brown Muslim women.' Her video work 30 Questions with Maria Mahfooz is a deliberate parody of Vogue's '73 Questions with…' series in which the magazine interviews celebrities as they walk around their house, or neighbourhood. In Mahfooz's version, the artist creates a basic digital representation of herself (who has limited movement capabilities and a robotic, monotone women's voice) situated in the real-life streets of Manor House, the roots of her parents' migration. As Mahfooz's digital avatar appears to drift through the urban setting, we encounter figures in the background who appear badly cut-out (missing feet or half their legs) from other contexts. The effect is a deliberate to contrast the smooth, Hollywood edit of Vogue's videos which reinforce the illusion of perfection that celebrity culture fosters. The artist also uses the typically superficial questions to bring up deeper issues of race.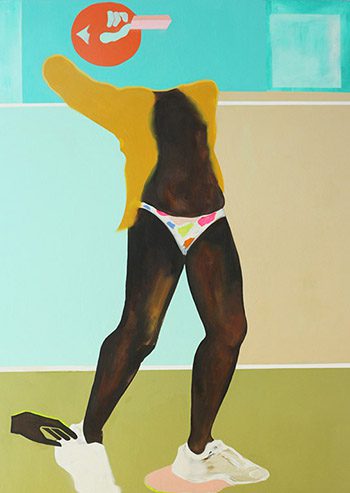 Whilst the non-digital works are slightly harder to engage with (owing to the nature of platform rather than the quality of the artworks themselves), Anika Roach's paintings, in particular, make for powerful viewing. The artist explores the history of the black figure in art by rendering alternative, bizarre and humorous compositions that invite the viewer to actively and imaginatively engage with the image. Her paintings, featuring fractured and headless figures set against colourful backgrounds, are suggestive of a subjective experience that resists the temptation to locate the black body within a specific context or narrative. 'Throughout history, depictions of Black people have been intertwined with our historical struggle for existence,' the artist notes in an extract from an interview that accompanies the digital display. 'This was and is imperative. But the proliferation of this imagery has diffused the uniqueness of the Black experience.'
In a way, all of the artists in this year's edition seek to challenge singularity and exclusiveness through their distinct, fluid practices. It's a much needed celebration of movement, freedom of expression and the unexpected.
The physical opening of the 2020 Bloomberg New Contemporaries Exhibition has been postponed due to Covid-19. For updates and to view the artworks digitally visit: bnc2020.newcontemporaries.org.uk
Featured Image: Sizuo Chen, Murmur, 2019, Moving Image, Image courtesy the artist and New Contemporaries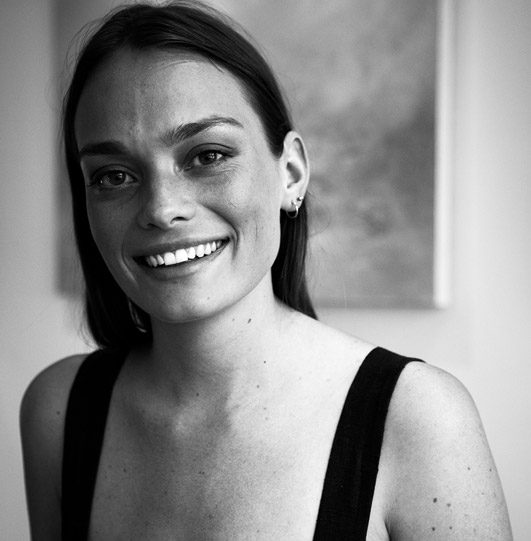 Millie Walton is a London-based art writer and editor. She has contributed a broad range of arts and culture features and interviews to numerous international publications, and collaborated with artists and galleries globally. She also writes fiction and poetry.