Russell MacEwan is an artist, educator and musician from Glasgow in Scotland. A member of Ron Athey and Co, Test Dept and band leader for Black Sun.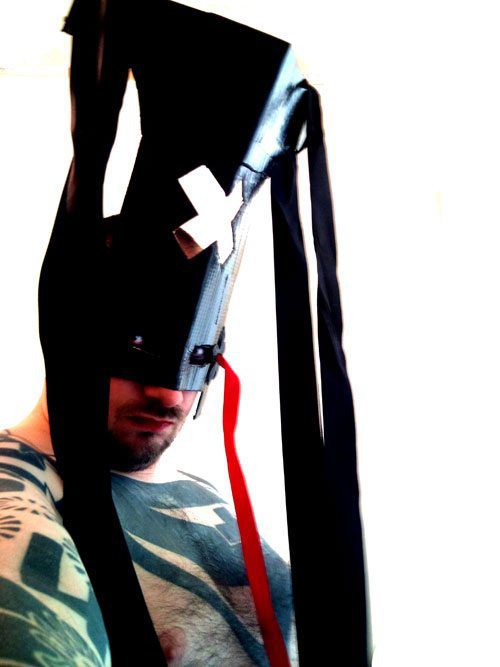 How did the work come to be? 
"Quite an organic process through Alice's (Kemp, aLICE kEMP) residence at my place in Glasgow with Tier 3 Covid restrictions at the time; the cafes and shops were open with masks and distancing. Seems so luxurious after this last lockdown. We'd trawl the charity shops and she'd pick many eclectic items which I'd supplement with my own for evening photo shoots. *Think Maison Margiela via Dumbarton Road Partick. We took a lot of photos in many themes and lighting conditions.
It was a period of research which also included video – which I believe Alice used in her live performance work. I did make a start into painting from the shoots at the time but nothing was leaping out from my explorations.
Sometimes I have to let these projects distil in the background while I improve skills. This 13 month period of isolation has proved useful for constant art practice though the absence of social contact has been hard on everyone. Then in recent weeks I was able to paint a series of Lady MacBeth paintings – mixed with Bene Gesserit Reverend Mothers (*Dune – Frank Herbert) of which 'The Orange Catholic Bible' painting was the richest. (OCB for short), also known as the Koranjiyana Zenchristian Scriptures, the Accumulated Book, or the Zenchristian Navakoran, was one of the most important religious texts in the known universe. I'm looking forwards to Villeneuve's Dune 2021." – RM, 2020
In 2022, MacEwan is publishing his second collection of work under the title 'Chroma Zone', feature animation for Screen Scotland, as well as several undisclosed but high profile commissions.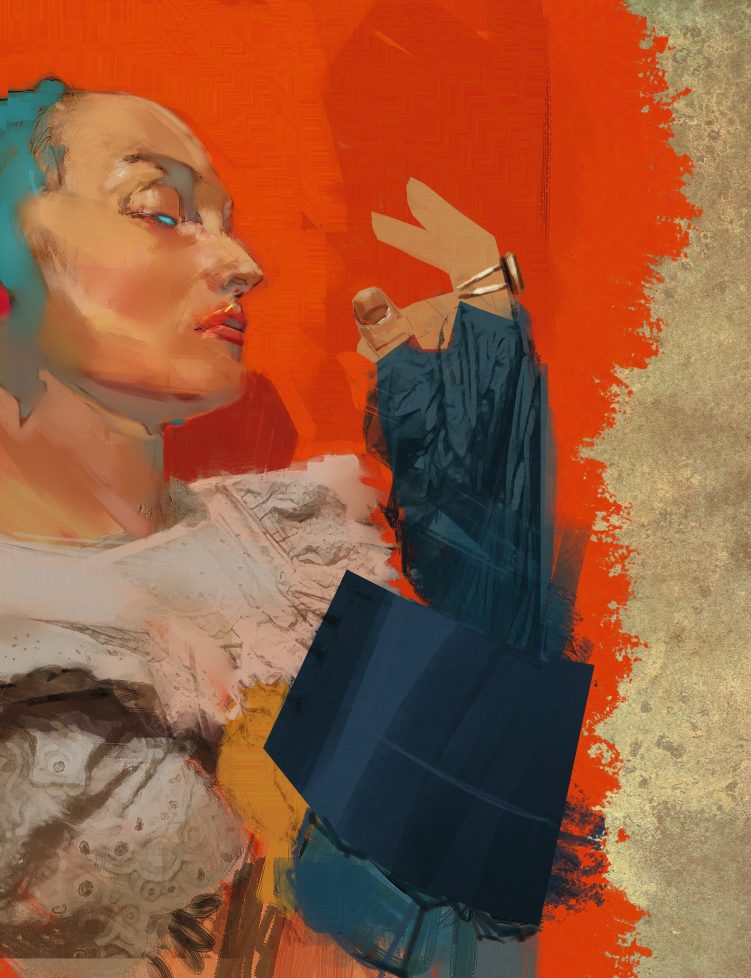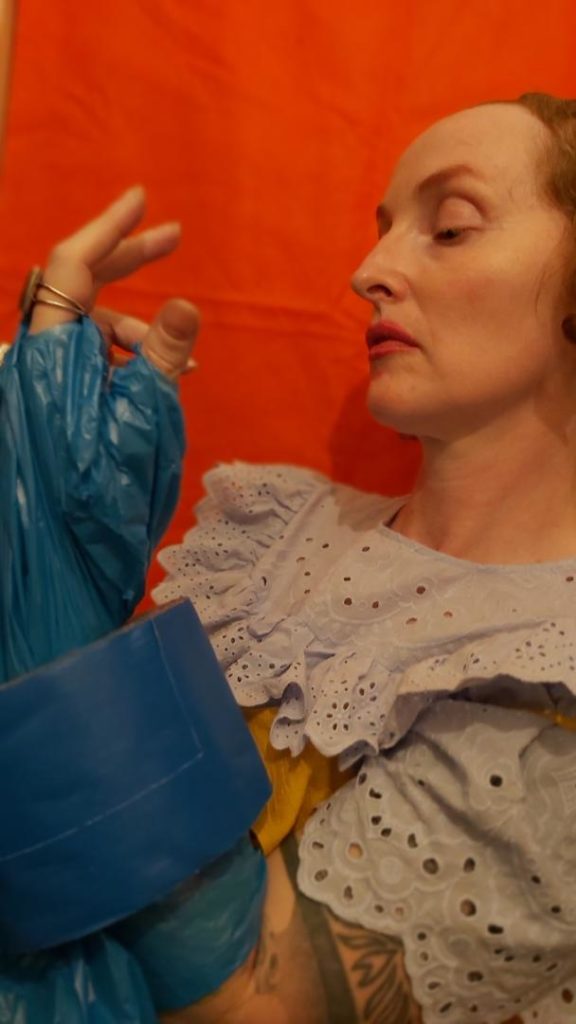 Lady Macbeth (2021)
The painting represents a collaboration between me and Alice Kemp. Alice is a highly talented performance artist and musician based in Totnes in Devon (UK). The connection was through a performance of Ron Athey's Gifts of the Spirit: Automatic Writing. Alice was one of the automatic writers and I was an editor commuting the writings to Ron who spoke in tongues. Alice subsequently provided soundtrack elements to a performance of Black Sun Drum Korps "Lady Macbeth"; an adaption of the Shakespeare with a focus on the true power. Interpreted with drums and blood.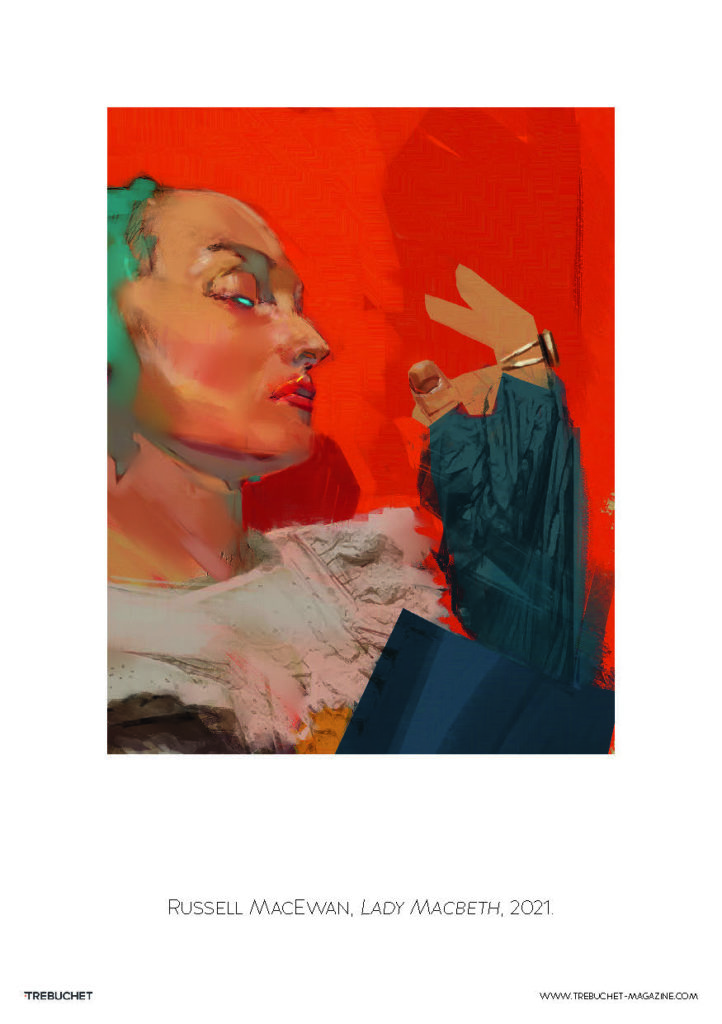 Alice visited Glasgow last year and we watched Quentin Smirhes surrealistic youtube channel, haute couture in lockdown and ate Memory Lane cake from Lidl. Alice and I trawled the charity shops and she picked up exceptionally eclectic clothing which I photographed her in many shoots over her stay. I had a mind to paint what I shot but painting took its own sweet time to reveal itself.
The Lady MacBeth attached was part of a series of five paintings. Alice's transformation in front of the camera and then digital canvas was remarkable and inspiring. Facets of key female roles with darker twists of her own. Art is a lifetime gig; for me it takes repeated exploration. Wider and wider circular themes which are different on revisit.
"Tis the eye of childhood, That fears a painted devil."