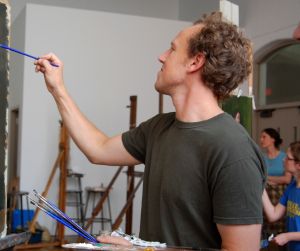 A featured artist from Trebuchet 11: Process Peter Van Dyck's work presents a compelling view of the world, where space has gestural meaning, and colour a deep poetry. We're proud to present a special print by this unique artist for each new subscriber.
Van Dyck was born in Philadelphia in 1978. He studied painting and drawing at the Florence Academy of Art in Florence, Italy from 1998-2002. While studying he also taught in the program from 2000-2002. He returned to Philadelphia in 2002 to paint in his own studio and began exhibiting his work in numerous group shows in Philadelphia, New York and San Francisco.
He has had solo shows at John Pence Gallery, San Francisco in 2004; Eleanor Ettinger Gallery, New York, 2006; John Pence Gallery, 2008 and The Grenning Gallery, Sag Harbor, 2010. In 2003 he began teaching at the Pennsylvania Academy of the Fine Arts where, in 2011 he became an Assistant Professor in the Certificate/BFA program.
In 2012 he was named one of 25 Important Artists of Tomorrow by American Artist Magazine. In 2013 his work was included in the book Painted Landscapes, Contemporary Views by Lauren P. della Monica. His work has also been reproduced in periodicals including, American Artist Magazine, American Arts Quarterly, Art News, American Art Collector, International Artist Magazine and Art and Antiques.
Subscribe to Trebuchet to receive the exclusive Peter Van Dyck Subscriber Print
Winter Studio w/ Belmont Hills (2018)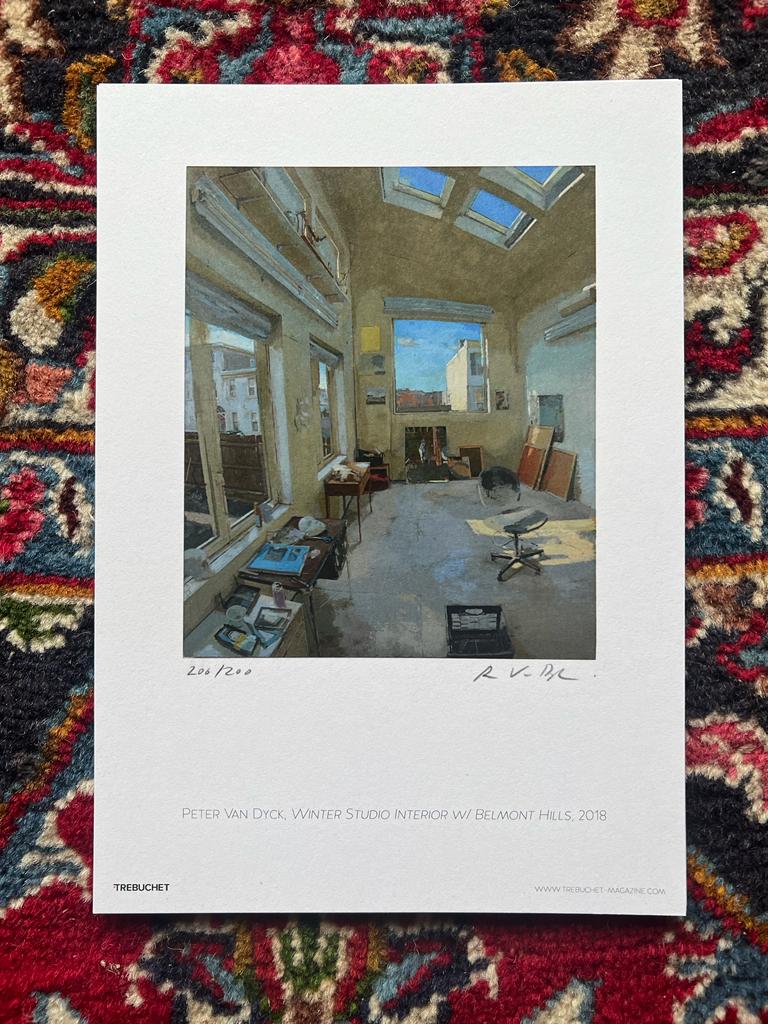 Where were you when you painted the original?
I painted the painting in my studio from direct observation.
What inspired it?
The painting was inspired by a small pencil sketch that I made trying to capture the expansive sense of space in my studio
Why is it artistically successful? What do you like about it?
If the painting is artistically successful I would say is because it creates a vibrant and expansive feeling about the world as it is without manipulation.
Its importance to you?
It's important to me because I think it's among my most successful attempts to achieve what I'm after in painting. It also serves as a document and a dramatization of my world.
Subscribe to Trebuchet to receive the exclusive Peter Van Dyck Subscriber Print