A digital utopia, computer-generated avatar, hand-drawn sketches and vibrant graphical animations, the third chapter of In the Beginning: Media Art and History is an exploration into how the stories and imagery that we create and consume influence our perspectives.
In the Beginning: Media Art and History is an online exhibition by the Hirshhorn Museum which seeks to investigate how video, sound and performance artists are recording and interrogating collective memory and historical narratives. The exhibition launched in October with its first chapter Taking Stock (recycled imagery), followed by Restaging (historical reenactments) in November; this month's subcategory Drawing from Memory features six video works by Kota Ezawa, William Kentridge, Terence Gower, and Sondra Perry.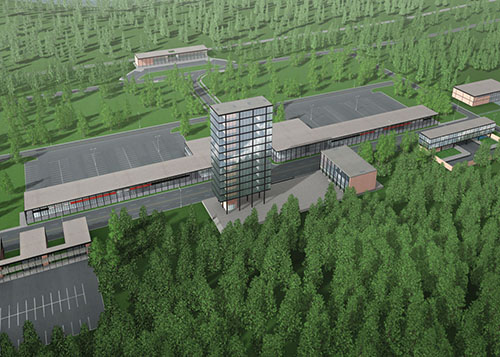 Kentridge's film Stereoscope (1999) is – aesthetically speaking – the odd one out; the imagery is drawn by the artist's hand rather than rendered digitally, or in the case of Perry's avatar, generated by a software. The work is one episode from a larger series which addresses the history of apartheid in South Africa through the frame of a fictional businessman named Soho Eckstein. Created from a series of charcoal sketches which are drawn, erased, and reworked, the animation is as much a story of image-making as it is also fictional and historical. The artist's spectral lines and shading remain visible as the scenes progress and fade, while blue lines connect and slice scenes into fragments seemingly representing electricity, sound, emotion, energy. Like many of his works, the film balances violence and poignant beauty. Images recur, such as clocks and cats, which are part of Kentridge's signature visual language, but also hold a kind of eternal symbolic weight that speaks of the history of artistic expression and storytelling.
While Stereoscope is raw, spontaneous, and emotional, Ezawa's pared-down animations are precise, graphical and often anonymous, recalling standardised signage in which figures appear as symbols rather than individuals. Given the focus of Ezawa's practice – namely, how popular culture, media, cinema and imagery mediates our understanding of the world – this flattened aesthetic seems fitting, reflecting the absence of humanity in contemporary representations. In The Simpson Verdict, for example, Ezawa animates the acquittal of O.J. Simpson through subtle gestures and expressions overlaid with spoken procedural comments from the judge. By switching the focus from the factual detail of the trial to the subtext of mannerisms, Ezawa creates a new, smaller narrative, which cannot be detached from the remembered drama of media reportage, but nevertheless offers a new perspective.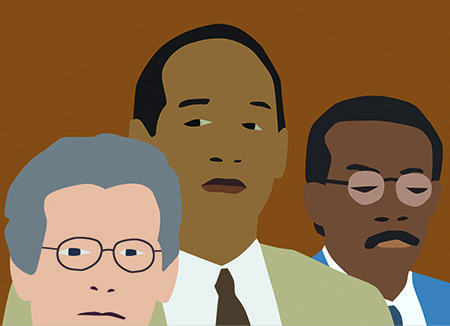 Perry's affecting film Graft and Ash for a Three-Monitor Workstation (2016) is also concerned with digital representation. The work features artist's own avatar, who appears in an infinite blue space and addresses the viewer directly: 'Do you like our audio? We looked up music for relaxation and found this.' The avatar's voice is staccato and robotic, whilst its appearance reaches towards a sense of humanity – or at least replicated humanity (a second self) – but fails due to the software's limitations. We're told: 'Sondra's body type was not a pre-existing template'. Once again, Perry is drawing attention to the constructed nature of the image, but also exposing how conventionally dominant narratives continue to give space to problematic perspectives, specifically relating to gender and race.
Whilst the format of these works naturally translates well to a virtual exhibition, it's still not an ideal art viewing experience although this has more to do with the rapid, restless way in which we consume content on computer screens rather than with the curation itself. Nevertheless, it's a rare opportunity to engage with inventive and important artworks by some of the world's most exciting contemporary artists.
'Drawing from Memory' is the third chapter in the Hirshhorn Museum's online thematic exhibition 'In the Beginning: Media Art and History'. The exhibition runs until 31 December 2020 via hirshhorn.si.edu
Featured image: Sondra Perry, video still, Graft and Ash for a Three Monitor Workstation, 2016. Courtesy of the artist and Bridget Donahue, NYC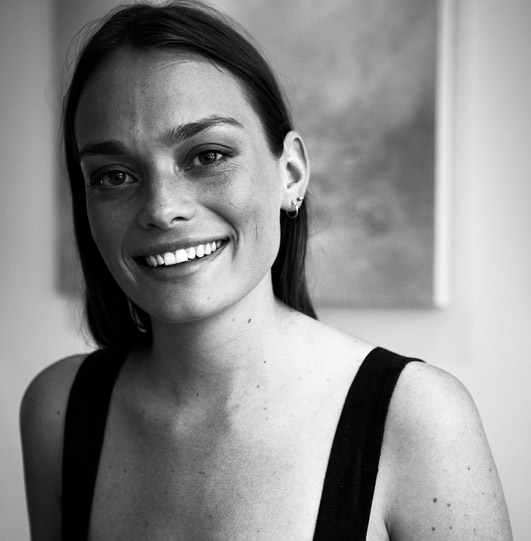 Millie Walton is a London-based art writer and editor. She has contributed a broad range of arts and culture features and interviews to numerous international publications, and collaborated with artists and galleries globally. She also writes fiction and poetry.