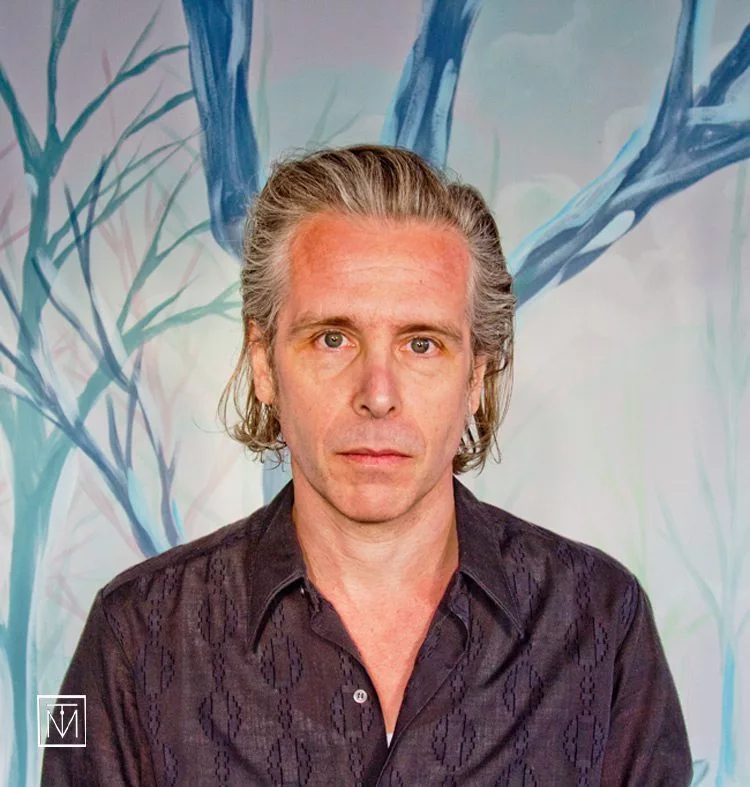 Born in 1966, painter and musician James Johnston has primarily been known for his work as a musician, with his own band Gallon Drunk, as a former member of Nick Cave and the Bad Seeds, and more recently for touring and recording with PJ Harvey.
His paintings are both bold and loose, marked by their rich and striking use of colour. The often unsettling, darkly humorous and totemic images are based between the everyday and the world of the imagination, grounded with a sense of simplicity and beauty.
A prolific painter, Johnston's work has been used on book covers, as album artwork and featured in a variety of international arts publications, with paintings in the collection of the University of Chicago Center in Paris.
"A remarkable gift for loose, raw painting… that straightaway imprints itself on the viewer's imagination" – The Economist.
"Paintings full of mythic power." – Nick Cave
Subscribe to Trebuchet to receive the exclusive James Johnston Subscriber Print
A Reckoning (2020)
Original work: acrylic on 76cm x 61cm canvas.
"It was painted in my London studio in June (2020). I have a room in an old courthouse in Kennington which I was able to access during lockdown.
My starting point for almost every painting is to just get some paint on the canvas, and follow it from there. There was an awful lot going on in June, and I'm sure a lot of that fed into the painting. What seems like a chance-led idea is usually recognising something that's in the back of your mind somewhere anyway, but accessing it from a more roundabout way. I find it an exciting and unpredictable way to work.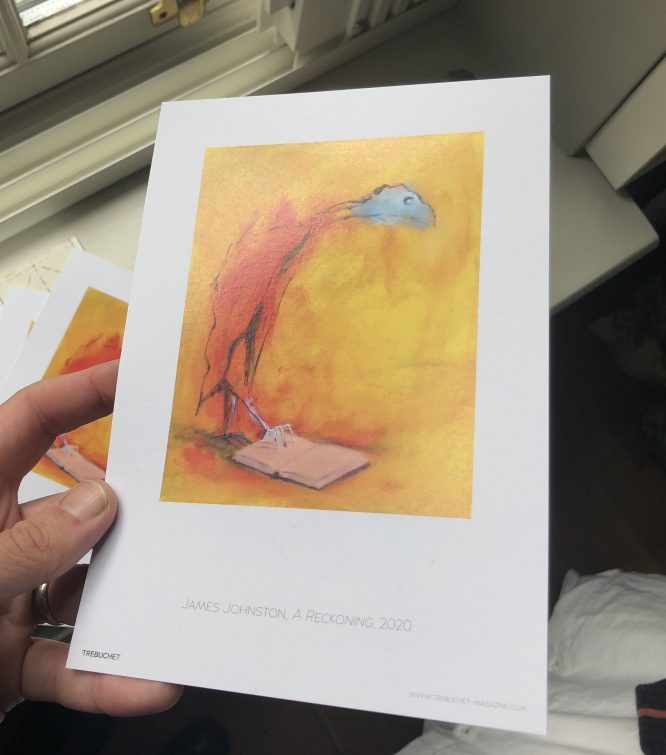 It's successful for me because I can't really recognise my own hand in there. It doesn't have a feeling of trying too hard; the colour palette came from fairly quick or seemingly random decisions, the quick lines of the bird, and the strangeness is balanced with humour, bright but sinister. The less I see myself or my thought process in a painting, the more I tend to like it. An odd painting that felt like it came from nowhere.
Some pictures bring a real freshness to your work, and help steer you off in a new direction; this one definitely had that. For me it's also a peculiar snapshot of how things were in June." – James Johnston , 2020
www.instagram.com/jamesfjohnston  
Subscribe to Trebuchet to receive the exclusive James Johnston Subscriber Print
James Johnston Exhibitions
Solo Shows
New and recent work -The Stash Gallery – London 2019
Artist in residence / new work -Quo Vadis – London 2019
James Johnston Group shows
Linear – Gallery 64a. 2018. Whitstable.
Extricate – Gallery 64a. 2018. Whitstable.
Push The Boat Out – The Art Academy Walworth. London. 2018.
Jo Mama's Alphabet Show – Studio One gallery. London. 2018.
Jo Mama's Second Alphabet Show – A-side B-side gallery. London. 2018.
A letter in mind – London Oxo Tower, 2018.
You Know More Than I Know – The Art Academy, Walworth. London. 2019
A letter in mind – London Oxo Tower, London. 2019.
Pack Mentality – Don't Walk, Walk Gallery, Deal. – Dec 2019.
Words that transform – Charlie Smith Gallery, London. Jan 2020
(And with good) Reason – Cultivate Gallery. Online. June 2020
Featured artist in magazines
Persona #8. France.
Sargasso arts magazine (Featured artist and cover art). Germany.
Epifanio 2018 edition. Estonia.
The Economist, Prospero arts edition.
Books
The Art of the Murder Ballad. (featured artist) Holland.
'Nadirs' – Tom Buron. (cover art)
'Love is an ancient disease' – M.A. Littler. (cover art).