Annie Morris' vibrant drawings, tapestries and towering sculptural forms oscillate between figuration and abstraction, simultaneously evoking a sense of fragility and strength.
This Autumn, she will open her first museum show at Yorkshire Sculpture Park and a solo show at Timothy Taylor as well as presenting works at Frieze Sculpture.
Millie Walton visited her studio in North London to discuss automatic drawing, the female form and working with pigments.
What's your studio practice like? Do you follow a particular routine?
I come into the studio, do a drawing – that's how the day starts for me – and then work around an idea. I like to limit myself with materials by which I mean I like to start something, maybe a new series, and continue with that until it's finished, but everything starts with drawing; that's where I get my ideas.
And that's where you started isn't it? With drawing and painting.
I have always been interested in something between sculpture and drawing. How do you make a drawing that has a slightly more three-dimensional quality to it? I started with the idea of taking a very spontaneous drawing and then sewing that to create a kind of contradiction of time: the speed of the drawing slowed down by the intensive time it takes to sew the works. That also also created a three-dimensionality: the movement of sewing onto the fabric, the way it gets thicker and more rigid as a piece.
The sculptures came about after we lost our first child and there was a really strong period of grief, uncertainty and sadness. I was interested in the shape of what was lost and in a way, it was quite a simple idea.
Colour has always been very important to me: the idea of separating colour and keeping it in its solid form. When I was at [École Nationale Supérieure des] Beaux-Arts or the Slade I would often do these pencil drawings and then I would create a little palette of colour separate to the image. I'm interested in looking at colour versus the image. There's something very powerful in moments of colour, which seems to bring me a feeling of hope. So, I took these little coloured marks that I was drawing onto these figures because, at the time, I was obsessed with the female shape. I felt sort of surrounded by this experience of loss, of grief and so, I kept drawing my body over and over and drawing these coloured moments or marks hoping that something would happen. That took me to the idea of making these sculptures [the Stack series], to putting those shapes up and seeing what happened with the intensity of colour. I was thinking a lot about pigment because, for me, it has this incredibly fragile, beautiful, velvety texture. I've always found it to be an extremely inspiring material and I wanted it to be something that you see in life. The texture is so important for these sculptures. It's all about trying to keep the pigment alive. Normally, you'd mix it into paint, but I want the surface to be as fresh as possible.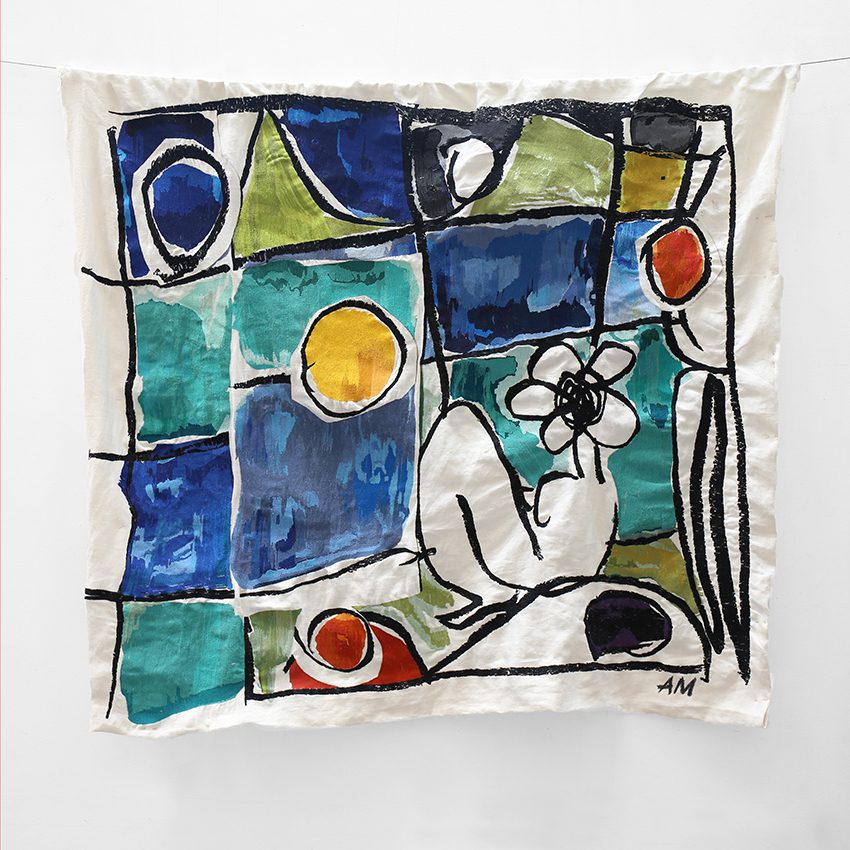 Your sculptures are carved by hand so like your tapestries, there's a very tactile element, and
Yes, and then they're covered in layers of plaster and sand – different grains of sand, depending on the pigment. I layer the paint so there's always a few layers of colour beneath and it builds up. Because I've been making these works for a while, I've learnt a lot about different pigments. There are certain cobalt colours that are thinner, for example, so I have to use thicker sand and work with them in a different way.
Has there ever been a time when you've lost your impulse to create? During that period of grief, for example.
I think a lot of artists who use their emotions and their own life in their work find that when they're going through something that's really terrible, it can bring a lot of inspiration. For me, drawing, at that time, was such a great saviour. I've always found drawing extremely helpful in that way. Some people have sport or reading or meditation but for me, it's drawing. It's where I go to get energised. When I'm drawing, I find I don't think about things that I've been previously worrying about, that all just goes away. 
When that whole period happened, I spent a lot of time in the studio drawing and I wanted to tackle something really big that would see me through. So, I made this huge three metre piece, very, very detailed with a biro and I just kept at it. Then, I started collaging these egg shapes into this black and white work, and they just stood out to me and felt very up-lifting. That's when I started thinking about the sculptures, but at the time, they were much, much smaller, mainly because I had a really small studio so I could only make works which would fit into the space. It's part of the reason I make small components which come together to create bigger works because I'm used to working around the space.
I would say I'm quite comforted by making these sculptures, it brings me back to the thing that was lost but is still surrounding me all the time. I keep it alive, in a way, this big thing that happened to me and it feels nice. I think people who have no idea about how the sculptures came about often see them as very joyous, which I really like.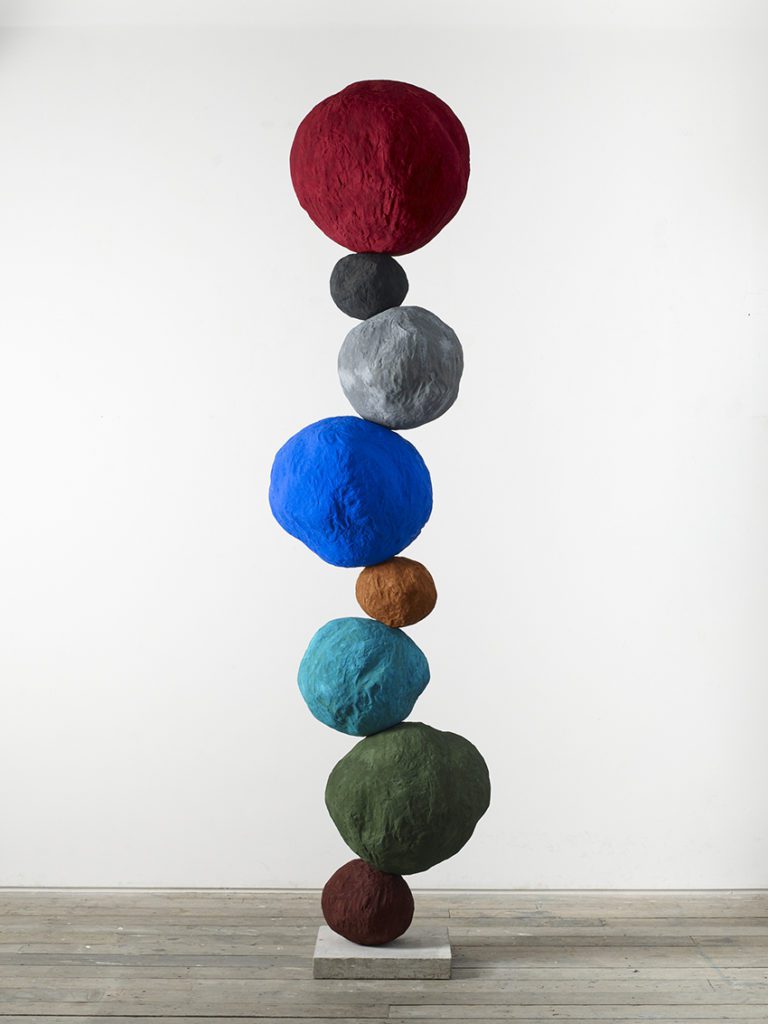 Repetition seems quite important to the way you work, generally. There's the Stack series, but also various symbols that recur.
True. The flower woman came about many years ago kind of as a way of making a self-portrait. It was to do with something that happened within our family. I wanted to abandon any face – I like the emotion that you get from it being scribbled – and the petals made me think about how transient things are, the beauty of a flower disappearing. I like the fact that she creeps back into a lot of my drawings.
The work I make on paper tends to be very automatic, quick and spontaneous. During lockdown, I was making these long books which I called diaries and I would have a load of them on the go at the same time so that was another way of bringing back characters and repeating the same images. I have this three prong tree, for example, which I use as a tree and as a hand, and then, there are lots of different animals. What I wanted to do was to create one idea and to repeat it and repeat it, getting more and more abstract so that you'd just be left with these simple shapes. It's why I keep repeating imagery, to get to a new place with it.
Do you still see the flower woman as a self-portrait?
I do, in a way. Really, it started as a portrait of my mother after the thing that happened in my family and then, she's sort of become me. She's really fun to draw because you can really exaggerate the shapes, which has informed some of the bigger sculptures. I go more and more cartoony with her and the sculptures have become a bit more like that too. They used to be much more solid and straight, and now, I'm following the contours of the flower woman: the back of her and her breasts. I want them to be a bit more precarious so that they feel almost like they shouldn't be standing, for people to think: how is it possible that they're holding this weight?

So you think of the sculptures as bodies?
I do. In my show with Timothy Taylor, I was hoping to make connections between two sculptures that will be sitting together, creating a conversation between the colours and forms. I make the works together and they often end up in different collections or homes, which is sad in a way because I feel they are connected. So, the show is more about the pairs, and at Yorkshire Sculpture Park I'm also going to be presenting sculptures in pairs or even threes, which I think makes the works appear more figurative as they become almost like a family.
Did working at a larger scale change the way you think about the sculptural forms?
When you stand next to a large work and you're looking up at it, you get this feeling of being kind of engulfed. I adore making the big ones, it's really inspiring for me. We took everything out of the studio just before lockdown and for the Chateau la Coste show next year, made this enormous, six metre work, which obviously a foundry could have just blown up but I really want to see it at scale. It's a very physical process.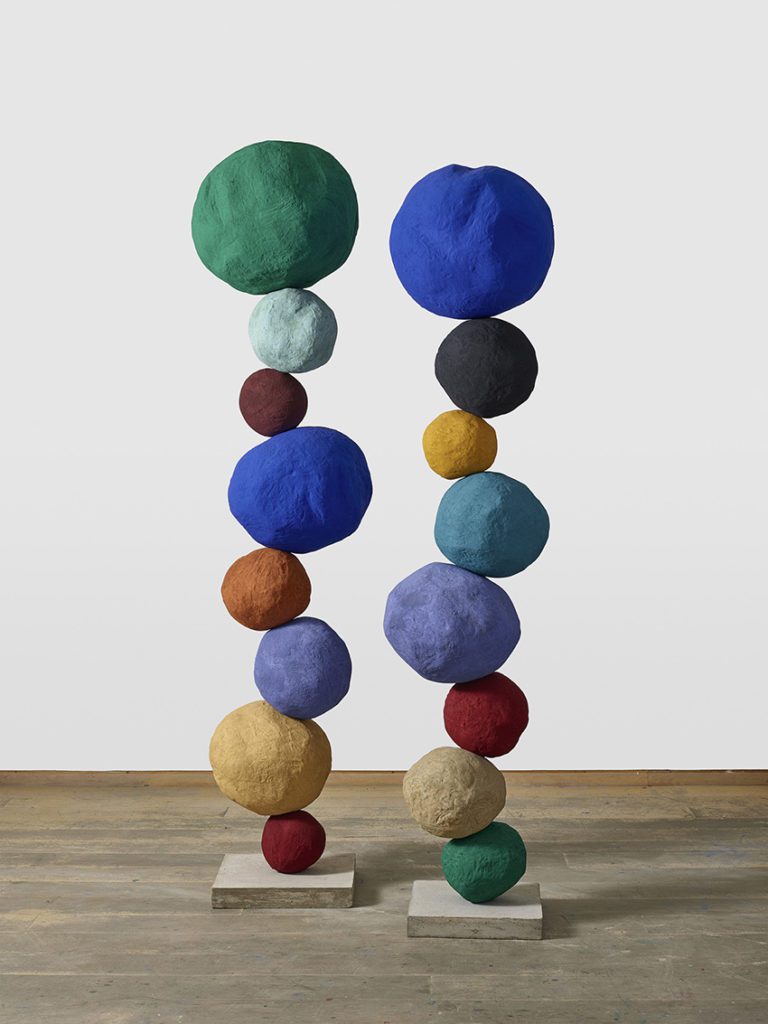 Going back to your drawings, you mentioned your process is quite automatic. Do you ever see your drawings as failures?
I often disregard a drawing and move onto the next, but sometimes, I end up reviewing the ones I disregarded and find I actually prefer the mistakes. I learn a lot from my mistakes – things look different in retrospect.
I find that when I'm drawing all the time, I get to a certain place where I can draw very quickly and things are working, but then sometimes I stop for a while, I get out of practice and I find it hard to get back into so that's when I go back to earlier drawings. I take a shape or a line and that maybe starts another piece.
How do you see your shows at Timothy Taylor and Yorkshire Sculpture Park fitting together?
There's a lot of crossover. In the Timothy Taylor exhibition, I'm going to be showing my biggest sculpture to date so that's exciting. It will be in the first room you come into. It's so big, I'm going to have to finish it in situ. I'm also going to be showing a big tapestry and a grid that was sewn by these prisoners that I work with as part of the Fine Cell project. The grid was sewn by one person over a period of six months during Covid when they couldn't go out of their cell at all, which is horrifying. What I like about the grid is that it's got this emotional feel to it. The grid would normally be quite structured but I sent them a drawing to work from, I wanted it to be soft, with lots of lines and I'm now going to finish the piece myself in the studio so it's really a collaborative work. At YSP, we're focusing mainly on seventeen sculptures and then a series of smaller works which are the figures with the little coloured lines.
"Annie Morris: When A Happy Thing Falls" runs from 25 September – 6 February 2022 at Yorkshire Sculpture Park and her solo show at Timothy Taylor London runs from 6 October – 13 November 2021. For more information, visit: ysp.org.uk, timothytaylor.com
Featured Image: Annie Morris in her studio, 2021. Photo by Idris Khan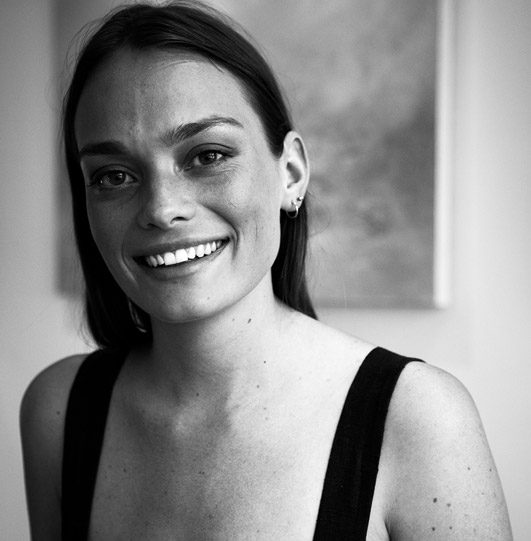 Millie Walton is a London-based art writer and editor. She has contributed a broad range of arts and culture features and interviews to numerous international publications, and collaborated with artists and galleries globally. She also writes fiction and poetry.