[dropcap style="font-size:100px; color:#992211;"]S[/dropcap]elf-portait as the Billy Goat opens as the first collection of four public displays within the ISelf Collection with 25 works from internationally acclaimed artists including Pawel Althamer, Louise Bourgeois, André Breton, Gilbert & George,Yayoi Kusama, Tracey Emin, and Cindy Sherman.
Although these names are rarely found coexisting in one exhibition, curator Emily Butler carefully constructs an organic progression from one to the other, linking them through the existential question none can avoid: who am I?
The concept of self-portraiture is used loosely, as this exhibition will not answer the simple question "What do I look like?". In an age of the deterioration of one single immovable identity, putting oneself on a square canvas becomes a nearly impossible task, or if possible, nonsensical. These artists seek to explore the complexities of self-portraiture provoking the viewer to be introspective about their own identity and pushing the audience to question what defines them.
Although the flexibility and blurring of lines of self-definition can feel as a relief from social pressure, coming to terms with who you are has perhaps become even more challenging. If you are part of, say, the Otherkin community, you might identify as partially or entirely non-human, or maybe Pastafarianism has changed your perspective on yourself and the universe. Once the door of abstraction opens, the possibilities are endless.
The exhibition opens with André Breton's Photomaton, a series of pictures taken in the first photo booths of Paris. These seemingly simple act is interesting not only because of its subjects, Breton's surrealist colleagues, but by its reflection on human nature's reaction to a camera. We instantly see the subjects revelling in the act of posing for an automatic camera. There is no photographer; there is only them. The enjoyment of entertaining their vanity is shown through their playful images as they smoke and laugh, posing in a variety of ways.
Seeing these images nearly 100 years later, they are strikingly familiar to selfie culture. After all, they are attempting to show the best physical version of themselves.
Linder's You search but do not see is yet another piece which was not technically produced by the artist, as she was photographed by Christina Birrer. Linder poses in a black lace dress with pearl necklaces and earrings. Her image is one of beauty and elegance, but it is covered with a film of plastic. Her mouth, slightly sucking into the film, transmits a feeling of asphyxiation. Linder's  portrait is not only representative of herself, but extends itself to womenkind showing the pressure caused by society's aesthetic expectations of women.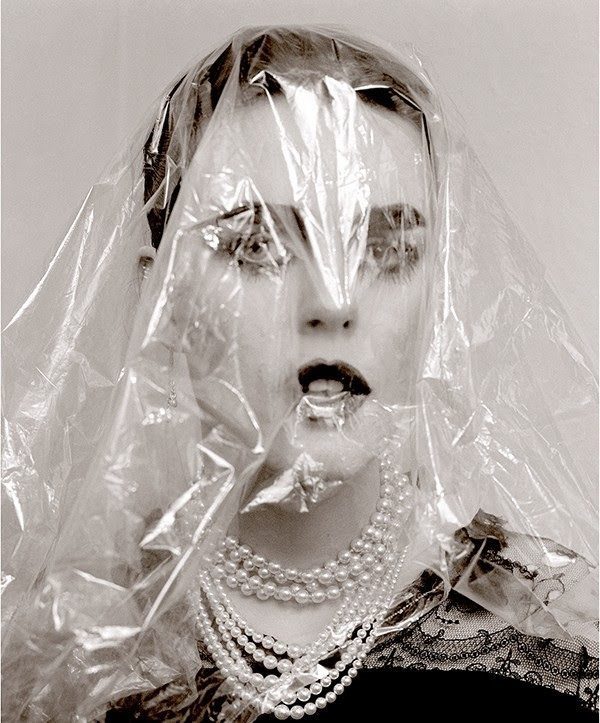 Bartosz Stawiarski / Linder, You search but do not see (detail), 1981/2010.Courtesy the artist and Stuart Shave/Modern Art, London. Photo: Christina Birrer
Louise Bourgeois is represented through three works in the exhibition. The largest piece, 'Three Horizontals' becomes increasingly fascinating the more you look at it, both in terms of aesthetics and concept. Three pink 'dolls of mortality and loss', as described by Siri Hustvedt, represent the three stages of female life.
The first is shapeless and small, the second one adopts a female form, whilst the last one is dismembered, parts of the pink cloth ripped and restitched together. They are all laid out horizontally as if on an operation table, one above the other. A metal money box is attached to the frame of the youthful figure, suggesting the objectification and commodification of women at their sexual peak.
Viewer's unfamiliar with Yayoi Kusama's work may question the relation between her piece in this exhibition, 'Infinite nets YSOR' and self-portraiture, yet this is a portrait of the mind. Yayoi Kusama's work is rooted in the overwhelming polka dot hallucinations she has suffered since childhood. Through her obsessive and at times heart wrenching work, the viewer receives an insight into her mind. Kusama started painting as a form of therapy, and has since then created in immense amount of stimulatingly beautiful paintings, sculptures, and immersive installations. 'Infinite nets YSOR' is part of a series of delicate paintings that despite their disturbing conceptual origin transmit tranquility and peace.
As the exhibition progresses, the works become more abstract. Raws Media Collective's 'A Day in the Life of ____' plays with the boundaries of self-portraiture, allowing the viewer to step into the work. The function of a clock is manipulated by changing the hours to 12 states of mind; epiphany, anxiety, duty, guilt, indifference, awe, fatigue, nostalgia, ecstasy, fear, panic, and remorse. These extreme changes from one hour to the next show the complexity in defining oneself when our emotions and sensibilities are continuously changing. Although these are defined as temporal states, they can quickly shape and bend our character in directions that may affect our long-term identity.
Pawel Althamer's 'Self-Portrait as the Billy-Goat' well-deserves the privilege of naming the collection. From the goat's rosy nipples to its trainers Althamer's sculpture is simultaneously hilarious and thought-provoking. The sculpture, half goat and half human, imitates the pose of Rodin's 'Thinker'. Here the artist questions his identity while his body deteriorates, layers of plastic, metal and resin showing through his arms and legs.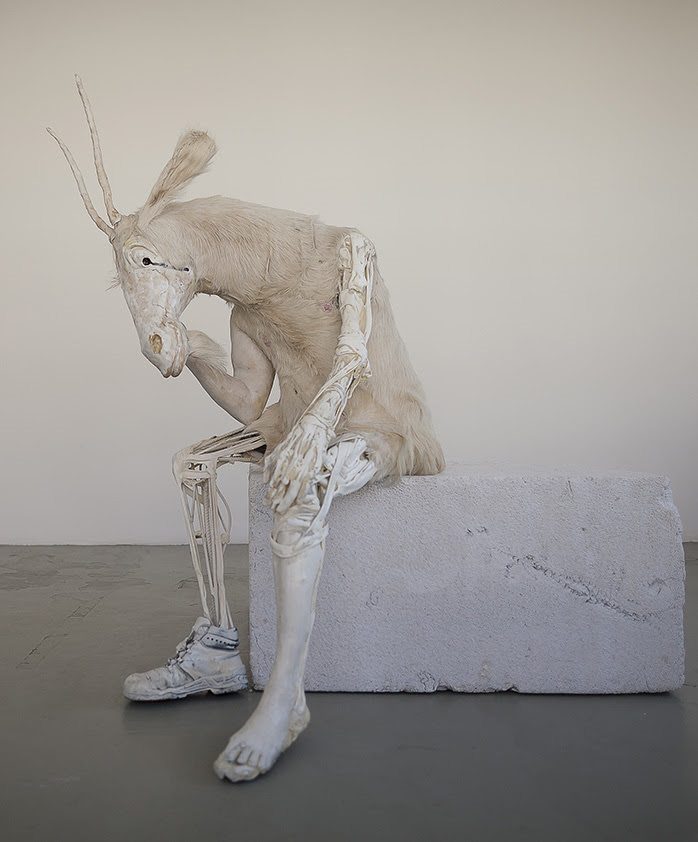 Pawel Althamer, Self-portrait as the Billy-Goat (detail), 2011. Courtesy the artist and Foksal Gallery Foundation, Warsaw.
Looking carefully we can see the goat's melancholic expression, lost in thought. The piece encompasses the overarching theme of the exhibition with a humorous twist, it poses the question as to whether we should even begin traveling through the rocky road of self-exploration, or whether we might end up as a dismembered blend of conflicting identities.
The range of approaches to defining identity will without a doubt allow for the viewer to see themselves in the pieces and provoke them to reflect on how they define themselves. The mixed nature in terms of gender and sexuality of the exhibition is refreshing; we see female artists with feminist agendas whilst others, such as Kusama, are withdrawn from the distinction of gender.
Portraiture becomes an extension of the artist in search of deeper answers, leaving behind the traditional simplicity of realist representation.
Whitechapel Gallery
ISelf Collection: Self-Portrait as the Billy Goat
27 April — 20 August 2017

Born in Barcelona and based in London, Anna writes about art, techno and psychogeography. She is also a lover of film photography and is slowly building an Olympus camera collection.