For over 20 years artist Emma Coyle has embarked on a personal journey of figurative art. Based in London since 2006 she has received the International Art Market's Gold List award named as 'Top international contemporary artist of today', 'Recommended artist to invest in and to be inspired by' and whose work has been acquired by Dame Janet Wolfson de Botton.
Coyle's first education in art in the 1990s included an introduction to 1st wave New York Pop Art of the 1950s. Her current figurative work focuses on contemporary fashion magazine imagery to produce painterly paintings of a Fine Art standard. Combining primary and secondary line work with ideas in abstraction, minimalism, and negative space.
Her current series 'Linda' and 'Binary' deal with embracing and disrupting formal composition. For the first time in 2020 Coyle chose to paint mixed white backgrounds in certain pieces, mixing colours is very important to each piece. This work earned an online review in 2020 from Dab Art Co. in Los Angeles and an inclusion in their 2021 Artsy show. Also, in 2021 a Distinguished Award from Canada's ArtAscent magazine and a Finalist Award from Los Angeles' Art Show International.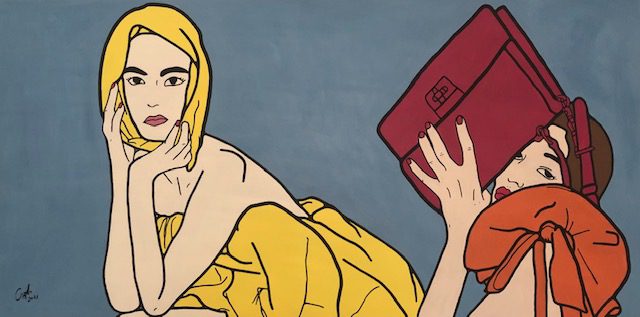 Coyle's work has appeared within many publications including The Times (UK), London's Mayfair Times (UK), Avari art (USA), A5 (UK), Al-Tiba9 (Spain), M&Art (Sweden) and Visions Libres (Germany). Also on the covers of Level 25 art journal (USA), Emergo (Netherlands), Litro (UK), and Kapa magazine (Greece).
How did you get started?
I began my studies in the late 1990s. I studied art and received a Degree from NCAD in Dublin Ireland in 2003. Before moving to London in 2006 I had a brief stay in NYC. I have always worked on art no matter where I have lived.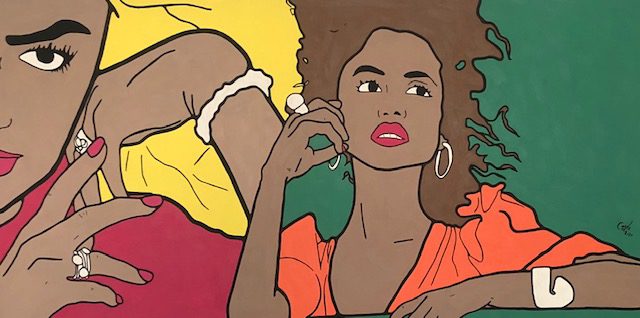 Who has inspired you so far?
I always had an interest in first wave 1950s American Pop art, artists like James Rosenquist, Roy Lichtenstein and Claes Oldenburg. My figurative work of the past 14 years has been very much based on contemporizing Pop art with the use of current fashion and advertising in print media.
How would you describe your technique?
My work is very Fine Art based. For my figurative work I am constantly collecting images from current print magazines, whether I am working on an ongoing series of paintings or not. I choose an image which to me is solely strong in form to begin with, this is most important for me to produce a strong painting. As a Pop artist I am using images which the media choose to represent modern times and my choices then represent an interest in strength of imagery.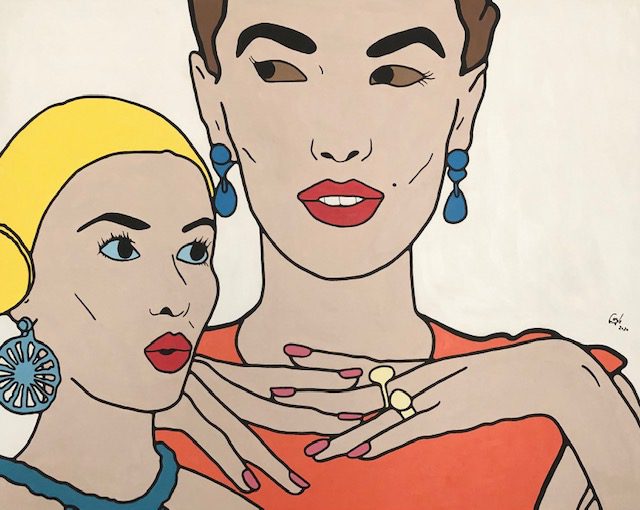 The three most important aspects to my paintings are, the use of primary and secondary lines, the mixing of colour, and composition elements, using formal or informal composition. I have always worked in series of paintings. The numbers of paintings to a series can be anywhere from three to twenty. When in the middle of a series, this is when I decide how far it will go and how many paintings will be made. A theme will run through each series without the paintings necessarily looking like they are in a series together. For the series to be completed, there needs to be a resolve of an idea or ideas.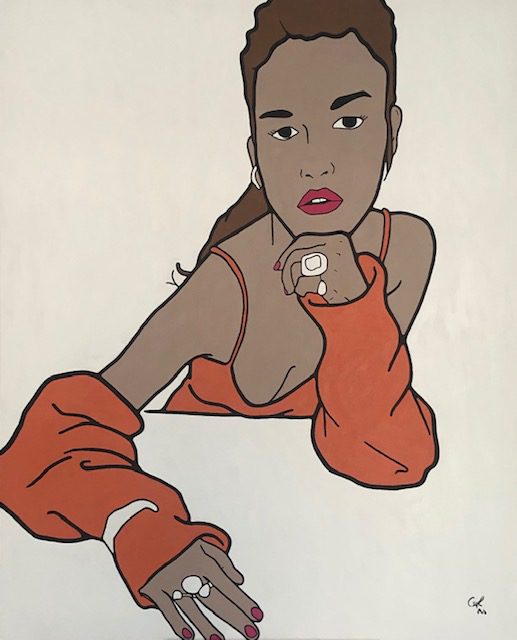 To what extent do you plan a work before your start?
Preliminary work is extremely important to each painting. Fifteen years ago, it was ever few years when I would carefully select and group images together to start working on a series of drawings. I now do this every two years so that the contemporary images are more relevant to my work to represent what is current, which relates to the Pop art aspect. I work with groups of drawings for months at a time to manipulate the image, and then continue through to painting.
What has been the most important discovery in your practice to date?
At the moment within my Binary series, I am dealing closely with the composition of each piece. The series commenced in 2019 and as the series has progressed I have been pushing the work into a different direction. Instead of making images with formal compositions, I have been offsetting the figures on the canvas and using negative background space to off balance the painting. In doing so it changes the paintings, makes the view more intrigued in each image.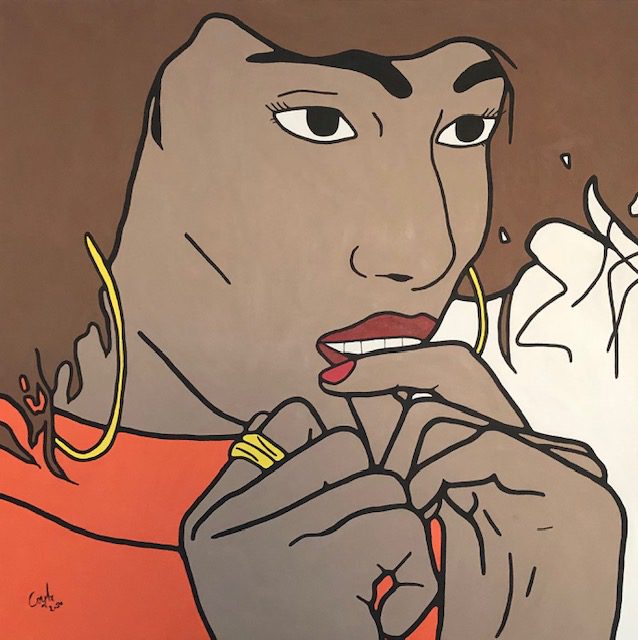 What is the role of emotion in your work?
As I take and choose each image from the media to use for paintings, I choose images which are bold or strong to me in line and form, almost as if the subject is non-essential. I think it is the viewer who adds an emotional aspect to the work.
What is your most successful artwork and why?
I think you can judge each piece as equally successful in the time which they are made. You learn from working and completing each painting and this helps you progress onto the next. You never want to repeat an image and as I work in series you are always looking ahead to make a resolve.
How have people reacted to your work?
People appreciate what I am trying to do within my work, they do get excited to see how it keeps changing. As an artist you are always questioning your own ideas and this makes the work more interesting for the viewers. During the past year of lockdown I have had a tremendous support an interest from galleries and magazine, it has been a driving force for me.
What interpretation of your work has surprised you the most?
People in the past have related my work to an Art Deco style. It did surprise me at first until I really looked into my images. I can see an influence from artists like Tamara de Lempika or Alphonse Mucha who I would of had a great interest in from around 2005.
Where should people start with your work?
I think my current Linda and Binary series are the best place to start. Both series represent my want to produce strong accomplished paintings. I am very interested in the technicality of painting, working the canvas, not just the overall finished piece.
What's next for your artistic practice?
I will continue with figurative paintings at the moment but I am also researching for still-life paintings to start within the next year or two. I want to use the same techniques but change my subject matter.
What is your favourite quote about art?
I have never been someone to take notice of quotes to remember them or liked being quoted. I have always been a huge fan of art writer Calvin Tomkins but I'm not sure he was ever quoted.
More info: Emma Coyle
Main image: Linda no.1, Acrylic on canvas, 48x60inches, 2019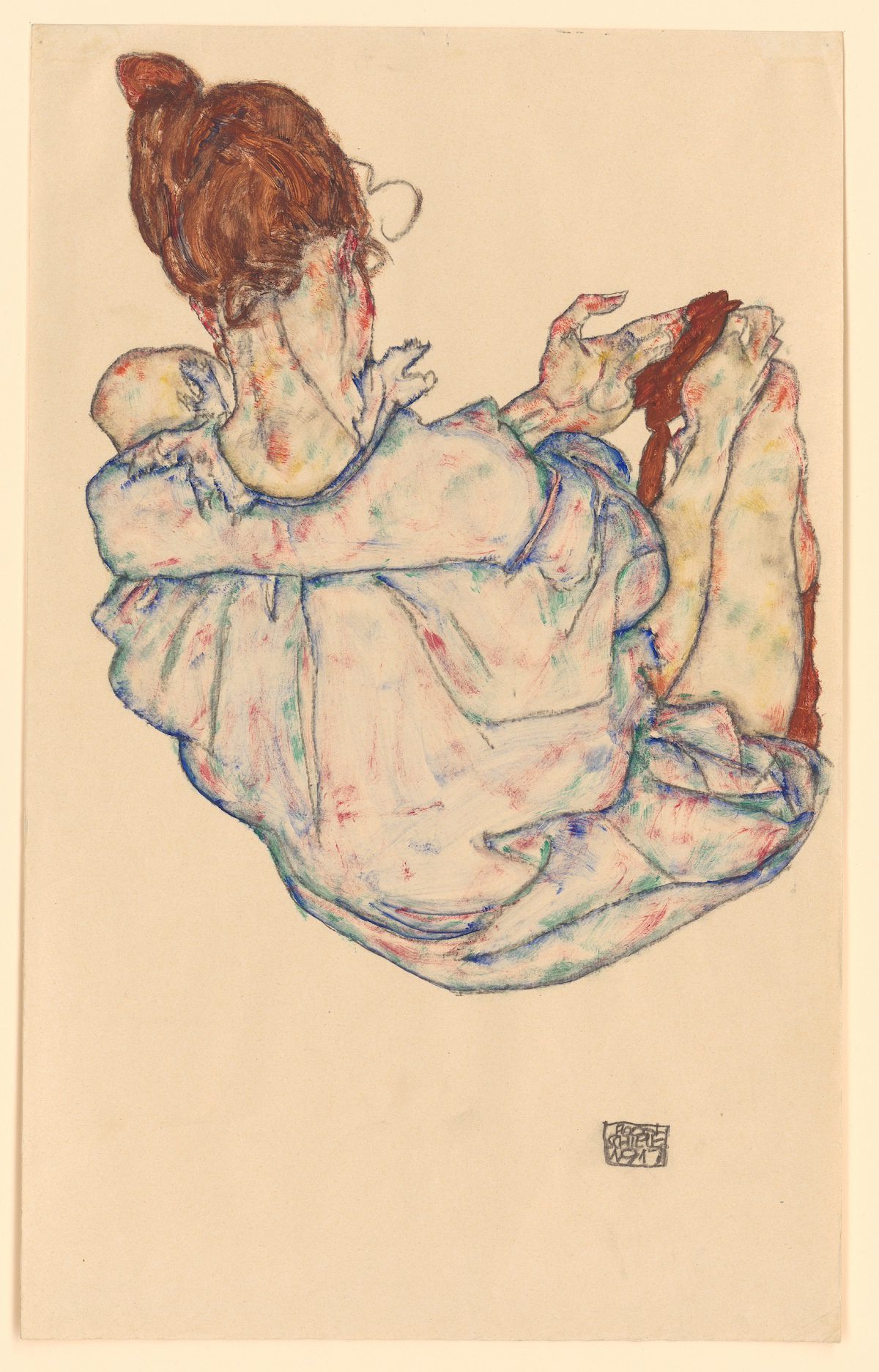 Ex-London based reader of art and culture. Specialist subjects include; media, philosophy, cultural aesthetics, contemporary art and French wine. When not searching for road-worn copies of eighteenth-century travelogues he can be found loitering in the inspirational uplands of art galleries throughout Europe.