[dropcap style="font-size:100px; color:#992211;"]I[/dropcap]n recent years there has been a significant shift in our cultural landscape. A quickening, if you will, that has driven us nerds from the bedrooms and into the streets, bars and music venues.
The growing popularity and inclusivity of Marvel and DC's growing cinematic universes is a factor. The re-emergence of franchises like (and most notably) Star Wars as a formidable, if contentious, force to be reckoned with has almost certainly played a part. The increasingly visible and nuanced communities surrounding previously niche counter-cultures like gaming and anime have, too, had a hand in this. Beyond the impact on mainstream musical trends through name-dropping or light thematic influence lies a movement. A term. A signifier of intent. Nerdcore. The gangly child of Hip-Hop blossomed into a relatable and refreshing alternative for those tired of empty posturing, manufactured production and lyrics about subjects other than Final Fantasy.
If only classification proved so simple. Trebuchet pursued some boss-level artists to explore their experiences.
Mega Ran
There have been plenty of guys throughout history who could be called Nerdcore but predate it – Biz Markie, The Fresh Prince, Del The Funky Homosapien, MF Doom and more… So that's where I'll start.
MC Frontalot, the "godfather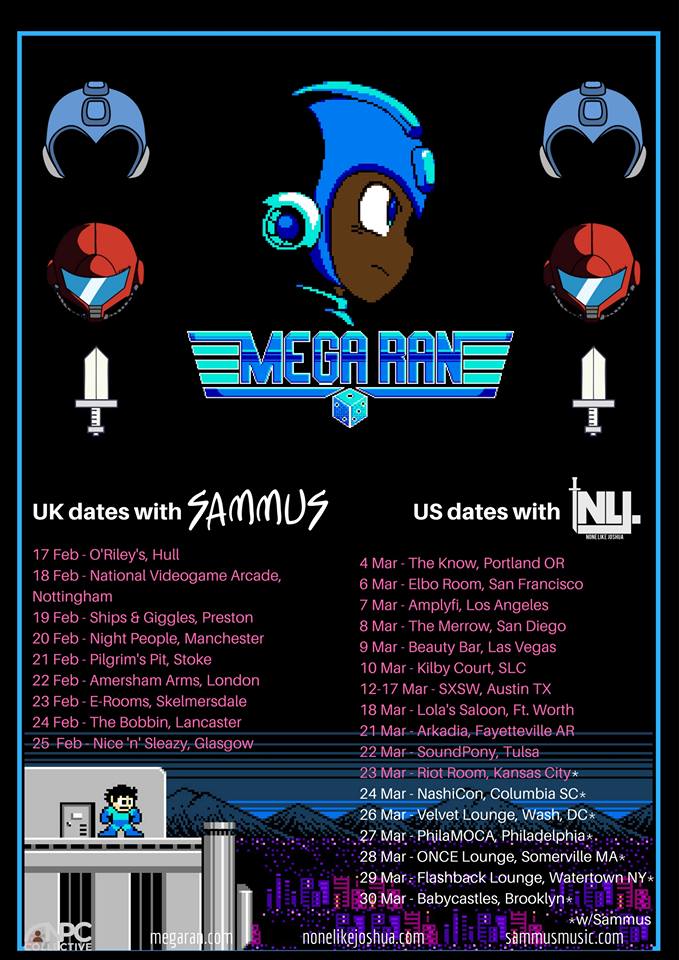 of Nerdcore," defines it as hip hop about subjects that one would consider "nerdy." Comic books, games, classic literature, movies, coding and more. Nerdcore and I operated almost parallel until maybe 2008, when I created the first "Mega Ran" album, and searched high and low on the internet for some place to spread my wings… shill my wares… discovering that it might have been too "Hip-Hop" for the gaming audiences, and too "gamer" for the Hip-Hop crowds.
I found myself in an interesting middle ground. The more I'd play shows, people would tell me "that's Nerdcore!" I had no clue what that was, so I explored it, and a found a group of supportive, loving, passionate guys and girls who had never been spoken for. With Nerdcore, I found a space to be creative and fun without the hard exterior that early 2000's hip hop had become enamored with. This allowed me to carve an interesting space for myself, and later others; playing conventions, comic and game shops, and more, in addition to the traditional music venues.
The hardest thing for any artist is probably asking them to be easily classifiable, as nerd rap does. Therefore pretty much every successful artist who has come up through the Nerdcore ranks has eventually found the term a bit limiting. Through the years, the lines have blurred. Every kid rapping today references Dragon Ball Z. I realize that as my subject matter changes and grows, I've felt that the labeling of "nerdcore" didn't fully encapsulate everything that I do, but at the same time I feel like the concept and image of the "nerd" has also changed.
Nerds are passionate, they're tech-savvy, they're informed, and they even get depressed. But at the end of the day, no matter the subject, or the backing beat's source, It's Hip-Hop. That much is 100% agreeable. Nerdcore has grown and changed, and remains a worthy ally in the quest for the relevance and respectability of Hip-Hop culture.
Sammus
I've always had a bit of a weird relationship with the term "Nerdcore." I was introduced to it after I put out my first album, 'M'other Brain', in 2012 and collaborated on some tracks with Raheem (Mega Ran) for the first time. I started to see publications and listeners calling me a "Nerdcore rapper" and I was greatly confused because I had never labeled my music in that way and had never even heard the term.
While my references to video games and cartoons have always been an important part of my music, I was uncomfortable with the music being categorized so rigidly. I didn't want the term to end up boxing me in, particularly in terms of the kind of music that people would come to expect from me, and I didn't want the term "Nerdcore" to push away listeners who felt like they weren't included in geek and nerd spaces. Those were exactly the people for whom I was writing music!
Eventually I arrived at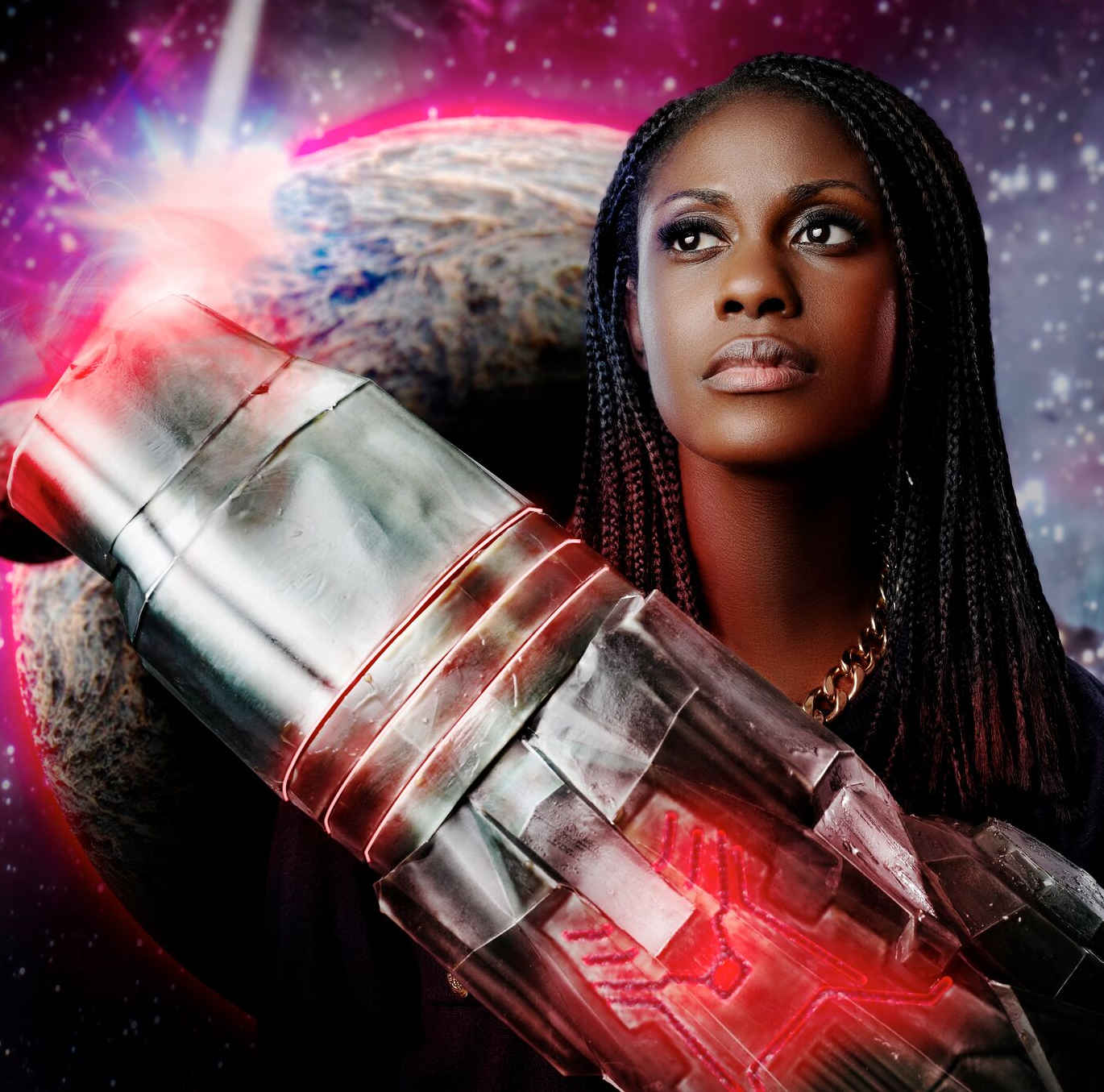 the position, that while "Nerdcore" is a great categorization for particular kinds of music, it is perhaps not the word I would use to fully describe myself as an artist. Meaning, I definitely have projects that I would consider proper Nerdcore, like my collaborative Castlevania album 'Nocturnal Cantata' (2013) with Mega Ran, or my Metroid concept album 'Another M' (2014). But I also have projects that veer far from the confines of what most consider Nerdcore – projects in which I talk about everything from depression to black feminist thought. I would say these fall better under the broad umbrella of Indie Rap.
It's been quite a journey for me – I certainly recognize that the categorization of my music as Nerdcore has helped me to enter spaces that might otherwise not have known I existed, from conventions to comic book shops. I'm very grateful to have found communities of listeners and supporters who value my video game and cartoon references. But I will always remain adamant that my music seeks to play with boundaries and labels rather than fit neatly within them.
Ben Knight
As far as Nerdcore goes, I was a little late to the show. I discovered MC Lars (Andrew Nielsen) in 2005 with his album' The Graduate' and instantly fell in the love with the genre. I had always been a fan of Hip-Hop but this was something different. He seemed to approach his songs the same way that I do. Take the music and production seriously but don't take yourself too seriously. With "Nerdcore" you didn't have to rap about what thousands of other artists had already put out there. You could talk about the nerdy things you found interesting.
However, the term nerdy has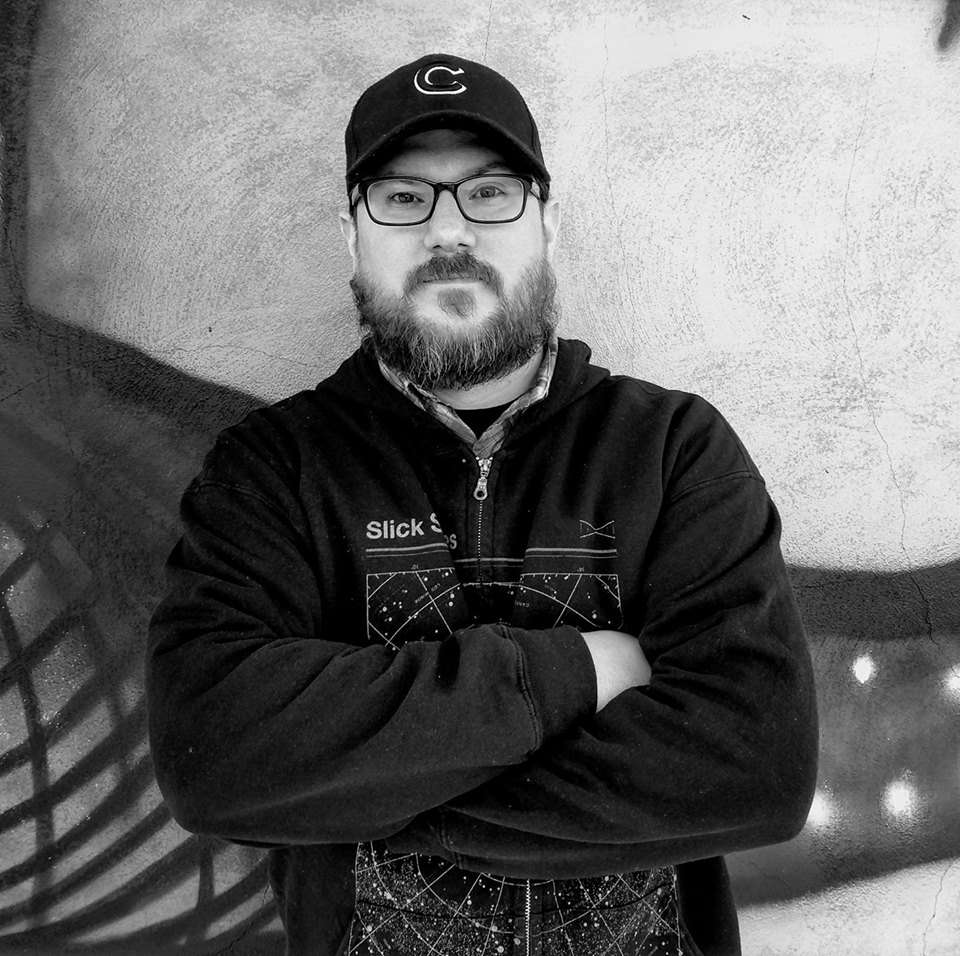 changed over the years. It was used to describe people who resembled the Tri-Lambs at Adams College but now it's become something else entirely. It's expanded to include all those who love Anime, Sci Fi, Tech, Video Games, and even literature and Edgar Allan Poe. Lars showed me that you could write about the things I loved and it could work with hip hop.
Upon hearing 'The Graduate', I had to find more "Nerdcore" artists. What I quickly discovered was there weren't many. With some searching (thanks, Google) I found Mega Ran, Beefy, MC Chris, Sammus, MC Frontalot and Optimus Rhyme. All these artists were different but had the same passions I did.
It propelled me to start finding my voice within the genre. Outside of Nerdcore I still feel a connection to artists like Will Smith, the Beastie Boys, Run DMC and many others. Their ability to write catchy hip hop songs that had a fun flow really show early signs of Nerdcore. Before Frontalot gave the genre a name. For me, personally I love a good hook. I always try to make sure that along with a nice steady flow, that there's something to sing along with in the chorus in most of my songs. I've also never understood the idea of trying to sound hard or like I'm better than another MC. I've always considered Nerdcore more of a community of artists and less of a Royal Rumble for the belt of Supreme Nerd Word Slinger.
I do believe that Nerdcore, however, can be a notch in the proverbial hip hop belt. In the future I look forward to hearing all the old and new voices playing within and outside the parameters of this magical genre.
So, to summarise…
I suppose our endpoint here is reasonably self explanatory. "Nerdcore" as a term is simply another example of the juxtaposition between signifier and signified. Another example of the phasic relationships between affiliation with a movement and the overtly restrictive nature of generic classification. We reached out to prominent rapper MC Lars for comment initially, yet he politely declined to comment as he no longer identifies as a Nerdcore artist despite significant contribution to its affiliated canon.
Mega Ran's point regarding how the lines have blurred is significant here. The context of this article provokes a fixed relationship with a parameter largely self-defined through one's own experiences. I can only emphasise how deep the synergy between rap and nerd culture (another fluid term) goes. Take Bugzy Malone's 2017 single 'Bruce Wayne' for instance. It's crammed with the obvious Batman references and a passing mention of "flyin' like a Tails with no Sonic." This, from an artist heavily defined by his affiliation with British Grime movement. To reiterate, then; if only classification proved so simple.
Mega Ran and Sammus are embarking on a UK tour this February:
Saturday 17th Feb – O' Riley's, Hull
Sunday 18th – National Videogame History Museum, Nottingham
Monday 19th – Ships & Giggles, Preston
Tuesday 20th – Twisted Wheel, Manchester
Wednesday 21st – Pilgrim's Pit, Stoke
Thursday 22nd – Surya, London
Friday 23rd – E-Rooms, Skelmersdale
Saturday 24th – The Bobbin, Lancaster
Sunday 25th – Nice 'n' Sleazy, Glasgow
This article may be updated to include additional key perspectives.
Sammus Photo Credit: Andrew Doench/Featured Image Credit: https://megaran.com/


Jed the Music Ed. is a Music Promoter/Booking Agent and general fixer with Rawkus Events. Jed's interests include a constant and reckless over-caffeination, irrationally spontaneous travel plans and maintaining an over-expensive (borderline hoarder) PC/retro gaming habit.