[dropcap style="font-size:100px; color:#992211;"]I[/dropcap]t's a sunny day in London. Having spent my afternoon with window shopping along the South Bank's busy galleries, I am entering The Wapping Project Bankside gallery and am immediately absorbed in the distinctive world of photographer Mitra Tabrizian.
From the first moment, I feel equally pulled in and pushed away by a series of photographs all displaying characters and places that seem to be taken from a parallel universe; an alien world full of familiar objects and people. Only, those people seem strangely detached and isolated, frozen in artificial poses, lonely.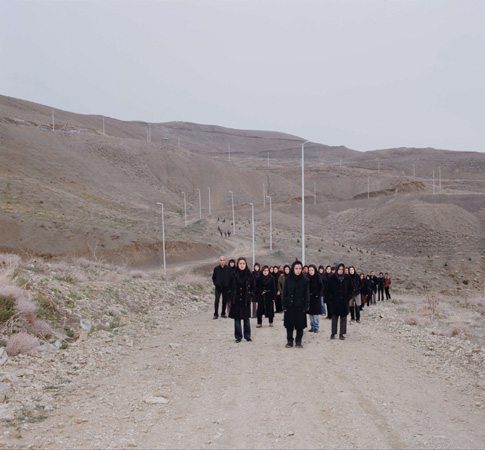 Intrigued by the artist's highly staged, theatrical work I want to know more about her. Does she know how it feels to be lonely in another country?
London-based Mitra Tabrizian was born in Tehran. Being British and Iranian, the photographer and filmmaker explores the everyday life of immigrants and their children who have come to Europe from the Middle East. These individuals, some born in the UK, appear lost in thought.Lost in space and frozen in time, perhaps caught between their present circumstances and a certain desire to return.
"A school, a café, or a cemetery, 'Another Country' no longer refers to some other country out there, but to a culture within or more accurately to the past".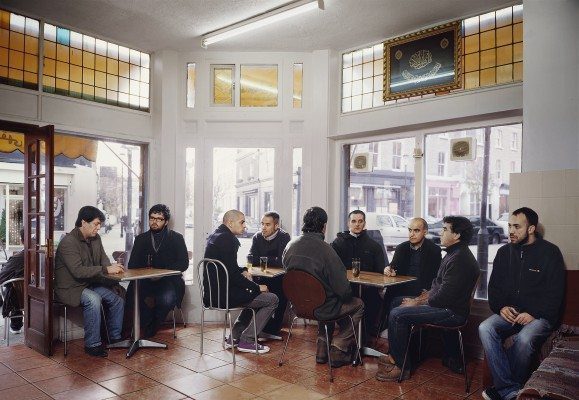 I am particularly interested in Mitra's portraits of Muslim women in London, and ask her about the experience.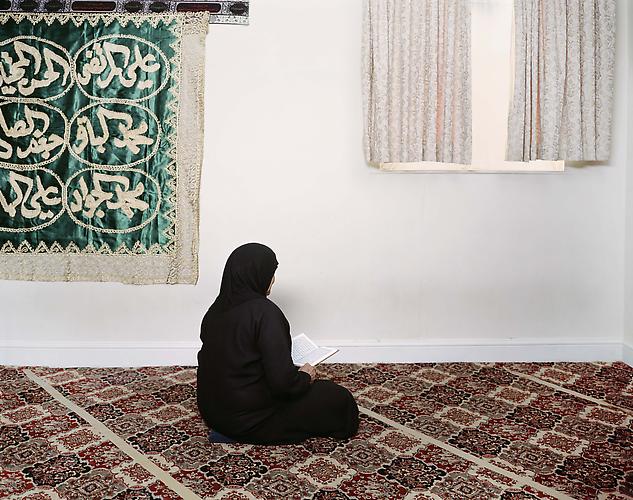 "I only concentrated on the communities in London, that I could get access to and it took a year to do so. I approached the community as a whole and women were unwilling to participate, only two volunteered, but did not want to show their faces which I respected. Naturally".
[box] only two volunteered[/box]
In a time when we get bombarded with demands of cultural integration and globalisation, I wonder if the price we pay might be a life in (individual) isolation. In this context, our modern social life might not necessarily be a progressive one. Mitra points out that my statement indicates that multiculturalism doesn't work.
She introduces me to the work of Homi Bhabha, postcolonial theorist, who makes a disinclination between multiculturalism (or cultural diversity) and cultural difference.
There are two problems with multiculturalism he stresses: one is that "although there is always an entertainment and encouragement of cultural diversity, there is always also a corresponding containment of it. A transparent norm is constituted, a norm given by the host society or dominant culture which says that these other cultures are fine but we must be able to locate them within our own grid".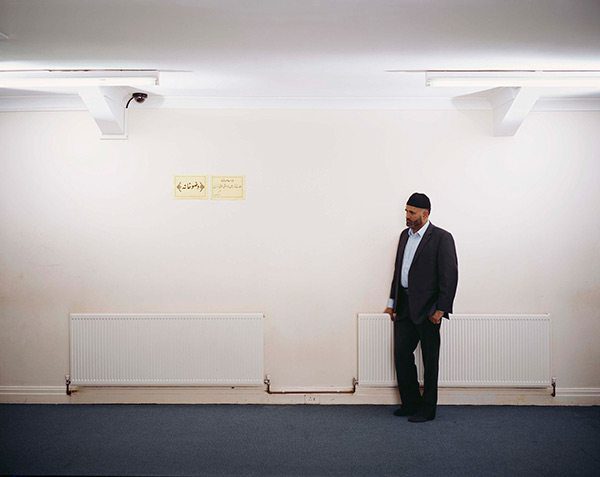 The relatively new law in France that bans the burqa in public is an obvious example here, while no one questions the codes of dress of Western women (no matter how revealing) during Ramadan in the more tolerant Islamic countries like Morocco, for instance. The second problem is that in societies where multiculturalism is encouraged, racism is still rampant in various forms. "This is because the universalism that paradoxically permits diversity, masks ethnocentric norms, values and interest ".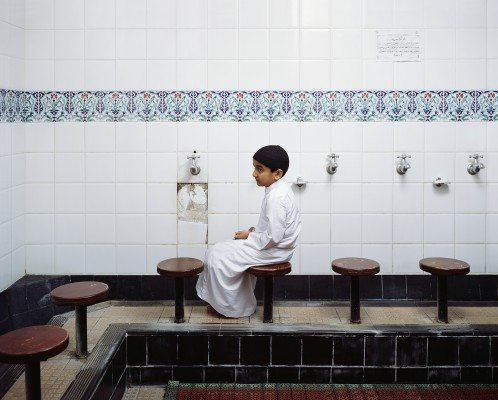 Another Country (2010) is a series of eight large-scale group and individual portraits. Combining documentary techniques with those of film, Tabrizian produces meticulously choreographed photographic scenes of condensed narratives. The exhibition brings together the complete series of Another Country (2010) for the first time in the UK, alongside the monumental Untitled (2009), and focuses on the idea of homeland, the emergence of hybrid cultural identities in the context of globalization, and the politics of everyday life for Muslim communities from the Middle East in the UK.
Another Country can be viewed at The Wapping Project until November 2nd
Photographs: Mitra Tabrizian
---
The Wapping Project Bankside gallery is open Tue-Sat from 10am to 6pm and Monday by appointment. Tel. +44 (0) 20 7981 9851
65a Hopton Street, London SE1, nearest tube Southwark or London Bridge
[button link="www.thewappingprojectbankside.com, " newwindow="yes"] The Wapping Project[/button]