[dropcap style="font-size:100px; color:#992211;"]F[/dropcap]
uturism's drooling embrasure of technology and progress toward a more comfortable, machine-enabled existence pre-sages the tunnel vision mindlessness of Silicon Valley tech entrepreneurs gleefully anticipating a future of digital dross curated only by page impressions.
For Wyndham Lewis, such populism was anathema, and negated the creative power of crisis and catastrophe.
His response: Vorticism. A vortex implies catastrophe, and catastrophe asserts a reality which won't let us relax or congeal into the perfect mechanisms of Futurism.
His images above from 1912 seem to make this point, his dancers struggle against these forces and so for Lewis have some dignity and power, while the 'Planners' appear broken and arranged like discarded paper: crumpled and anonymous. We might also remember that when Lewis makes a portrait or sketch of a friend, a more classical form remains to preserve their individuality.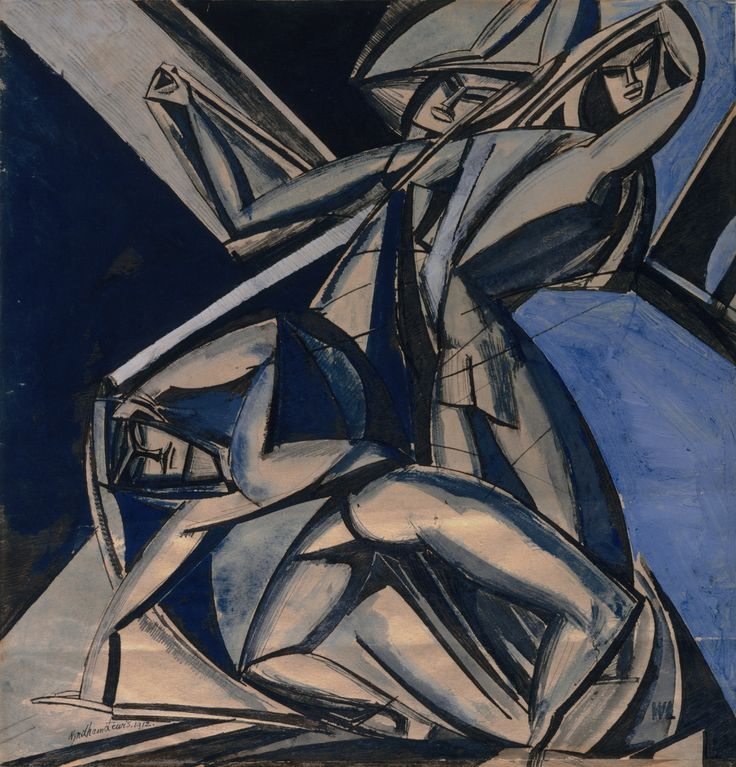 Wyndham Lewis 'The Dancers#, 1912
Would Lewis have Approved? No!
There can be no appropriation of Lewis which imagines it would find favour with the man, either in form or attitude. Lewis would likely have been dismissive of much that I have written here and I regret that I am unable to read/hear such a response. However, to a certain extent that is the point.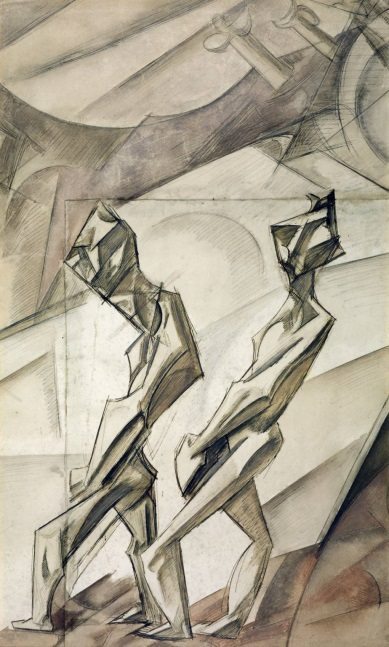 Wyndham Lewis 'Planners: Happy Day' 1912-13
A radical appropriation of Lewis must be political to do justice to his ambitions, it must be unsentimental to be true to the man or useful to the public. Additionally, it must come from the left to avoid Lewis's own foibles, realising what he hinted at but could not do himself as a man of his time (and as an individual already holding together many contradictions in one person).
Lewis did write:
To begin with, I hold that there is never an end; everything of which our life is composed, pictures and books as much as anything else, is a means only, in the sense that the work of art exists in the body of the movement of life. It may be a strong factor of progress and direction, but we cannot say that it is the end or reason of things, for it is so much implicated with them ; and when we are speaking of art we suddenly find that we are talking of life all the time.
– Wyndham Lewis, The Tyro
This rather poetic sentiment perhaps evidences some foresight of how Lewis himself might be used in the future. Lewis provides further openings when he says: "Contradict yourself. In order to live, you must remain broken up" (- Wyndham Lewis, The Essential Wyndham Lewis).
Picking the sharpest and most jagged 'broken' pieces, we should use Lewis as a model to strike at hypocrisy, false sentiment and mindless greed. There is so much fat to cut away from our current creative milieu, that of this sentiment, I am confident he would have approved!
Read previous essays in this series: Part One ¦ Part Two ¦ Part Three ¦ Part Four ¦ Part Five ¦ Part Six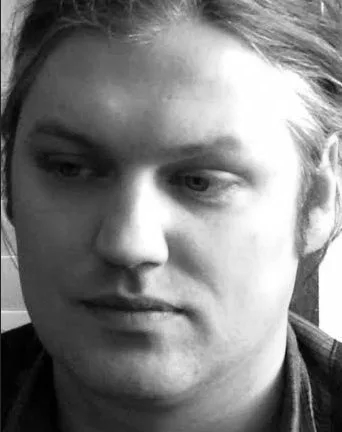 Michael Eden is an artist and researcher working in London and the south east, his artistic practice is concentrated on painting and he divides his time between this and lecturing in art history and contextual studies.