C
ould anyone say optimism is a prevalent feeling in 2022? Climate crisis, society in decline, and populist right-wing politics have all contributed to widespread feelings of despair and pessimism. Michael Rumsby's new exhibition, to be shown at Mayfair's Clarendon Gallery this May, is an attempt to give a sense of hope akin to the first day of Spring.
Titled Respair, a word which has barely been in usage since the fifteenth century but means 'recovery from anguish or hopelessness, Rumsby's body of work shows the artist reflecting on the landscape surrounding him, his domestic environment and memory. The resulting forty-five works present an autobiographical return to hope, bright and bold canvases presenting viewers with a found joy in life.
For the last decade, running a boutique hotel Rumsby has lived in South–West France with his husband Lee, this landscape has inspired his current practice. Itself, a continuation of the rural influence of growing up in Suffolk. A county that has been an inspiration to countless artists, Gainsborough, Benjamin Britten, and latterly Maggie Hambling, its flat landscape, and big horizons proved a formative influence on the artist. Rumbys' family were initially based in the small inland town of Leiston. But, as the family became more affluent his father built them a house on the cliff of the small, picturesque village of Thorpeness.
'The landscape for me is a very painterly kind of landscape. I had a bedroom where the window looked right out onto the pebble beach and the North Sea. And so, I woke up every morning to the sound of skies collapsing in onto the ocean, to the mist, to the sunshine coming up from the east, some amazing sunrises… And I think that, for me, it's a very emotional landscape. To me, you could easily have Wuthering Heights on the Suffolk Coast… You can't escape it. It's an in-your-face sort of landscape.'
This early exposure to the beauties of nature runs through Rumsby's practice. It is all about nature. Even the works in this collection that focus on the domestic bring the outside in with plush vases of overflowing flowers. The turn to still life in this body of work is a new avenue of focus for Rumsby, and it is a term that carries baggage for the artist 'I always used to hate doing still life! At uni and school, I thought it was so boring. And it has a reputation for being a very traditional genre of painting.'
It probably holds negative connotations for most viewers as well. Distant memories of painting a particularly sad-looking bowl of fruit in a school art room may spring to mind. However, these works actually prove something of a highlight of this collection. Rumsby's bold and varied pallet engages the viewer and makes the domestic captivating. There is something of the tradition of artists who have worked in France in these images, shadows of The Impressionists and Van Gough, in particular, shine through, yet that is not to say these works are derivative. They feel part of a tradition but the strokes remain Rumsby's.
'Nature… It's always been a draw to me. Because of the childhood influences in Suffolk, always going on walks in the seaside and being by the water, the lakes, that sort of stuff… I find a certain amount of safety in nature. There's something to me that's like a constant about it and very safe. I think that ultimately man is always drawn to nature. There are lots of reasons why the Impressionist movement finished up going to, you know Arles or Aix, or to all these places along the Mediterranean coast, but most of them come down to sunlight…I think I'm touched by the same elements that any other artist who has been and whether it was Cezanne, or whether it was Van Gough or, you know, whoever.'
Usually painting in his studio from photographs and his own recollections, memory plays a huge part in Rumsby's process. It acts to add an abstraction to his practice, a component that may not immediately strike a viewer upon seeing his work. However, looking closely at the canvas reveals a hidden world of abstract shapes and colour combinations which provides a haziness to the scenes Rumsby is presenting.
'It's a huge part. It is really the main thread to my practice. It is taking something that is real, that exists. Those landscapes exist, there is a departure point that is real. But then they don't exist anymore, they exist in my mind and that's what spills onto the canvas. And then I imagine because I get into a zone where I'm expressing myself and that's what I enjoy and that's where a lot of the colour comes through. I use colour in various ways. I suppose subconsciously I refer back to my academic training of painting, the basics of colour wheels and how they work, complementary colours and all that stuff. I understand that and that just naturally occurs in the painting. But really, I'm using colour and tone, I'm building up all the time. There are layers and layers and layers of paint that are on top of each other. So I'll do a mark of red, and then it might have a mark of green, then it might have a mark of blue and then it might have a mark of another blue and then another and so it builds up and builds up. Obviously because of what's underneath it changes and the light refracts. Then you get a little splinter of what was underneath and coming through. That's a process. There is no technical observation of what I am painting really. It's a process that is a journey of getting from what I saw, or what I photographed to what then appears on the canvas and sits in my studio, or hangs in the gallery.'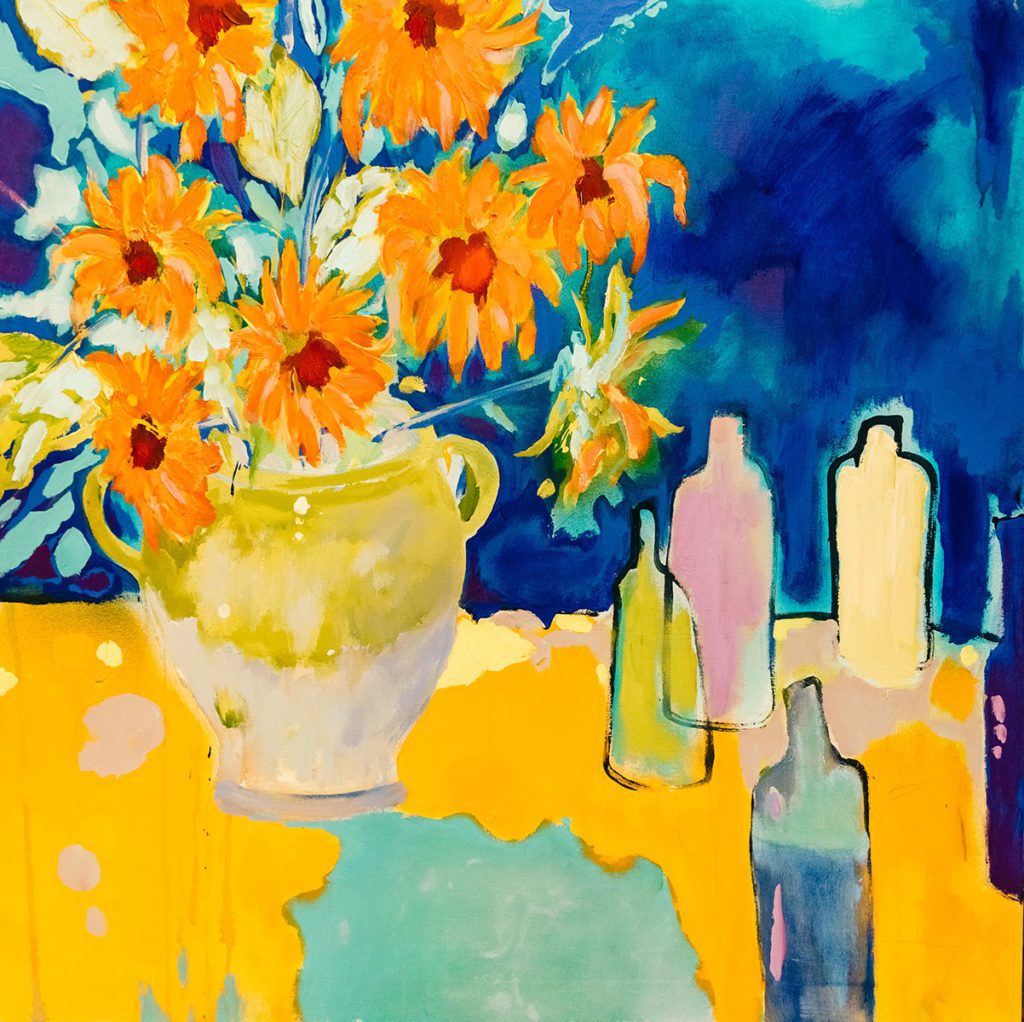 Rumsby expresses through his work and through what he says a sense that society is collectively feeling a weight lift of it due to the end of lockdown restrictions, that life is there to be enjoyed again. This feels misplaced, as while the worst of covid may be fading into strange memories, crises after crises seem to follow. Perhaps this reflects a certain privilege of Rumsby? More generously one could say it is a reflection of the artists own joy in his life being projected on the rest of us. Certainly, his own happiness and how far he has come is something Rumsby is contemplating with this milestone exhibition. His choice of title 'Respair', a word he stumbled across by pure chance, indicates this collection marks a turning point both personally and artistically.
'I was in our gym listening to British radio and there was a show on, one of those shows where you have 'word of the day'. The word of the day was 'respair'. And I thought 'oh my god that's just brilliant! Because it's about the return of hope after a period of despair and challenges. It was suddenly a lightbulb moment. Because suddenly the work I'd been doing started to make sense. And it made sense on two levels.
Respair: it represents on one level a period now where we are all in a place where after a couple of years of pretty dreadful, terrible times, for some more than others it feels like there's hope at last. There's joy, there's beauty to celebrate. It made total sense to me and a lot of these paintings are – other people's words not mine – very joyous, very colourful, full of hope, full of energy and full of positivity, because that's how I felt when I was painting them.
On a second level, which is where it gets much more personal, what you have to understand is… I am someone who lived a life where it was as authentic as perhaps as it should have been. In terms of my career I would have loved to have gone to art school and been a crazy artist in the '80s and '90s, it didn't happen. So, I finished up in the corporate world and painting at weekends and when I could. No regrets, because that's life and if I hadn't of done that I wouldn't be here now, but it was a journey. It wasn't me, I was good at what I did, but it wasn't who I was. I'm an artist and I've never been happier than I am now doing what I love.'
I also knew from a very young age that I'm gay, but I'm a kid of the mid-late '80s. As a teenager you didn't turn around to your middle-class parents in Thorpeness and say "hey maybe don't mention it at the pub tonight but I'm gay". You just didn't do that. So I left university and I ended up getting married and I had kids. I lived this life but I didn't know who I was, there was this big secret that I was harbouring in my head more than anything. I came out in 2007 I think, and then I left the corporate world in 2012.
So, this show, 'Respair' is a huge milestone for me because it's ten years since I left the corporate world, this is the result of the last ten years and everything before. But it's really important because for me, respair means… it's a celebration of being joyous and a life of hope and happiness, after a lifetime of… not despair but quite a lot of internal turmoil and suffering, which was mine and mine alone.'
There is a balancing act here, with what Rumsby feels in his creation and what the viewer experiences. On first glance there is little subtext to these picturesque scenes, they do not feel particularly deep. But drinking them in the colour and the brightness, whilst not slapping you in the face with the artist's entire backstory radiates his level of contentment, and that is something that can draw the viewer in and make these works more captivating and interesting than your average landscape or still life. These are not observations but interpretations of a love of life that can feel infectious. They are not ground-breaking works, they are not deeply intellectual works but nor are they supposed to be. They are works that are essentially lovely to look at, which in the world of contemporary art can sometimes be forgotten delight. That is what makes this collection so worth seeing.
'There is a series within this body of work which is a woodland series… If you want to learn more there's a whole backstory to that for me these represent, because there were lots of woods in the back of our house in Thorpeness, it was always about finding pathways and looking to the horizon. So all the works in that woodland series have a horizon which then came to represent there is a way out, there is a way forward, there is a sky and brightness.
But at the end of the day, I still want to produce a piece of work that is aesthetically beautiful. So, the more psychological stuff that is behind it, it's important to me and if it's of importance to the person looking at the painting that's great, but it's not the sole purpose of it. It's not meant to take over the actual aesthetic.'
'Respair' is on at Clarendon Fine Art, Mayfair, 26th May – 2nd June 2022.
Featured Image: Escoler Photographie, Michael Rumsby in his Studio, 2022.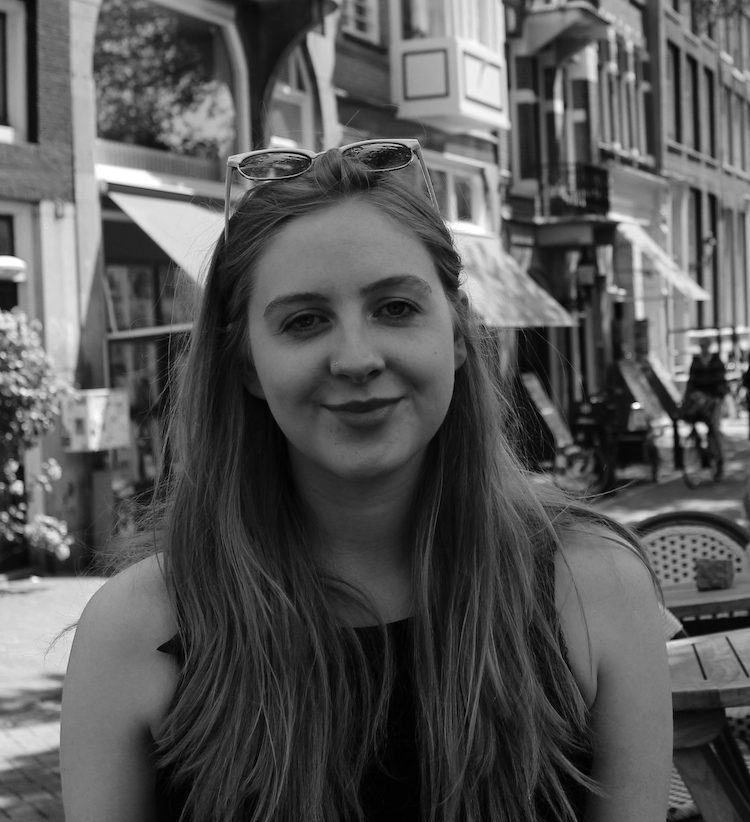 Ruth O'Sullivan is a London-based artist and writer. Her work explores subjects from artificial intelligence to challenging traditional relationships between the artist and model. Professionally, she has worked on projects for some of the leading art institutions in the UK, as well as having her own visual art practice.