Following in the footsteps of Njideka Akunyili Crosby, Aliza Nisenbaum, Denzil Forrester and Helen Johnson, Joy Labinjo has created a large-scale mural for Brixton Underground Station inspired by the community and culture of Black British hair salons.
How did you go about conceiving the idea for 5 more minutes?
I originally started with two paintings. The first one was an interior living room scene that had political references to the Windrush generation. It was about a family the 1960s or 1970s Britain with a lot of patterns and bright colours – very similar to my previous works. However, at the same time, I'd always wanted to do a hairdresser painting because I really liked Hurvin Anderson's Barbershop series, and Kerry James Marshall's School of Beauty, School of Culture. I was aware there hadn't been a salon scene set in Britain in painting before, which is what I had always wanted to do.
A friend was visiting when I had to pick the final work for the project and we both felt the salon painting was more Brixton. I made the work over lockdown, so I couldn't get to an actual salon. I used a combination of image sources: some stills from YouTube videos of Black British salons, and some images from Shutterstock. I kind of fused [those scenes] with personal memories from visiting those spaces over the past 20 years. 
Your practice often incorporates archival materials, were there any images personal historical found that particularly inspired this piece?
I would say one that stood out was a photograph of a salon from somewhere in Africa. You may think that wouldn't translate, but the salons in Britain are actually very similar to salons in the Caribbean and Africa with their peeling posters on the wall and other interior tropes. I used that image as a starting point.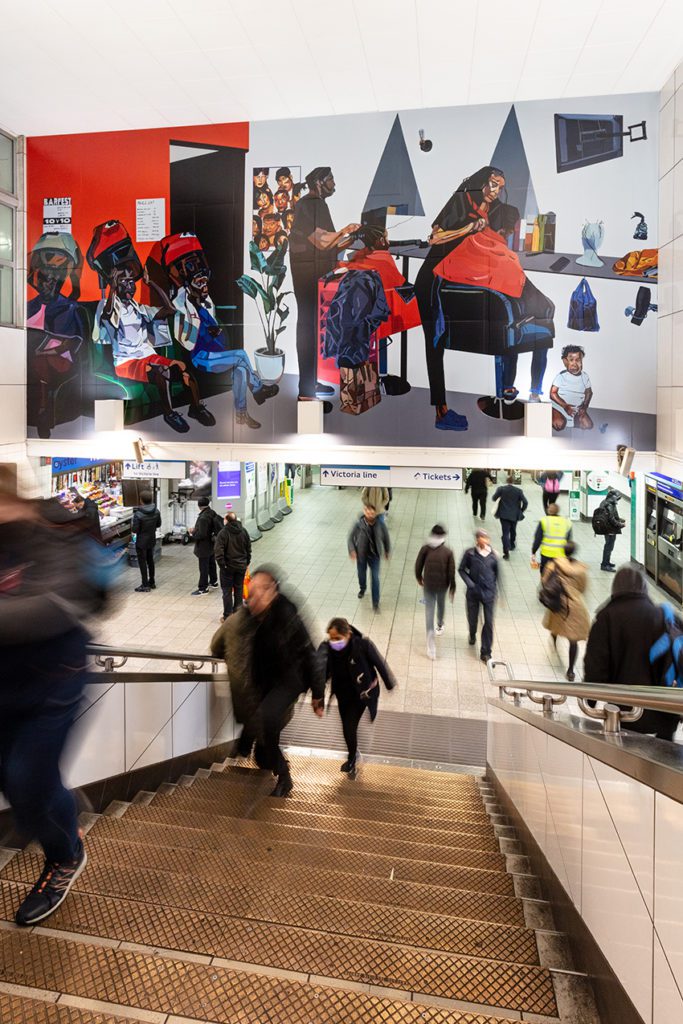 Is this your first public commission? And if so, how have you found the experience?
It's not my first public commission, but it was the first one I began and the last one this year to go on view. My permanent wall mural for Create London's Becontree Forever project is currently on view to the public as well as a mural for a Psychiatric Intensive Care Unit in East London for Hospital Rooms. These projects were different to Brixton as I painted directly onto a wall on each site. Five More Minutes is more in line with how I normally paint given it was made in the studio on canvas first. 
Five More Minutes is the largest painting I've ever done. It was made in the studio to half the scale it is. My thought process was: the bigger I can make it, the higher quality it will be when it goes up. So, my working process has changed in scale. It's also probably changed the way I work in terms of planning and improved my time management. 
Unlike the other two public commissions, I still don't know what it will look like on site and will see the work at the same time as everybody else. It's kind of nerve wracking!
What's the significance of the mural's location in Brixton underground station?
Up until very recently and for the past three years, my studio was in Brixton. It's an area I'm deeply connected to and it has influenced so many of the works I've made so far. But the station itself has such a rich history especially for Black Londoners. It's the end and start of a line so lots of people come in and out of the station. I see lots of young people of colour walking around who may or may not go to exhibition spaces and it feels special to be part of people's lives and to be viewed by so many. I guess it's somehow more exciting than an exhibition.
While you didn't grow up in Brixton, you've described the work as a kind of "homecoming". Can you explain what you mean by that?
Brixton will always be special to me because it's the first place I worked and lived in London. The past few years of my career have been rooted in Brixton and there's documentation of that – of me being and living in Brixton. It's the part of London I'm most familiar with as an adult. In some ways, I feel like it's become part of my identity.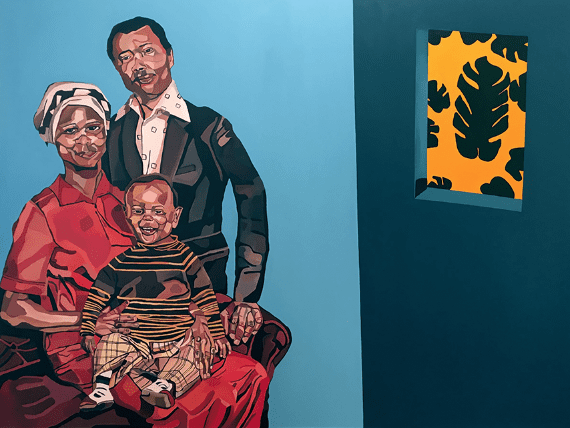 In terms of your practice, more generally, what role does colour play in your work?
It plays a massive part and is hugely significant. My work has been rooted in colour from the beginning. It began as a tool for me to catch the viewer's eye. Having gone to so many exhibitions, my eyes had become numb at a certain point to what I was seeing. So, I used colour to make work that I wanted to see. It also spoke to culture. Being Nigerian, we're not afraid of colour and wearing colour. Brighter is almost better in some ways. The use of colour also spoke to the patterns that I was using in the paintings. Now, it has continued as a tool to break the canvas up, and in some ways, make the paintings more playful when exploring serious topics. Colour is a way to bring people in rather than alienating.
How do you think your approach to painting has changed since graduating?
Working as an artist full time has given me the time to explore paint as a medium and figure out what mediums I need to use to get them to do what I want them to do. So, at university, the best I could get hold of was household paint. I hadn't realised I could get that same quality in oil with various mediums to make it thicker and glossier. And then it became a process of how to work quickly with paint. And again, discovering mediums that I needed to use to make it dry quickly so that I can retain the clean lines that had become so prominent in my works. So, lot of it has been about methodology and the science of paint – its technical aspects.
I feel like as time has gone on, I've become more confident with how I paint the figures. I would say they've become sharper and more refined. There has also been a development in subject matter. I've felt like in getting the method of how I need the paint to be, I have gained the confidence to explore different subject matter. I began originally with family, photographs, which has expanded to archival imagery and historical imagery and now, imagery that speaks to socio-political and racial matters. 
Do you ever feel under pressure to make a certain type of work?
No. However, I'm under pressure – working as an artist – to make sure they're all good – from my own perspective.  I realise the best I can hope for is just time to make the work and having the conviction to tell the world the things I want to say. I'd be more disappointed if I didn't follow my ideas and interests through and just made things that I already know work. 
Featured Image: Joy Labinjo, A Celebration of Sorts, 2019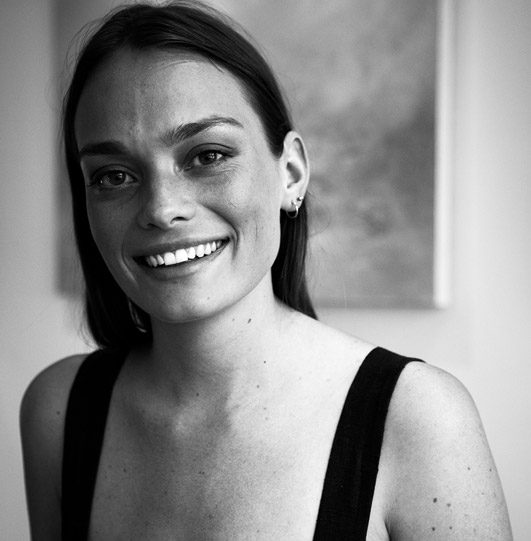 Millie Walton is a London-based art writer and editor. She has contributed a broad range of arts and culture features and interviews to numerous international publications, and collaborated with artists and galleries globally. She also writes fiction and poetry.