[dropcap style="font-size:100px; color:#992211;"]L[/dropcap]ondon Burlesque Festival leaves Francesca Goodwin wishing, for their sake, that it was still 1932.
It came as something of a shock, both to myself and to others, when I found myself volunteering to review The London Burlesque Festival. The phrase 'But you're like, a feminist' (yes, do note that filthy capitalised F word) was bandied about and I was advised to remember that I should go with an open unprejudiced mind– in order to focus on the performance.
Not to plunge too deeply into the debates surrounding what feminism means now, I had in fact answered such nuggets of wisdom by proudly dusting off my copy of The Happy Stripper and settling down to an evening of watching playbacks of interviews with Dita Von Teese, in which she discusses the importance of 'glamour' over 'beauty' and the empowerment of female sexuality through the art of the striptease.
'The art of Burlesque', was in fact to be my mantra as I eagerly perused the programme of a festival which, professes to be filled with:
 'colour, panache and excitement and is simply the greatest showcase of international burlesque talent on earth'.
What better way to give Germaine Greer a cheeky new-wave nudge, I thought to myself.  If this all sounds a little too good to be true then that's because it was. Although, to give LBF their dues for not doing things by halves, the bathos was not just a little, but catastrophic. It didn't even take the half hour that I endured of 'The LBF All Stars' event to start throwing more clichéd spanners in the works than there were phallic balloon jokes in the performance.
[quote]there is some redemption to be found
in the fact that something so low tech
and reminiscent of 'naughty' vintage pin up
postcards, had the power to engender a true
community of people[/quote]
Met with the Town Hall- esque venue that lent the whole affair a very village panto vibe, and the trestle tables that served as a bar in the hallway– around which a gang of ticket holders were congregated, (looking like a cross between the cast of Absolutely Fabulous and a Goodwood Revival meeting)– my guest and I promptly made a beeline for the nearest bar and ordered the driest martinis they could muster, served in real glasses.
Tearing ourselves away from the spectacle of the Italian barman and back to the spectacle at hand, the delightful vodka haze that he had so adeptly provided lasted for about the amount of time that the cocktails had taken to be shaken.
I almost wish that I could fall back on the adage of 'style over substance' and yet, there was certainly nothing stylish about the bag of brash sexist humour and distinctly mediocre – at best – performance that then followed. Perhaps I had misconstrued the agenda of the festival and yet, on re-scanning the press material the phrases 'most acclaimed', 'prestigious' and 'show stopping' continued to flaunt themselves in 'red flag to a bull' abundance.

If I had signed up for an amateur production of a Carry On classic then I would have been slightly satiated but there it was, in print no less, with only slight variations across repetitions.
This was Burlesque from a time when women taking their clothes off as quickly as possible, under the guise of those clothes happening to be costumes of variable spangly tastelessness, constituted entertainment.
We got through three acts in the space of twenty minutes – punctuated by exceptionally enervating narration from the host who appeared to have modelled himself on a Vegas ringmaster yet with not quite enough of the ruddy cheeked caricature to carry it off. That says enough in itself about the lack of teasing in the stripping.
I was muttering something about being greatly saddened, rather than titillated, by the Snow White-themed second act before we even got to the almost naked magician, who ran around swinging his crown jewels (that were covered by a deranged-looking inflatable mouse head).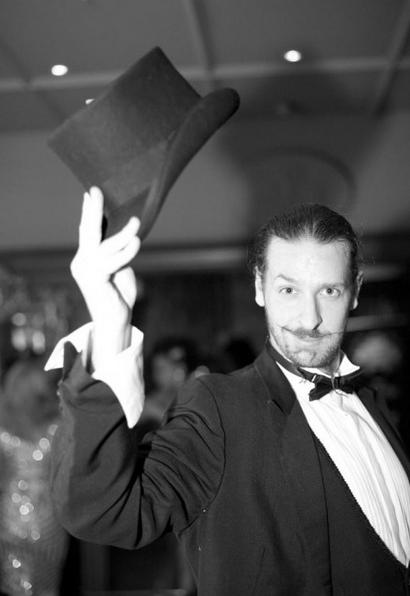 My concern switched to the clear anxiety on the part of the child's toy, which had certainly not been consulted prior to its employment.
Could we pay for him to put his clothes back on and get a cup of tea and a croissant? Could I get a croissant…? No, this wasn't the Moulin Rouge, more's the pity.
Reassurance was at hand however that the organisers also had ethical concerns in mind as, scuttling onto stage, came a semi- bustled chorus girl who served as a stage hand. Clearly they weren't ones for outsourcing labour either. Queue invitations from the leering host to marvel at her 'bend and snap' approach to sweeping up feathers.
For full disclosure I should add that, admittedly, my window cleaner hasn't yet mastered such manoeuvres but, neither did this display– of what I can only assume was comedy– inspire me to write that into the contract any time soon. I realise at this point that my use of the phrase 'this was Burlesque' could be alleged as a typo, since there was certainly no art or even consideration behind, well, any of it.
With the benefit of the 'cooling off' time span that followed the experience there was, however, something that was scratching at my outraged resolve. That was the fact that, despite the ramshackle organisation and laughable standards (rather than content) of the performances, the hall was packed. I haven't heard so much laughter and indulgent joy since a family friend accidentally lost his trousers in a local drama society rendition of Oh What A Lovely War!
Indeed, if we put my feelings towards the clear focus on stripping rather than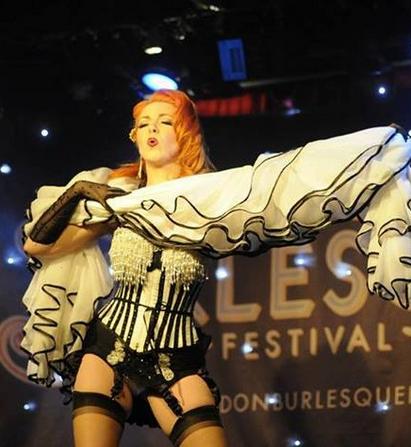 theatrics and witty repartee aside, then there is some redemption to be found in the fact that something so low tech and reminiscent of 'naughty' vintage pin up postcards, had the power to engender a true community of people. In central London no less, it was almost refreshing to find people delighting in simply donning their glad rags and partaking in an evening of good, honest slapstick and plastic-cupped socialising.
I couldn't help thinking of the famous motto  'We never closed' (Often modified to 'We never clothed') of The Windmill Theatre, in Great Windmill Street London, which was best known for its nude tableaux vivants. Performances continued throughout the Second World War and the Blitz, epitomising the 'we're all in this together' ethos of the war spirit.
In light of the increasing onus on arts venues and organisations to dazzle audiences with technological flashes and bangs in order to fill ticket quotas, the fact that something so nostalgic, so artless and so utterly un-PC could sell out, almost thawed my cold 'let's reclaim the female gaze' heart.
The sexism wasn't clever but it wasn't hurtful either and nodded back to a lost time where a bawdy side show was a means to share in a few hours of escapism with 'The Missus' and 'The Boys'. Perhaps if I hadn't read the press release and had my date with Dita, then the warm and fuzzy feeling would have taken more immediate effect.
The Italian looked slightly stunned when we slid into our still–warm seats at the oh-so-conveniently located bar:
'Two of the same but sweeter'
We needed some sugar to help the medicine go down.