[dropcap style="font-size:100px; color:#992211;"]I[/dropcap] know y'all have been missing me as you've done gone and filled up my in box whilst I've been away. I thank you kindly for your messages.
As y'all know, Col Jon Snr and I have been supporting Barack tirelessly throughout his campaign and let me tell you, it's plum tiring being out on the road. I applaud Mr. O for sticking in there and keeping that star spangled motorcade in overdrive.
Now, being out on the highway got me and Pappy to thinking and damn it if I didn't come up with most perfect thing to push ole BO that extra mile. Pappy just said how pleased he was to be helping out and bam, Chocolate Chip popped straight into my head. What could be better for an energy boost when you're on the road? Well let me tell y'all, an all American Chocolate Chip Cookie, that's what.
I scribbled some notes on the side of a Dixie cup as we were driving and adapted an old recipe Momma has in her special cookbook and the result is plain to see below.
There's a big old batch baking right now which Pappy and me are going to eat hot and fresh with some cool Tennessee milk. I wish y'all could come over and sit awhile and enjoy but y'all go ahead and bake a mess of your own. I've called them Presidential Chocolate Chip Cookies in honor of the man.
Let's pray to the good lord that America, God bless it, does the right thing.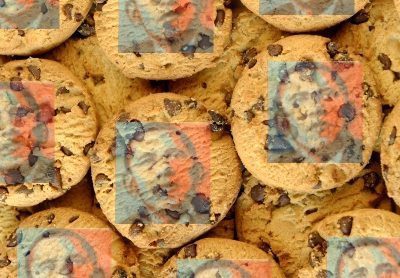 Col Jon's Presidential Chocolate Chip Cookies
I do believe these are truly one of the best chocolate chip cookies ever, producing a chewy texture due to the higher ratio of brown sugar to granulated sugar (they are Presidential for reason). If y'all like more crisp to your cookie or you are a Republican, exchange those ratios so you have more granulated sugar than brown sugar.
[quote] If y'all like more crisp to your cookie or you are a Republican, exchange those ratios[/quote]
As flavor goes, everyone in Mississippi knows butter is a superior fat for cookies, but can also create too much spread and often burns. I like to use a combination of butter with shortening, which has a higher melting temperature and keeps the spread minimal. I also use a small cookie scoop, which helps to keep these cookies a bit thicker. If y'all prefer more spread to your cookie, try upping the baking powder a little.
I also bake on parchment paper, because that's the way Momma taught me and rather than leaving the cookies on a hot baking pan while they set, you can slide the whole sheet of parchment directly off of the baking pan to cool, once set y'all can transfer them to a cooling rack and reuse the parchment sheet.
Now as these are Presidential cookies, I have balanced up the chocolate with just a bit of pecan, but don't worry y'all… there's plenty of chocolate here too, so it remains the star.
Momma gave me some good advice. Bake half of the dough and roll up the rest in wax paper, store in a freezer bag and freeze whole for later. Using a serrated knife, slice off cookies as desired, right out of the freezer and turning the roll occasionally to prevent flattening on the bottom. Bake as noted in original recipe, on parchment paper at 375 degrees for 12 to 15 minutes, or until edges are slightly browned.  This results in a more flat cookie than using the scoop.
Ingredients
2-3/4 cups of all purpose flour
1 teaspoon of salt
2 teaspoons of baking powder
½ cup of unsalted butter, softened at room temperature
½ cup of Crisco vegetable shortening
½ cup of granulated sugar
1 cup of light brown sugar, packed
2 eggs
2 teaspoons vanilla extract
1 cup of chopped pecans
2 cups of chocolate chips
Instructions
Sift together the flour, salt and baking powder; set aside.
In a mixer bowl, cream that butter and shortening together on medium speed; add the granulated sugar and brown sugar and beat on low until well combined.  Add the eggs, one at a time you hear, blending the first one in before adding the second. Now y'all go ahead and add the vanilla.
Add the sifted flour mixture into the creamed mixture on low, just a little at a time. Add the pecans and the chocolate chips and mix just until blended in.
Put that dough into refrigerator and chill for at least 1 to several hours. When ready to bake, preheat oven to 375 degrees F. Line a baking sheet with parchment paper, and using a small cookie scoop, scoop dough onto the parchment. Bake at 375 degrees F for 12 to 15 minutes, or until edges just barely begin to brown. I'm going to ask y'all to rotate and/or turn the cookie sheets about halfway through.
Remove from oven and slide the parchment off onto a cooling rack allowing the cookies to rest on the parchment for about 3 minutes. Now I just can't resist those things hot from the oven but if Momma is around I get a whoopin', so transfer cookies to a cooling rack to allow to fully cool. Y'all can reuse parchment paper to continue baking the entire batch.
I always forget to count (or maybe I eat too many in the process) but I think this makes about 4 dozen, depending on how large you make them.
Photo: Paul/FreeDigitalPhotos.net
Pathetic attempt to subliminally influence the US electorate via digital image manipulation: The Ed.

Col. Jon Burrows. Conceived in the ghettos on the outskirts of Memphis. Hailed as the new face of the hood. Haikus to him can be found on underpasses, large rocks at public parks and the occasional idling limo.
Nearly all of the words he writes are spelled correctly, occasionally managing to format a page with a paragraph break. He once drove a tank and lives solely in hotel and hospital suites covering the windows in tin foil.
His epic autobiography, 'Fuck You Buddy', will hopefully one day be published, if someone in the literary world can decipher its sophisticated and convoluted message.