Ben Young
i think i'm free

When I was given the role of art writer for Trebuchet magazine I knew instantly that I wanted to write about new and emerging artists to relay exhibitions that people may otherwise never have been aware of. It was during this time of wondering who would be my next subject of critique that I saw Ben Young's paintings. Just by chance I stumbled upon photos of him 'in action', painting his 200 x 200cm canvases.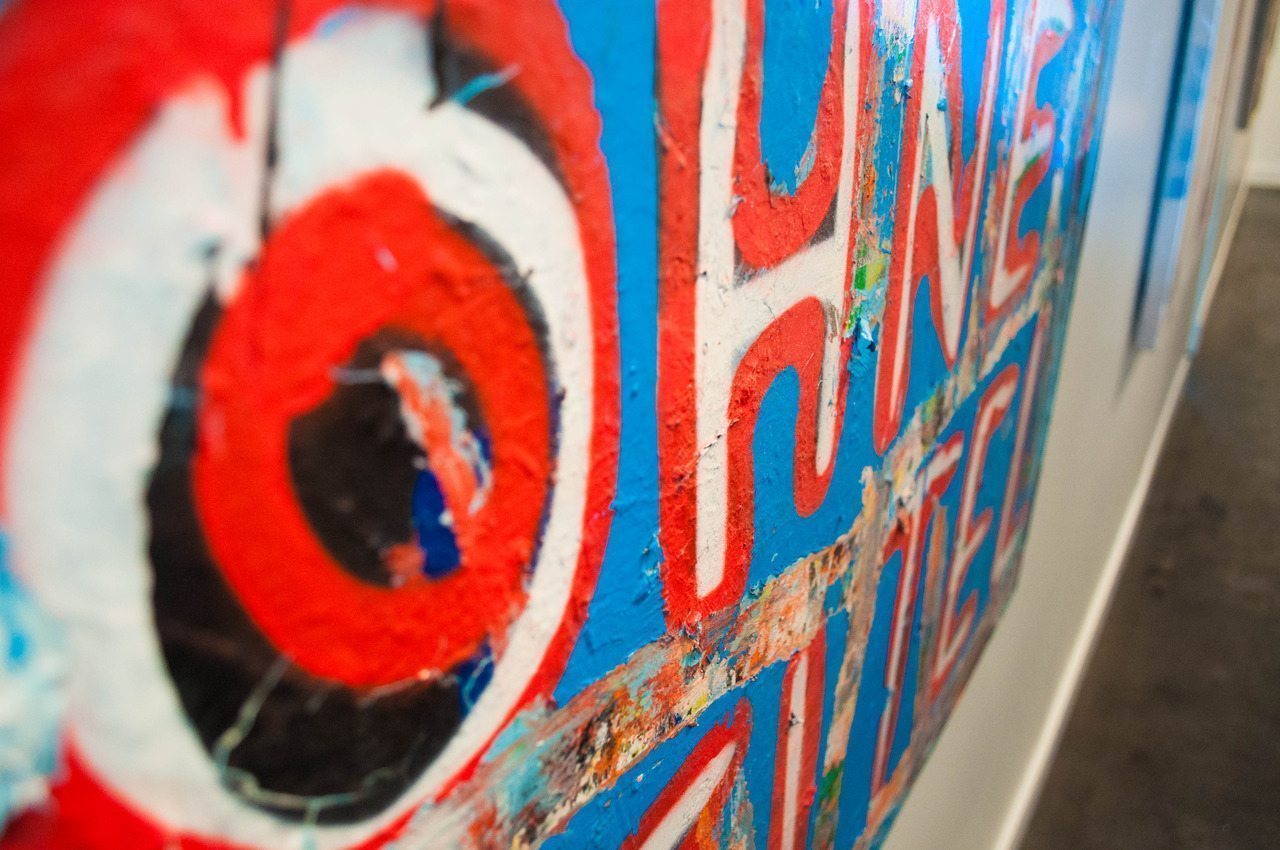 Now myself, I Love, Love, Love the raw styles of Expressionistic art, so it was without a doubt that I would be drawn to Young's work "just because…"
Young's current solo exhibition is currently showing at the Victory Gallery, Portland, Oregon until the end of this month. This will be his fourth solo exhibition, previously exhibiting at Amsterdam, London
and Brussels.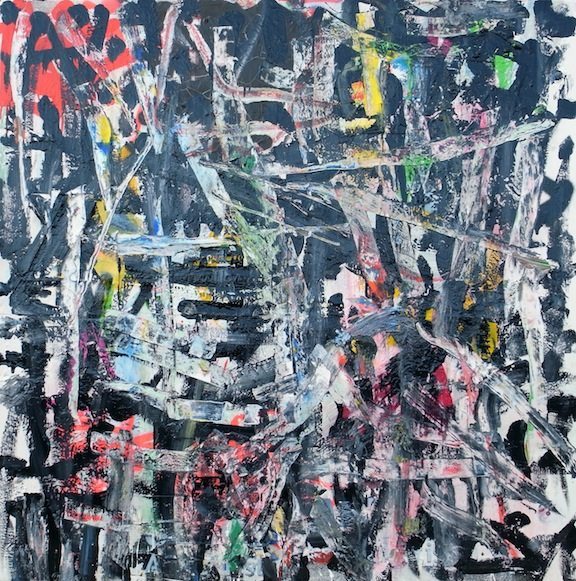 The most common artist comparison has been of Jean-Michel Basquiat, due to the primitive graffiti structure of his paintings. Text is layered upon layers of paint, oil, collage and spraypaint on canvas. I am amazed at how many different colour-ways illuminate the canvases: grey, white, green, yellow, blue and red remain bold, clean and defined, yet the layers give the illusion of transparency as the texts overlap each other, communicating both as the background and foreground.
Young's style is akin of Postmodernism and Abstract Expressionism, the subject matter being more crucial to the feel of the painting than any distinctly thought out composition. The crudeness of the figures is a direct result of Young's energy. He communicates his experiences rather than a premeditated visual effect.
I think i'm free consists of social iconography. The symbolic nature of his paintings becomes more evident upon reading the titles such as 'Art Anti-Christ', 'Gain Inches', 'Dasein' (German for existence) and 'Gasol' (the more self explanatory german word for petrol.) The paintings seem to be a combination of greater metaphorical interpretations such as the 'art anti-christ' against the more ordinary experience of the ignited 'Gasol' can.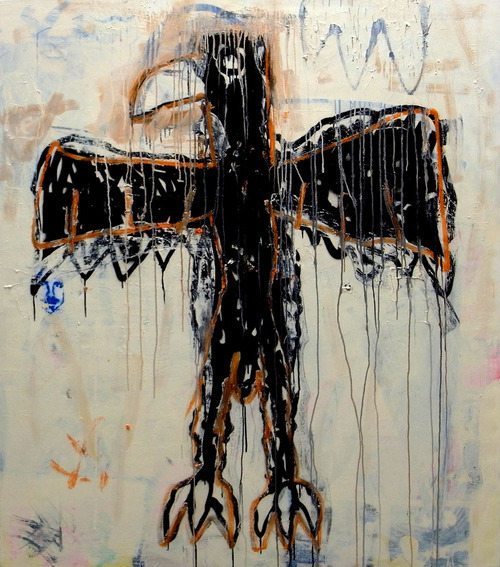 What I find striking about the painting of 'Gasol' is that Young is communicating exactly what it is, making an everyday item look beautiful (and a hell of a lot more visually interesting then the real
deal). His work does not represent the 'commercialism' of some fine artists in his position. It is not conceptual, there is no bullshit (a sigh of relief). Yes, it is his representation of a petrol can, but one that can still be interpreted by the masses "My personal experiences tend to form the subjective basis of my art"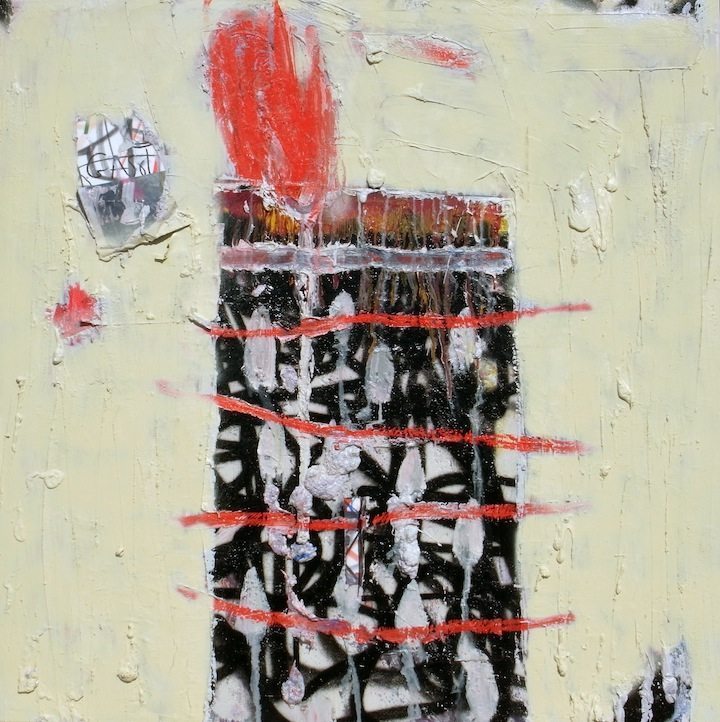 Young's description of his work is a real juxtaposition of meanings and experiences, and probably the closest description of the role of contemporary artists today. Mixing the 'ancient tradition of
painting' with 'scrawling' text reconnects 'school days and adolescence.'  Inspired by our overexposure to world media through the internet and newspapers, the repetition of events then transpire as the subject of the paintings. 'In this sense my work bears the hallmarks of propaganda' Young asserts.
For anyone in the Portland area I fully recommend visiting this exhibition. With less than a week left to see it, Ben Young is fast becoming an influential artist.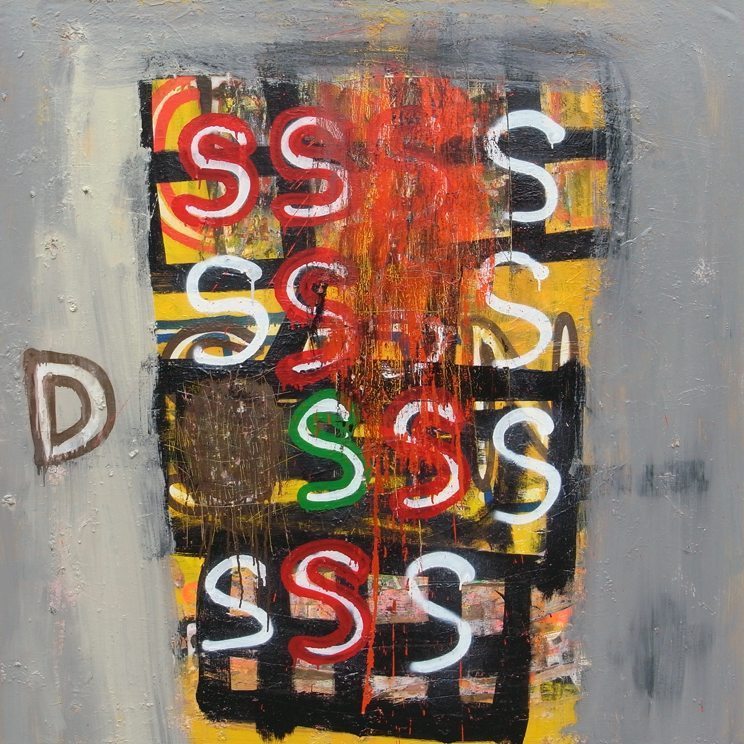 All images Ben Young.