[dropcap style="font-size:100px; color:#992211;"]P[/dropcap]hilip K Dick, or someone very much like him, visited my Greenwich apartment late last night.
I had been expecting the visit as I had been mulling this article over for a few weeks.
He sported a well trimmed grey beard floating above a floral shirt, dirty chinos and inappropriate pink suede loafers. The shoes were a gift from Elvis, who is apparently as generous in death as in life. Small talk mostly, we had corresponded briefly, through his agent, in the late seventies when I attempted to purchase the film rights to his novel Flow My Tears the Policeman Said.
He was aware of my impulse to write about his work and its relevance to our current situation, but stressed that his story was essentially a fall.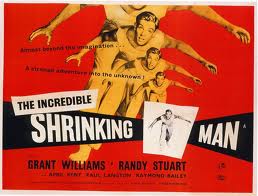 'Remember man – there is no zero' were his final words before he faded away. I recognised the quote (as he knew I would). It was from the 1957 science fiction film The Incredible Shrinking Man, in which the hero is affected by some strange radiation phenomena and begins to rapidly diminish in size. Indignities (forced to live in a child's doll house) and dangers (menaced by a cat then a spider) are eventually replaced by an overwhelming sense of adventure and destiny as new sub-atomic worlds open up to welcome him below.
At the end of the film the words 'There is no zero' offer hope from his tiny lips.
Phil fell out of his mother Dorothy Kindred Dick as one of a pair in 1928. His twin sister Jane died just over a year later. The loss curdled his parents' marriage and, after an unhappy spell in Washington, he and his mother settled down in Berkeley California. Disgusted by an atmosphere of intellectual snobbery at the UC, he dropped out at twenty and began working in a classical music store.
[quote]As the dull fifties
were grinding to a
close Phil, depressed
by commercial failure,
announced his retirement
from the literary field[/quote]
Berkeley in the early fifties was a hotbed of radical thought and a young Phil stumbled through it with an impish sense of humour alienating Marxists, Trotskyites and 'free thinkers' alike with his radical and often whimsical opinions. By all accounts he was the kind of guy who could argue wholeheartedly and entertainingly from one point of view then flip right around and rip his own argument to pieces.
Phil was determined to write for a living but his early attempts at mainstream fiction didn't even get to the marketplace. He did secure a literary agent who found him a home between the lurid covers of pulp science fiction novels and dime magazines.
Characters and situations from his chaotic lifestyle informed the work: his short stories and novels such as Eye in the Sky, The Cosmic Puppets, Time Out of Joint etc. not only featured whacky and disturbing sci-fi concepts but also thinly disguised versions of whoever was his current spouse, often portrayed as neurotic and cruel.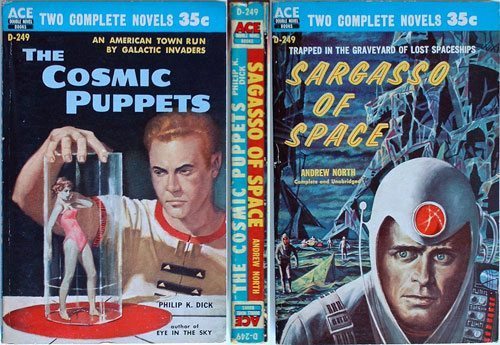 Phil continued to pillage his relationship breakdowns and numerous divorces for material throughout his career. In later novels such as Valis and The Divine Invasion he even attempted to insert himself and his simulated persona 'Horselover Fats' inside the pages. This was, of course, after his strange fall into the traction of a pink beam from another galaxy and his subsequent resurrection as an Early Christian self from a previous lifetime.
Both his novels and short stories got noticed by the small but obsessive audience for 'space ship adventures'. SF in the nineteen fifties was mostly imaginative in its speculation and dull in its execution. Phil's stuff was the exception, combining charming eccentricity with a pervading atmosphere of paranoid menace. He tossed commercial rivalries between competing global corporations, bizarre religious cults, aliens who acted like bored businessmen, grating marital tensions, an ancient Zoroastrian god of filth, death and darkness, abrupt shifts of character POV, quotes from dead German philosophers and sinister mind-bending drugs into a heady mix.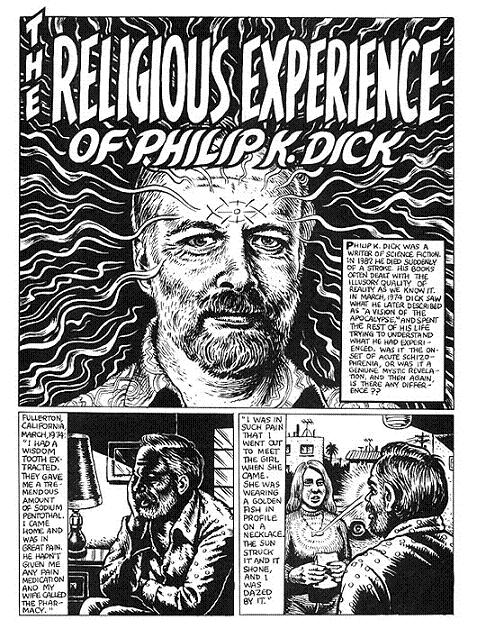 Oh yes, fearless or foolish, Phil made a personal crusade into the burgeoning California drug culture and, like everything else from his life, this experience also informed the work and would, eventually, lead to the groundbreaking confessional novel A Scanner Darkly. But that painful payoff to a lifestyle punctuated by random drug abuse was way off in the future.  As the dull fifties were grinding to a close Phil, depressed by commercial failure, announced his retirement from the literary field.
Fortunately the swinging sixties were on the horizon, and their siren song, promising liberation and personal freedom, lured him back to the typewriter. With his second novel of the decade The Man in the High Castle he hit the jackpot – sort of.
TO BE CONTINUED
Comic book image by R. Crumb from Weirdo comic #17
Read on: Part 1 | Part 2 | Part 3 | Part 4 | Part 5 | Part 6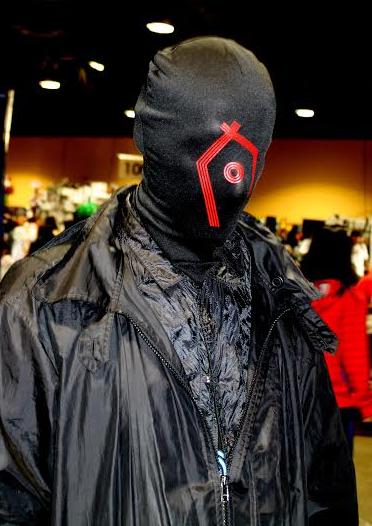 Having completed principal photography on phase one of the Sharks revival SWP is now preparing to edit the One Last Thrill feature documentary. Sharks themselves are 'dropping a big one' by releasing a double album Dark Beatles/White Temptations in April 2018.
In his spare time the author kayaks the muddy river Ouse and walks the South Downs which gently enfold his home town of Lewes.