New York-based artist Julie Curtiss' surreal, cinematic compositions draw on the aesthetics of 18th- and 19th-century French painting, as well as the Chicago Imagists and the 'pop' imagery of comic books, manga and illustration.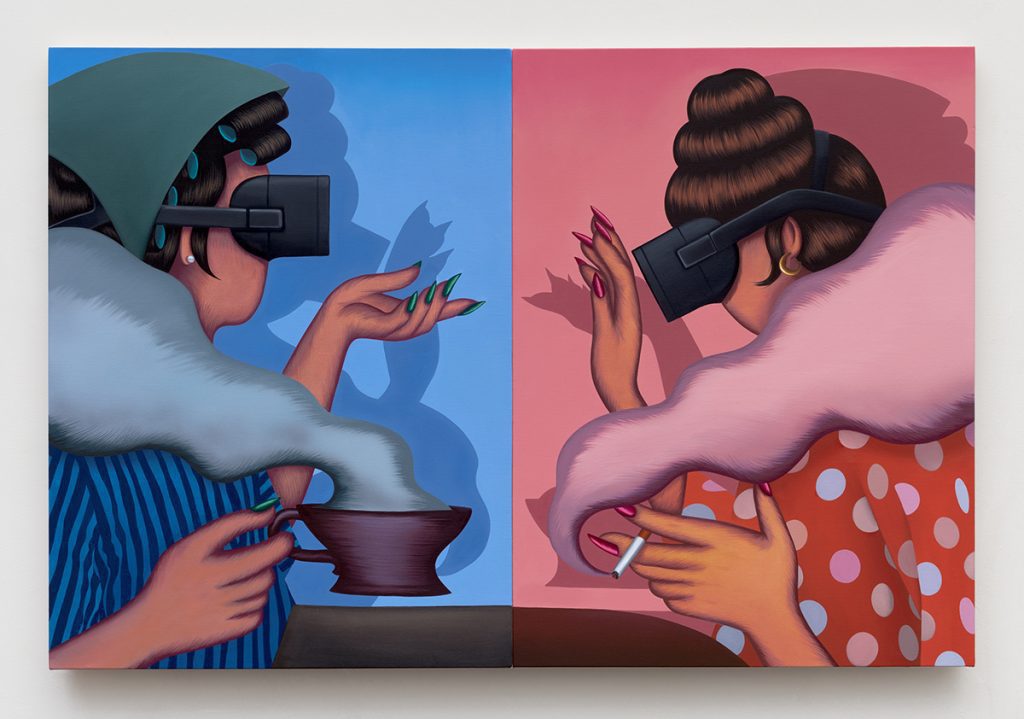 Her first solo exhibition in London entitled Monads and Dyads refers to terms found in mathematics, philosophy, sociology and mysticism. The monad (one) denotes the singular or the individual and is represented by the circle; it is often associated with the divine, the mandala and the halo. The dyad (two) is a doubling (or pairing), but also implies binary systems and dynamics of opposition. "These concepts find expression both thematically and formally in Curtiss' paintings, while, according to the artist's theory of number, the exhibition itself contributes a third strand, allowing them to be braided into one. Curtiss found that these concepts also resonated with her perception of contemporary society: its tendency to individualism and atomisation, even before the circumstances of the pandemic enforced physical isolation; and simultaneously, the increasing polarisation of identity and opinion into diametrically opposed encampments," read the exhibition's accompanying statement.
This latest collection of paintings are infused with humour as well as a powerful and unsettling sense of the uncanny. Her saturated, cartoon-like forms often appear in twins, doubles and reflections, while the surrounding imagery serves to emphasise dualities and juxtapositions: male and female, attraction and repulsion, animate and inanimate.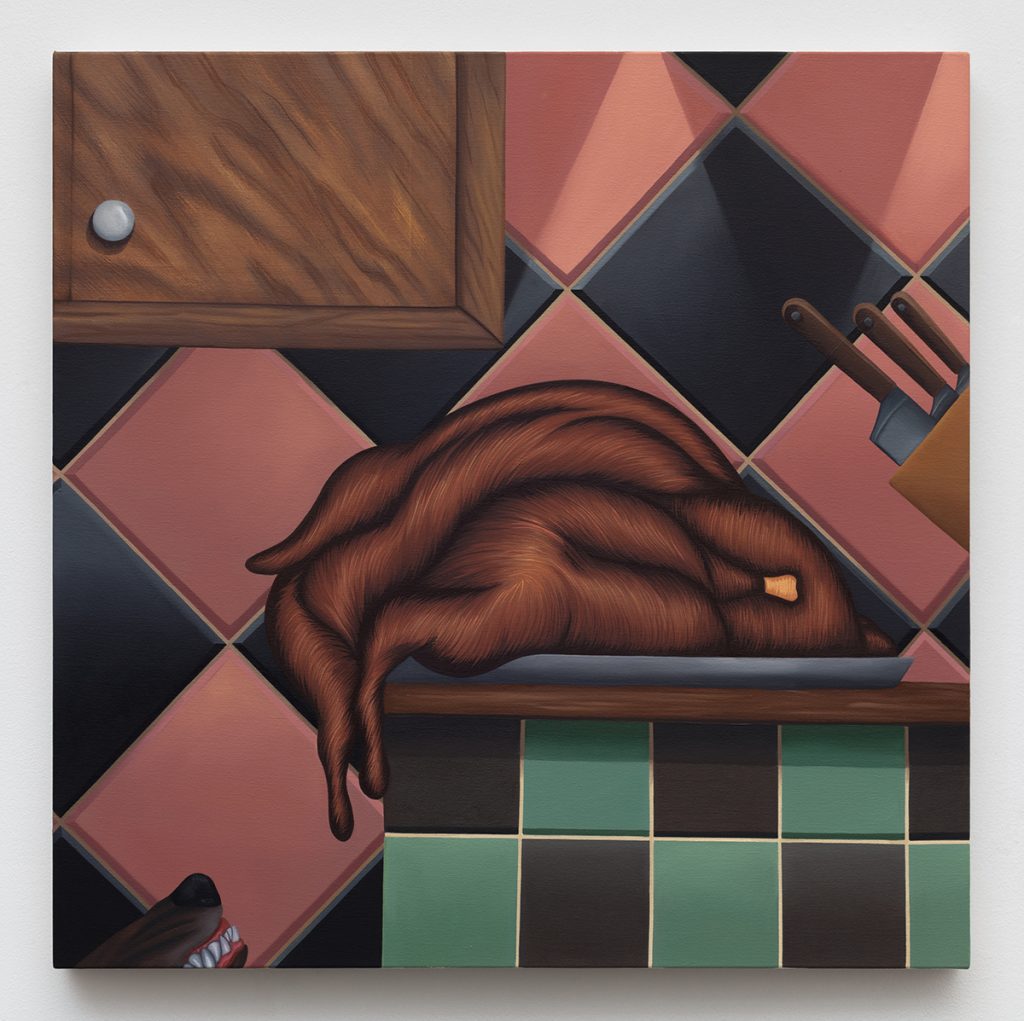 Her works also have a strong narrative quality that's conveyed through precise details in a clean, graphic style. Kitchen Counter (2020), for example, depicts a domestic scene filled heightened by a sense of drama. The joint meat appears softened and almost dripping from its container towards the salivating jaws of a dog. In her paintings Coldroom 1 and 2 (2020), glossy brown hair replaces the flesh on hanging carcasses and as such, the environment is rendered bloodless and clinical. "Curtiss is interested in our impulse to sanitise nature and our reluctance to confront the physical realities of our slaughter and consumption of animals, seeing it as part of our general unwillingness to embrace the messy reality of our own physicality and mortality," explains the statement.
Also featured in the exhibition is a series of monochrome works on paper and a small collection of sculptures that draw on the artist's fascination with 18th-century anatomical models as well as an encounter in Japan with the trade in fake food sampuru ('samples').
Julie Curtiss: Monads and Dyads runs from 14 May – 26 June 2021 at White Cube Mason's Yard. For more information, visit: whitecube.com
Featured Image: Julie Curtiss, Coldroom 1, 2020. © the artist. Photo © White Cube (Ollie Hammick)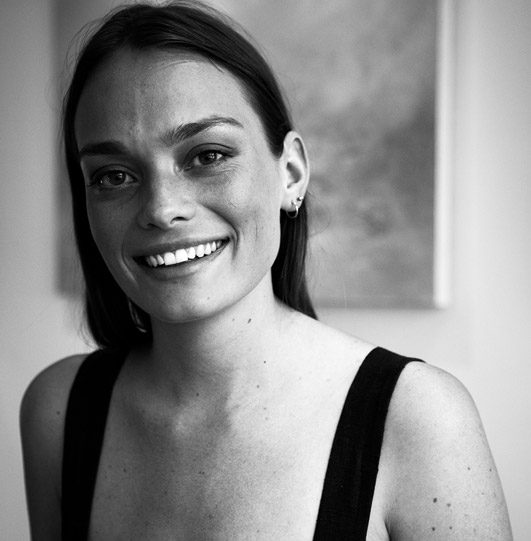 Millie Walton is a London-based art writer and editor. She has contributed a broad range of arts and culture features and interviews to numerous international publications, and collaborated with artists and galleries globally. She also writes fiction and poetry.