British artist Eileen Cooper's wide-ranging practice explores female identity, relationships, fertility and sexuality through a distinctive figurative style and evocative use of colour.
Her current exhibition at Sims Reed Gallery, London presents a new body of illustrative artworks, which were created for The Folio Society edition of Angela Carter's seminal novel Nights at the Circus.
Here, Cooper discusses the evolution of her processes, visualising Carter's characters, and magical realism.
Were you previously a fan of Angela Carter, and do you see any similarities between her work and your art?
Yes, I am a fan. I first read some her books when I was a young woman. I'm not sure I can claim similarities, but both of us are described as 'magical realists', and as feminists. The fact that the women we depict are strong and often remain outside of traditional gender roles also links us, and there's a shared theatricality in our work.
We both began to emerge during the 1980s, and like Carter, I love folklore and fairytales. I read her book The Bloody Chamber, which is based on fairytales and one those stories was made into the film Company of Wolves. Animals often appear in my work too, and there's an element of transformation.
Do you personally see elements of magical realism in your work?
I take it as a great compliment to be described as a magical realist. It's a hard thing, for me, as an artist to describe in detail the complexities one hopes are in one's work. Often, I'm still discovering meaning as I look back on my early work and even then, I'm aware these interpretations can change as I change.
Illustration isn't something you're especially known for, although your artworks certainly have a strong sense of narrative. How did you go about visualising Carter's characters? Did working with a specific text present any challenges?
That's true, I've only illustrated one book before, Meeting Midnight by Carol Ann Duffy, but stories have always been hugely important to me and narrative does exist in my work, often developing over months and years. Like Carter in Nights at the Circus, performance and the theatrical is a key aspect of my work.
Carter's descriptions of the main character [Sophie] Fevvers are very vivid. After reading the book a couple of times, I made lots of notes and then, launched into it. Carter gives us so much information and detail, it's not difficult to conjure up an image. Fevvers is a big person with long blond hair and wings, so from a visual point of view, there's a lot to start with!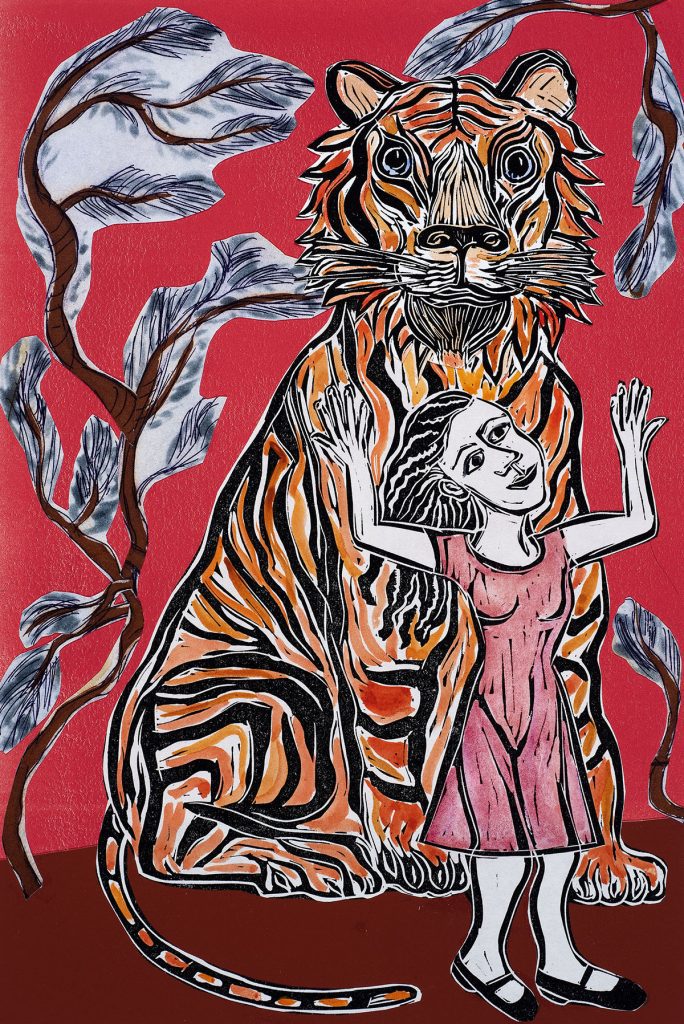 Is writing ever part of your own practice?
I did enjoy writing at school, poems and essays especially, but I haven't written since the age of about 17. I've been pretty much focused on finding and developing a visual language.
What directs your decision to work in a particular medium? Is there one artistic material that feels most natural to you?
Good question! Usually, it's do with a bit of boredom creeping in. When I've been working solidly in one particular medium over a period time, it becomes too familiar and so I find its good to have a break by working in another medium, often on a new project. Typically, if I've been painting in oils for a few months, I find myself gravitating towards working on paper to free myself, which often leads to printmaking. I have also been lucky enough to find people to help me make my work in both ceramics and bronze.
Drawing is the process I am most natural and instinctive with. It underpins everything I do.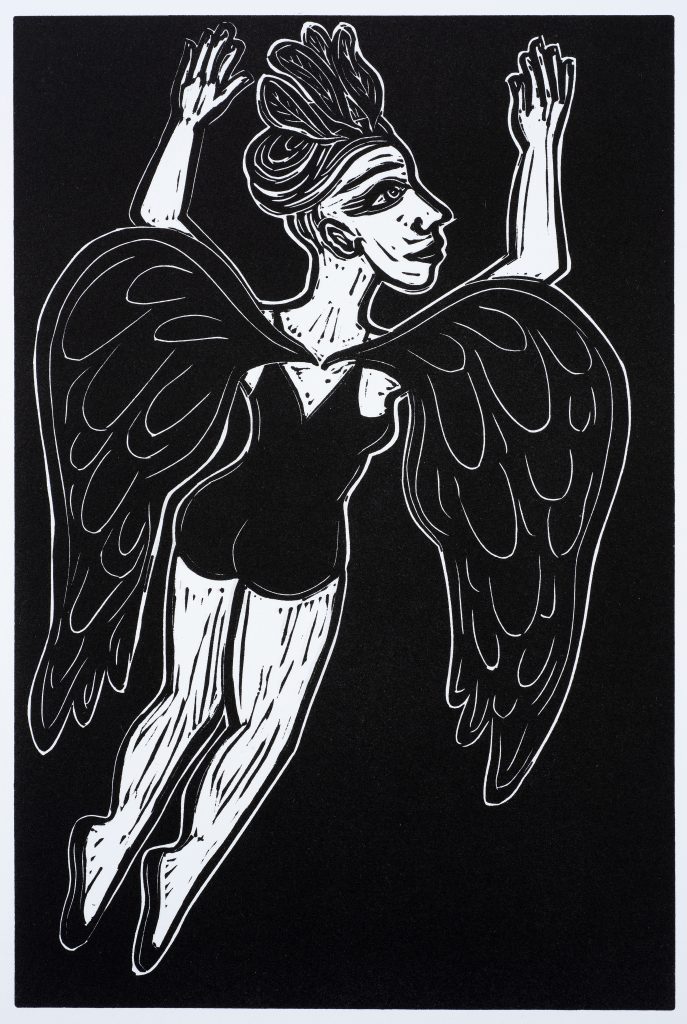 When did you first incorporate printmaking into your practice, and what appeals to you about the process?
As a student I didn't explore print, but I got the opportunity to work with The Print Centre in the 1980s, which was run by Hugh Stoneman and Sara Lee at the time. From then on printmaking became a major part of my work. I love the collaborative aspect of working in a print studio. I also adore the different qualities of various print media, particularly etching and block printing.
Do you ever work with models or photographs, or are your figures generally drawn from the imagination?
As a youngster, life drawing from the model was very important to me. However, as I developed and began working more from my imagination, life drawing felt unnecessary. This more imaginative approach has sustained me for decades. That said, in recent years, I've returned to drawing from life, mainly friends, who come to sit for me and I've loved the challenges that this has brought. Objective drawing now runs parallel to and informs the more imaginative work.
Something I didn't see coming is drawing from the iPhone (where you can zoom in) and from Instagram (so many photos)! This has now become another approach for me, which is stimulating and unexpected.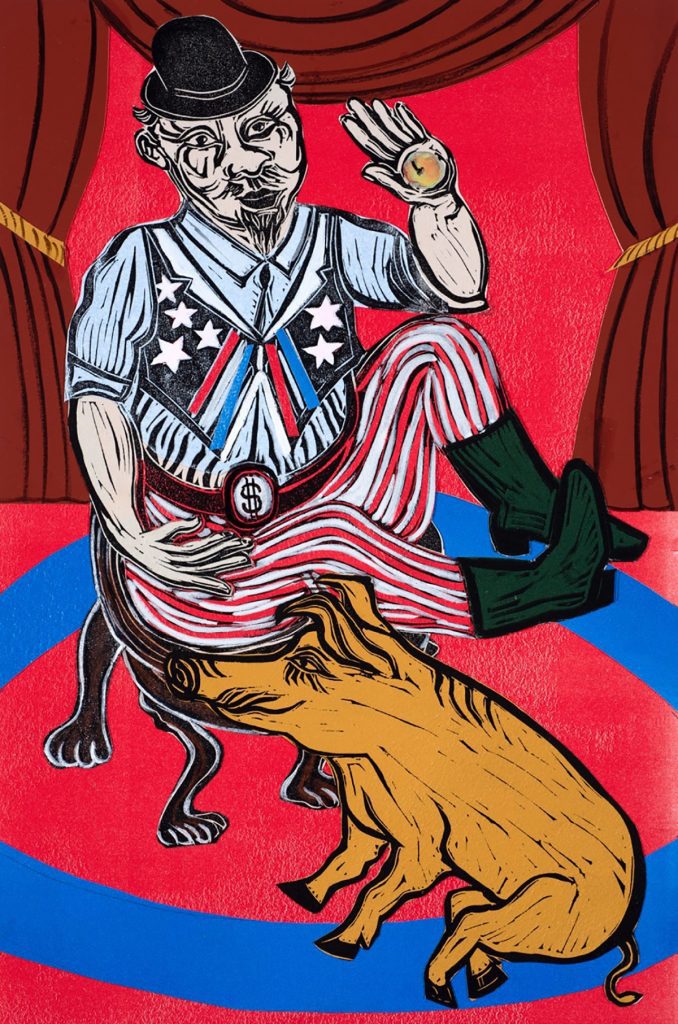 To me, the colour palette used in Nights at the Circus feels evocative of another era that's not exactly nostalgic, but located in the past. Would you agree with that? And what inspired your colour choices?
Yes! Absolutely and of course, the novel is set at the turn of the last century. I was trying to reference the colours of the circus, so lots of reds and blue. Then, yellow ochre, grey and umber in thinking about the landscape.
Your work seems to have always had a strong focus on the female figure and often features a kind of duality in which the figure appears twice (as a reflection in a mirror, for example, or as another painting on a canvas within the work itself). How does this reflect your thinking around female identity and your position as a woman artist?
Duality, twins and the mirror image have always been in my work. I hope not in a narcissistic way, although I love the image of Narcissus. Perhaps, it's more a quest for self knowledge and understanding, making sense of the world through image making – that's what artists do. This personal journey in image making, self expression and communication is fairly key to why I keep going.
Do you think your approach to making art has changed or evolved over the course of your career?
Absolutely it has, especially in terms of handling and subject matter. As I've said, I look for challenges, and process and material are as inspiring to me as imagery and narrative. That's why I loved having the opportunity to work on these illustrations and the related collages and prints that are on show at Sims Reed Gallery.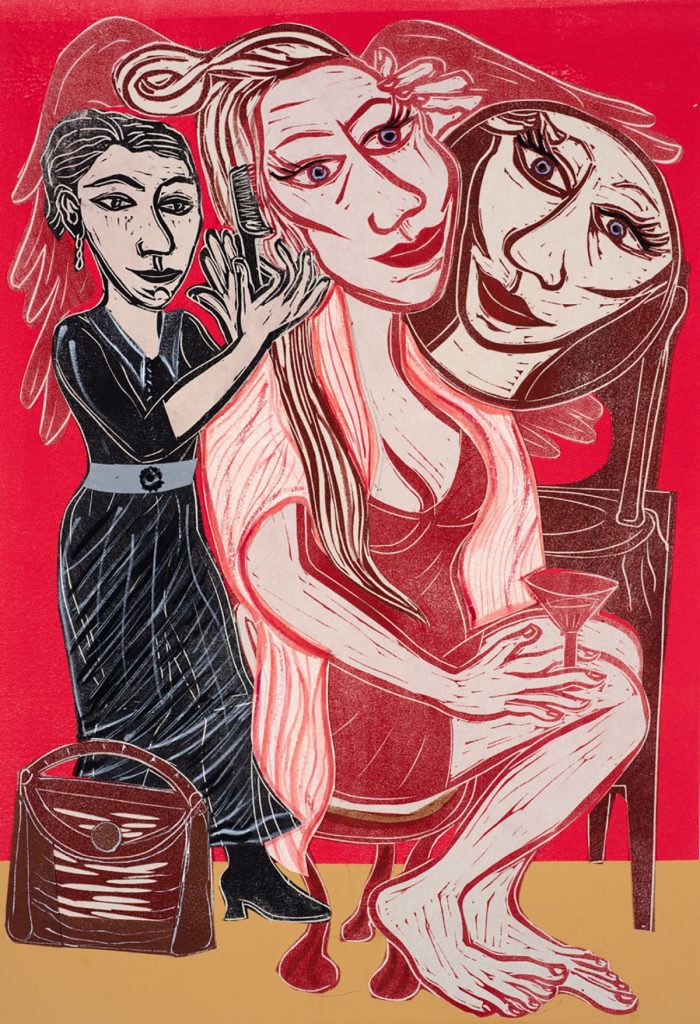 Have any artists or movements been particularly influential on your practice?
Like all people of my age, I was brought up on a very male, western tradition of art history. Having said that, Picasso has always been a key artist for me. Very soon in my career I began to search beyond this, and the art of other cultures has had a profound influence on my work such as Japanese prints and Indian art. I also searched out female artists, some of which are now household names I pleased to say… Frida Kahlo and Alice Neel, amongst many others.
What are you working on currently?
I'm working an a series of small canvases. I've always found working small rather difficult except on paper or in printmaking, so it's an enjoyable challenge. Before the pandemic I had some ceramics on the go, I hope to return to these eventually. I've always got prints in various stages of production, so I'm busy, which is what I like to be. I also hope that one day I'll be asked to do some more illustrations.
"Eileen Cooper: Nights at the Circus" runs until 2 April at Sims Reed Gallery, 43A Duke Street, St. James's, London. The exhibition is available to view online via: gallery.simsreed.com/viewing-room/eileen-cooper-nights-at-the-circus/
Featured image: Eileen Cooper, Blue Moon, 2020. Woodcut printed in colours. Signed in pencil. Numbered from the edition of 40. Printed on Japanese paper. Printed by Blackbird Editions, London. Courtesy the artist and Sims Reed Gallery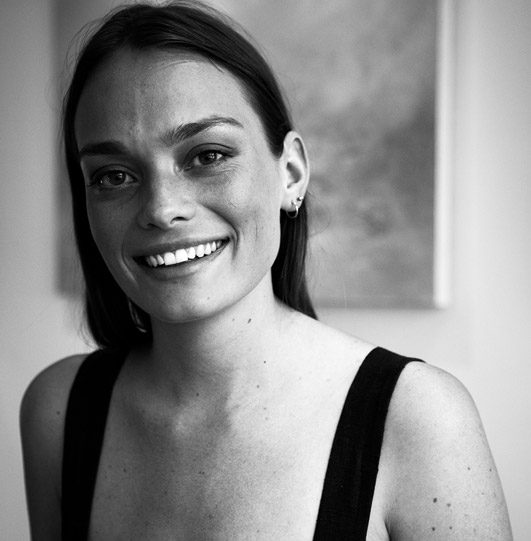 Millie Walton is a London-based art writer and editor. She has contributed a broad range of arts and culture features and interviews to numerous international publications, and collaborated with artists and galleries globally. She also writes fiction and poetry.