Huddersfield-based dancer Hardeep Sahota is a specialist in Bhangra, an energetic form of dance and music that originated among the farming communities in Panjab region. For his current exhibition Bhangra Lexicon at Yorkshire Sculpture Park, he collaborated with photographer Tim Smith to capture over 300 body movements and gestures associated with Bhangra, using coloured light and long-exposure photographs.
Here, Sahota speaks to Millie Walton about his lifelong fascination with Bhangra, the ephemeral qualities of light painting and understanding dance through artistic exploration.
What interests you in Bhangra specifically?
My grandad had a huge impact on my early childhood, singing and telling me stores about India. The expression of Bhangra dancing connects me to my roots and the Panjabi soundscape gives me a deeper understanding of my cultural identity.
Do you remember your first encounter of the dance?
It was probably dancing with my big sister as we rehearsed routines for family house parties. Most routines would be current Bhangra songs at the time from artists like Malkit Singh or DCS, but we would occasionally do a popular song from Indian cinema.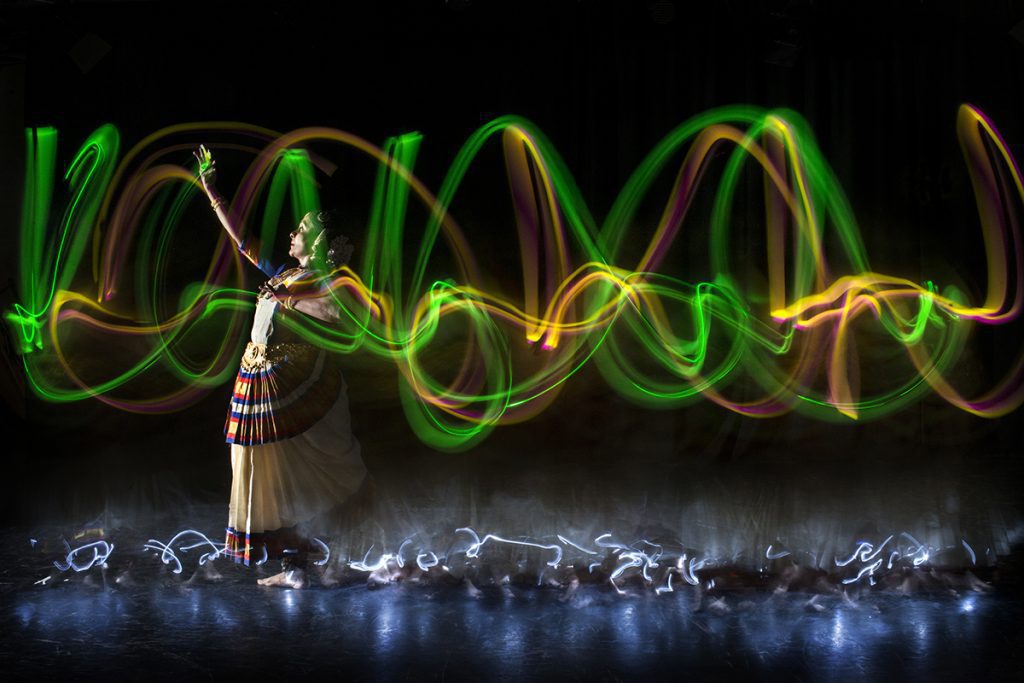 What gave you the idea for Bhangra Lexicon and how did you go about developing the concept?
I often found that Bhangra was looked upon as a second-class art form because of its folk origins. Once I started exploring its history through academia, I realised that this would become a lifelong journey of exploration. The Bhangra Lexicon was a natural progression from my Master's thesis. It's often the case when one looks for answers, they will be faced with many more questions needing to be answered. Building a repertoire for Bhangra was needed so that we can learn from the past and preserve its future.
At what stage did the collaboration with Tim Smith come about?
I had worked with Tim Smith previously when creating visuals for my book, Bhangra: Mystics, Music and Migration. I had asked him to take some photos of us performing Bhangra in a local farmer's wheat field, and they turned out really well. I knew then that I could collaborate with Tim freely and we could push the boundaries of our creative practice together.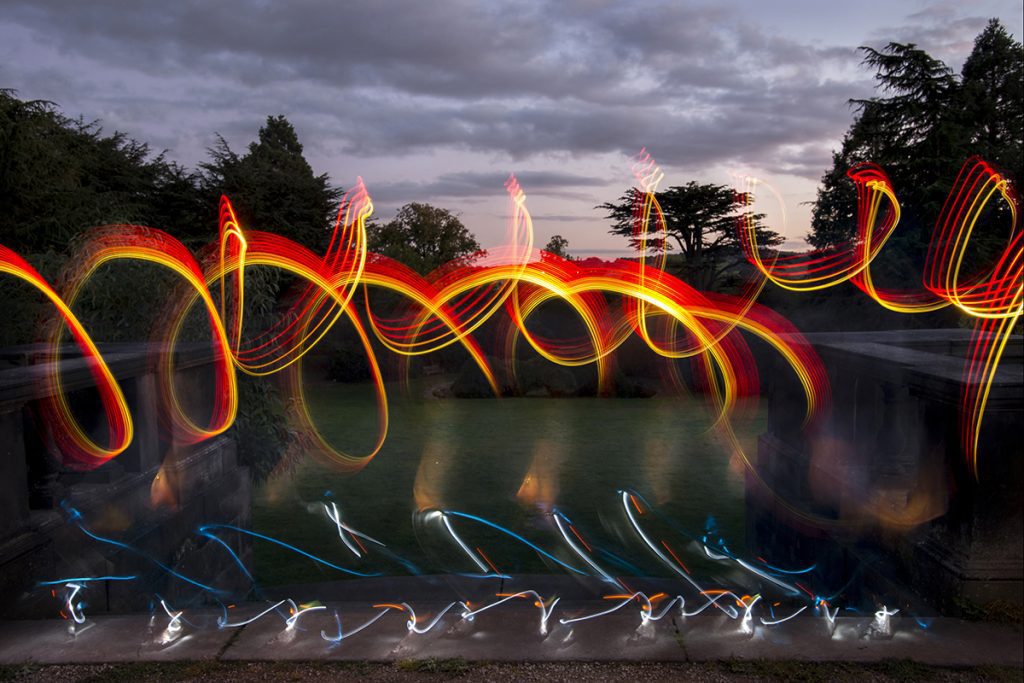 Why did you choose the medium of 'light painting' to capture the movements? And what led your choice of colour for the lights?
As artist in residence at YSP it was a medium I began to explore after seeing it at a workshop. I continued to develop this practice with dance students at the University of Huddersfield. From famous artists like Picasso to those students who have explored 'light painting', they realise its magical and ephemeral properties. For the Bhangra Lexicon I wanted to bring together my passion for Bhangra with the excitement of light painting.
I explored a range of colours and effects, some that reflected the dancers' traditional dress and those that contrasted. The beauty of photography is that you can try a whole range of different ideas, review and then begin to refine them as you progress.
To me, dance seems to initiate an interesting relationship between the dancer and the audience, which can often feel very intimate. How do you think that relationship is altered by the additional layers of light and photography?
What a great question! When I was younger, dance was indeed an intimate form of expression, both physically, emotionally and spiritually. Later in life, as you begin to dance to an audience you are sharing that energy and the response of the audience through their appreciation, which feeds back into your movements. We didn't have an audience during the project and working in front of the camera can be quite different.
As dance practitioners, the additional layers of light slow our natural and instinctive movements right down to help us analyse and understand how our bodies move through space and time in different ways.

In some of the works, the dancer is barely visible, eclipsed by the shape of the movements themselves and in others, their bodies and costumes are illuminated using a targeted flash. Why did you decide on this approach?
We tried a whole range of ideas throughout the project and it was important for me that the series contained images where we see the dancer and their cultural dress, an important facet of one's performance and identity. The exhibition was then curated on the strength of the final visual elements within the image.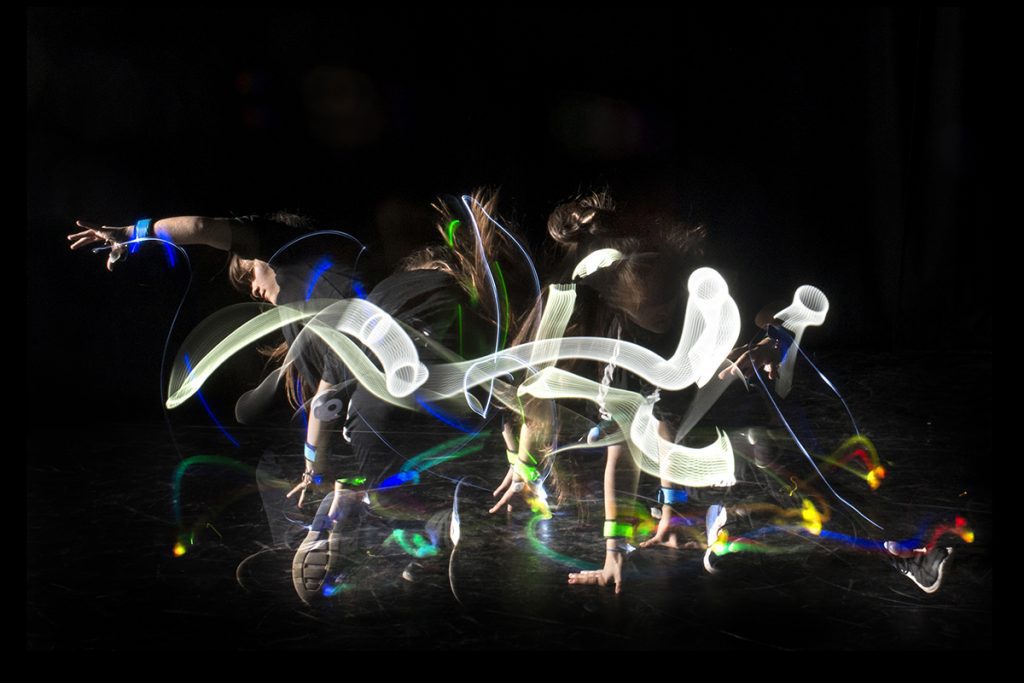 The exhibition has been referred to as a 'visual dictionary', which suggests a process of definition or at least, clarification as well as preservation. Do those notions reflect your intentions for this project?
Yes, the visual dictionary refers to the research and video recordings made of the different elements found within Bhangra. You can find these movements and further information here: virsa.info/bhangralexicon/
Why is it important that dance and specifically the art of Bhangra is being shown within the context of YSP (an art institution)?
It is important that the art form of Bhangra can be seen as something worthy of both academic research and artistic exploration. I have had some wonderful conversations with the other dancers who understand the importance of having conversations around the perceived hierarchy of classical dance over folk as well as exploring themes of preservation and the need to explore new avenues of expression. YSP has always been a place where academic outputs and creative practice are one and the same, the curatorial team are never afraid to challenge the norm and always champion new ideas; therefore, YSP was the perfect place for the Bhangra Lexicon exhibition.
What are you currently working on?
The final part of this current project is an exploration of Bhangra using a 'motion-capture' studio at the University of Huddersfield. The information will be recorded and transferred to a 3D printer where I will be creating a series of abstract sculptures based on the ephemeral movements of Bhangra. A steep learning curve lies ahead and I look forward to the challenge and its rewards.
"Hardeep Sahota: Bhangra Lexicon" runs until 18 July 2021 at Yorkshire Sculpture Park: ysp.org.uk
Featured Image: Hardeep Sahota, Bhangra Lexicon. Hardeep Sahota, Lehriya-Behke. Photo © Tim Smith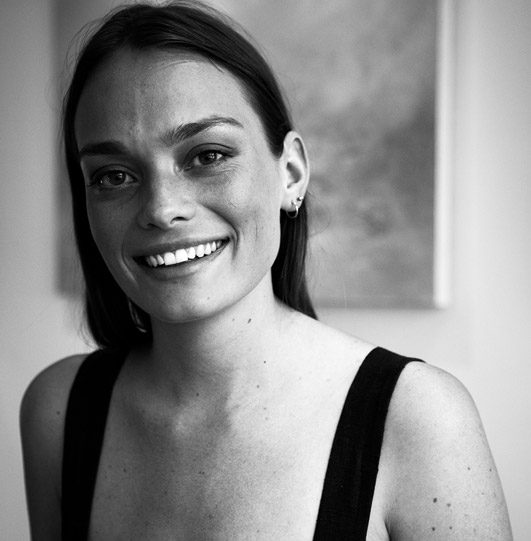 Millie Walton is a London-based art writer and editor. She has contributed a broad range of arts and culture features and interviews to numerous international publications, and collaborated with artists and galleries globally. She also writes fiction and poetry.