Named after the alternative salon exhibitions of the 18th and 19th centuries, Salon provides dance, free beer and the 'Goldsmith undergraduate look', along with two floors of painted artwork. Featuring, Preston Pavil, Juan Arango Palacios, Jack Jubb, Michael and Chivan Ho, Emanuel de Carvalho, Aaron Elvis Jupin, Kiki Wang and Motoko Ishibashi, the exhibition displays paintings that challenge conservative creative trends. Differing from the traditional salon exhibitions,viewers can relearn from the post pandemic artistic landscape, encouraging participants to reflect on our collective experience and to move
forward effectively and collaboratively. 
Motoko Ishibashi has an MFA in Painting at the Royal College of Art, a BFA in Painting for Slade School of Fine Art and a BA in Aesthetics & Science of Arts at Keio University. Though Ishibashi submitted a painted piece to Salon, she is also known for engaging in printmaking, video, photography, performance and installation. Ishibashi uses Asian and western visual languages to explore the body, selfhood, power relations, gender and a technologically mediated society. This is explored through the imagery of ripped jeans and colour based techniques.

With no 21st century technologies in sight, not even a belt, Untitled (2020) by Ishibashi places a posterior in the centre of the artwork, encased in a frame of blue denim. Cream paint is used for a frayed edge effect which Ishibashi traced onto the trousers, making the picture pop but also comparable to the brown background and brown skin tone, white employed as a minority pigment. These techniques draw the viewer to the centre of the canvas, though the depiction of the anus isn't sexual. Ishibashi frees the rear of its fabric prison and of its sexual connotations, challenging notions of what is seen as sexual by society.
Juan Arango Palacios graduated from the School of the Art Institute of Chicago and is an active part of its associated queer community. Using paint based mediums, Palacios explores homophobia and misogyny, focusing particularly on Louisiana and Texas. Emphasising colour and his pallet choices, Palacios wishes to evoke a feeling of comfort and safety in the viewer, extending this mood to the queer identity in general. The imagery and shades also correlate with memories, places, people, and archetypes Palacios associates with safety.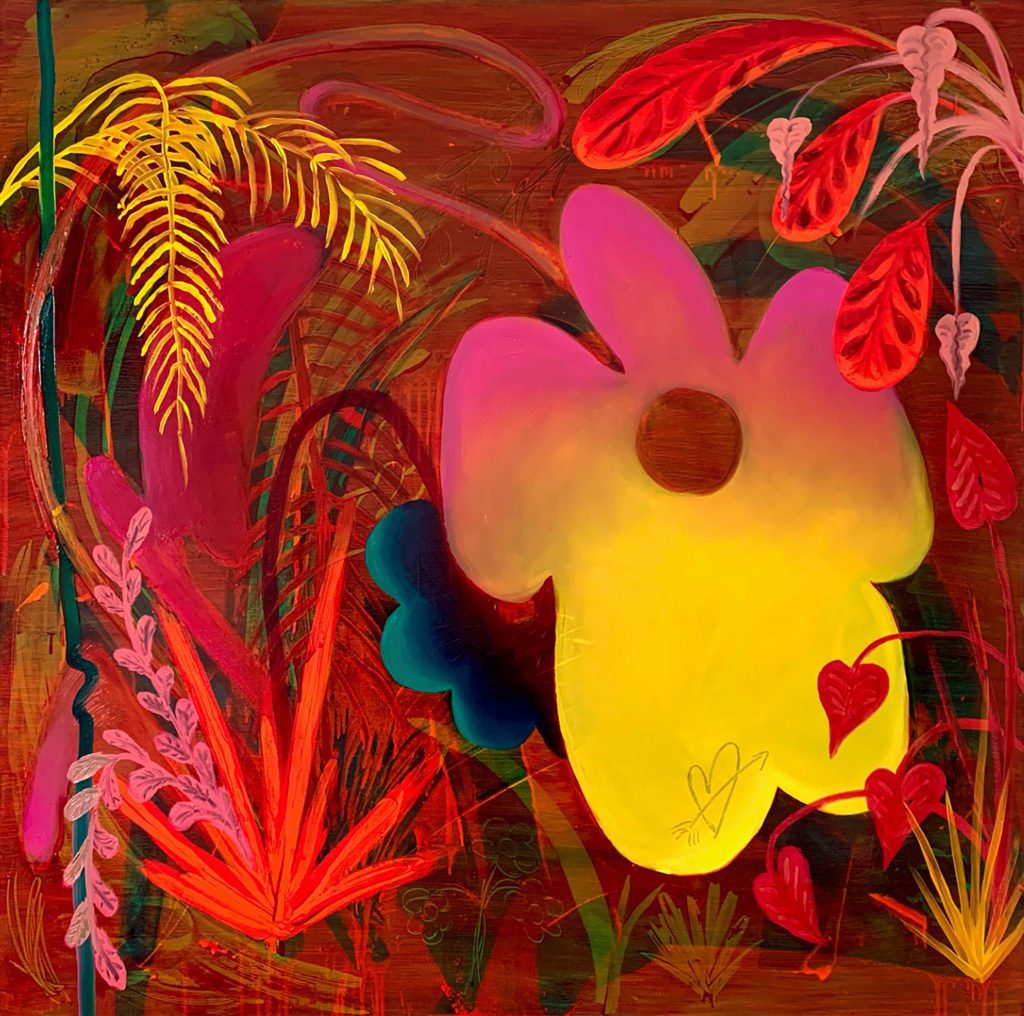 This can be seen in Flor Tras Flor (2021), the multiplicity of exotic, vibrant tones creating a mellow feel, as opposed to choosing more glaring hews, while the use of pictorial space weaves a wall of foliage that inspires notions of protection. The central flower is noticeably placed more to the right, whilst its petals are abstract, not defined as they morph into each other. The petals seem to drag downward, creating a sense of movement. Flor Tras Flor's crookedness, merging and motion, all represent queerness, completely assimilated into the warm, symbiotic environment the main flower is included in.
Ishibashi and Palacios both explore power dynamics, identity and sexuality through stunning artistic techniques and bold, vibrant symbolism. Untitled by Ishibashi highlights the posterior, an already 'impolite' area of the body, but refuses to emphasise its sensual features, normalising it by placing it in a non sexual context. Palacios's use of colour presents his notions of sexuality and gender for discussion on an embodied safe space. His palette elicited more homely feelings than being overtly sexual or queer. By doing so, Ishibashi and Palacios use their artwork to investigate sexuality and queerness and to assert their political voices in society, rather than being defined by sexual orientations.
Visit Salon between 13 Jan- 12 Feb 2022 at Guts Gallery, 117- 119 South Lambeth Road, London, SW8 1XA.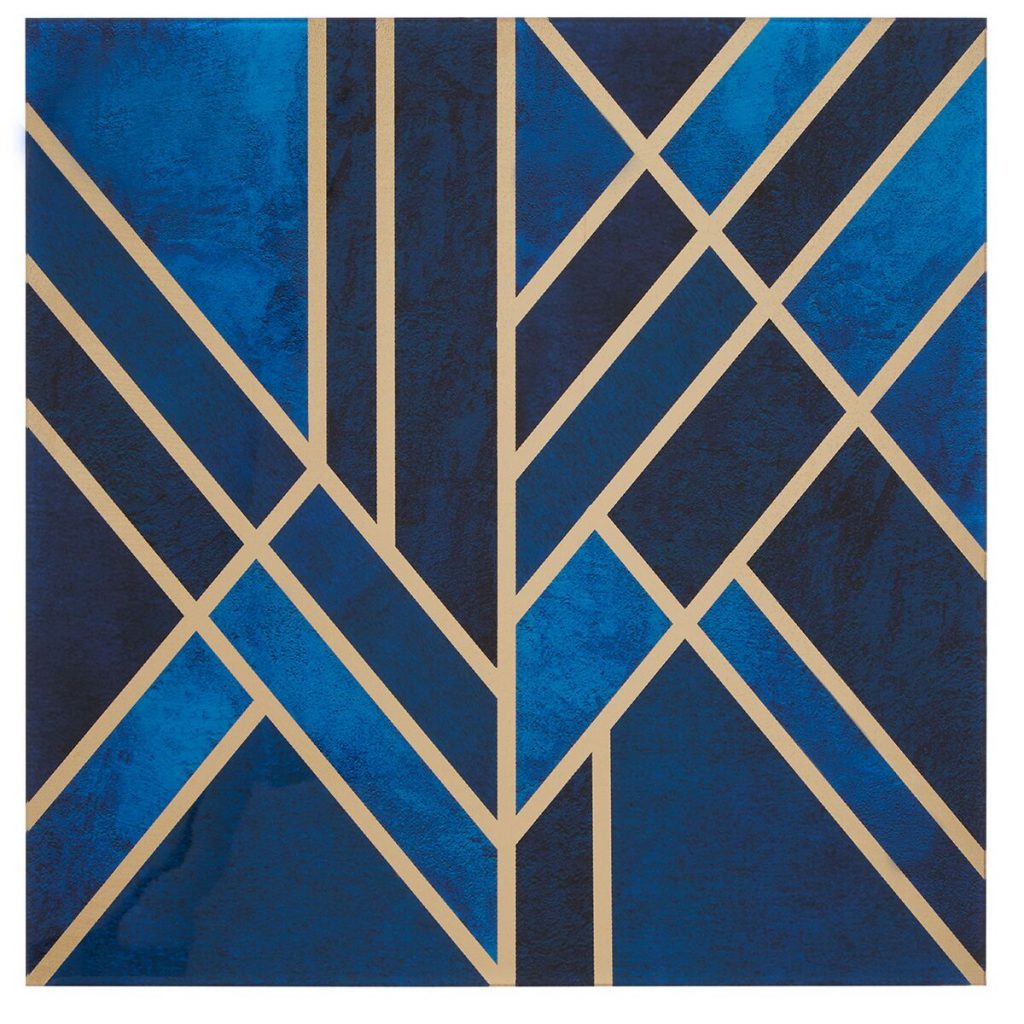 Alexander Clarke is a writer, artist and teacher who specializes in Asian Traditions. Influenced by correlational thinking, his writing utilises imagery, narrative and Socratic dialogue to explore the interplay between subject and object, signified and signifier and aesthetics and meaning.