A
nton Corbijn (born 1955) has been prolific in the world of photography and film since the 1970s. In the UK he began to gain recognition for his work with New Music Express, capturing the rise of bands like Joy Division.
He has gone on to make music videos, among them Nirvana's Heart Shaped Box (1993) and direct films like the much-lauded Control (2007). Fair to say his work is recognisable and even if you are not sure who he is – he has probably photographed your favorite band at some point. This 'de PURY Presents' collection brings together his noted relationships with musicians alongside Corbijn's work across the world of fashion and art to present collectors with the opportunity to snap up limited and first editions.
This series by de Pury, which is also featuring collections by Vanessa Beecroft and Henry Hudson, is an attempt to utilise the art worlds embracing of digital viewing throughout the pandemic to become a series tool in the world of collecting. Inherently, Corbijn's work as a photographer is well suited to this. You do not need to have read Berger or Benjamin to understand that a photograph can be better appreciated through a screen than work with a more imposing physicality, such as the ceramic works in Beecroft's parallel running series.
The collection is presented in two forms. Firstly, there is a video that glides through Corbijn's studio littered with the photographic offering. There are no lingering shots here, it is a whizz through, giving us glimpses of the collection and the famous faces which make it up. The overwhelming feeling is that it is self-consciously meta. From the choice of Kraftwerk's 'The Model' as the soundtrack to the sense of being a paparazzo chasing down these famous faces through the construction of the film. It is clear this collection is as much about the fame of the sitters as the craft of Corbijn's work, but then it is this collaboration with some of the notable faces of the last forty years that will be what makes these pieces so desirable to collectors.
For a closer look, there is a feed of images, much like Instagram. This works, it's a user-friendly format and is able to present the selection as a digestible entirety. Viewers can then select a work that has caught their eye for a closer view and receive an exposition by Corbijn for their efforts. This provides an interesting context to the creation of his works and for anyone who is a fan of any of Corbijn's sitters it will be interesting hearing about his relationships with them and their creative collaboration.
There is awkwardness though. The colour images prove problematic curatorially. For a photographer so known for this black and white many will not know that Corbijn has delved into the world of colour photography. Some of these are particularly striking. Pam I ,Los Angeles, 1990, for example, plays with light and colour in such a way reminiscent of the experimental collaborative work of Man Ray and Lee Miller. The red and blue are deep, but the photograph has an ethereal quality rarely seen in colour photography. So, it is not the content of these pictures that is weak but instead their placement. Put towards the bottom of the feed there is the overwhelming sense that they do not really know what to do with these. Integrating them throughout the black and white works would have given a stronger sense of them as part of Corbijn's body of works rather than just the random anomalies they seem here.
It should be noted though that despite the problems highlighted, this exhibition should be thanked for avoiding the pitfalls we have seen in so many 'online' offerings of art since the pandemic. There is a recognition that this is primarily an online experience and so needs to be treated differently to a physical one. There is no clunky online portal where the viewer moves around the physical gallery, unable to view works properly and only getting a sense of the floorplan. This is really important going forward and the 'de PURY Presents' series, in general, should be recognised for understanding and adapting to this shift in the way we experience work in a digital space.
Highlights among the works on offer include Dave Gahan (King Dave), London, 1989, a rare print from the shoot of Depeche Mode's 'Enjoy the Silence' (1990) video. Depeche Mode are one of the bands Corbijn has enjoyed a long-standing creative relationship with, his dark style well suited to the aesthetic of post-punk/new wave bands. Gahan as a king is given the regality of a Shakespearean Henry V, differing somewhat from the video itself where he is carrying around a deckchair. Furthermore, there is Corbijn's recognisable image of Miles Davis from 1985, where the brightness of Davis's eyes reflects Corbijn. These works are a reflection of Corbijn's talents in bringing out the intensity of his subjects, particularly in his work with musicians.
Interested collectors will find genuine rarities, a few of the works are unable to be reproduced to the same effect due to the original photographic paper no longer being manufactured. It is the overall insight this collection gives to the artistry of Corbijn's work that is the most interesting takeaway. In the fine line photography treads between documentary, advertising and art, what comes across is a strong sense of artistry able to bend itself and thrive across genres.
'de PURY Presents: Anton Corbijn' is online and by appointment in The Hague from 24th January -28th February 2022
All works are available for purchase on inquiry.
Featured Image: Anton Corbijn, Naomi Campbell, London, 1994.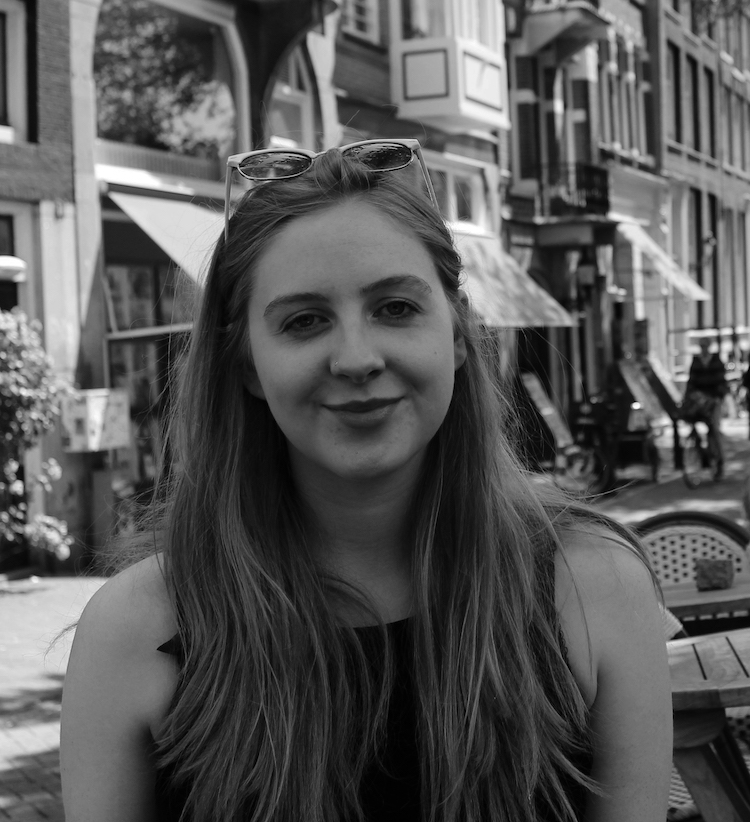 Ruth O'Sullivan is a London-based artist and writer. Her work explores subjects from artificial intelligence to challenging traditional relationships between the artist and model. Professionally, she has worked on projects for some of the leading art institutions in the UK, as well as having her own visual art practice.