[dropcap style="font-size:100px; color:#992211;"]D[/dropcap]avid Treloar,an artist living and working in London initially trained as a painter, before adopting a multidisciplinary approach to his work.
However, after becoming increasingly dissatisfied with the unresolved, detached influence of modernism in his abstract and sculptural work, he has returned to the foundations of his training, figurative drawing and painting. He creates energetic, gestural portraits partly derived from the simple joy of extracting the magic from observed form, partly in response to the trauma of condensing an evanescent object into a moment's believable reality. The resulting works frequently pirouette between beauty and malaise, exploring the uncertainty and frailty of the human condition.
Graduating with a BA in fine art painting from Wimbledon School of Art and studying as a postgraduate at the prestigious Royal Academy between 2003 and 2006 has given Treloar the great benefit and protracted struggle of an art education. Despite some painful periods of doubt and outright dismay, the artist managed to retain his passion for painting throughout his early exchanges  with tutors, students, collectors and gallerists.  He accomplished this with a clash of self-aware questioning, skill and a craving to paint well. During this period, Treolar also had  to confront the fashionable shifts in the art world demarcated by money, theory, philosophy, critics and hacks.
Treloar is wonderful example of the cyclical or rather spiralling nature of a true art practice carried out by a passionate individual able to sustain interest, shift focus to and fro, and to be as genuinely engaged by making, and thinking that making through, as he is by ideas and subtext. During his varied career, Treloar has made interior design objects, sculptures and assemblages as well as painting landscape, abstract and figurative works. He has produced  hundreds of portraits; some commissioned but many autobiographical and self-motivated. These works provide a hermeneutic feast for the viewer; indexing a life as seen and as remembered by the artist and attesting to a fully rounded  practitioner, asserting himself in space.
We have come to associate artists with one trick that they are famous for. This issometimes due to our lack of knowledge and curiosity or waning attention span. Often artists either play to this or edit out their own past in order to seem like research scientists experimenting on an exceptionally important theme; ever forging ahead towards some ultimate truth. With Treloar, as with characters like Picasso, or to make a more contemporary link, with Hirst, the actual practice is varied and sometimes contradictory,  often returning to themes with slightly different focus, spiralling as it were and moving off at tangents. His is a practice, in the round, making for a rich and impactful body of work.
The main oscillation has been between abstraction and figuration,with Treloar's recent portraits playing the key part. It's worth having a sense of those abstract works to background the artist's 'return to order'; a return that translates the lessons learned into figurative representation.
 "Any painting is a self-portrait". To what extent is that true and what does this say about portraiture?
David Treloar: I never really know how a piece will develop as I start, and there is a fair degree of panic and faith that an image I want to look at again will emerge. I guess the approach is then very personal and has a degree of honesty that then is a reflection of myself. I feel in order to bring a portrait to life, I'm embarking on an ever-evolving process of loss and recovery, not knowing where things will lead. In previous bodies of work, making furniture sculpture or architectural modular sculptures, my 'artist's hand' was deliberately left absent. Projects were realized and methods of production left no room for discovery. Painting again in a more expressive way is more exciting, but filled with risk and as an artist I feel more exposed. For me, it is this act of searching, this desire for communication with the viewer that gives of myself more than the nature of my subject.…[Read more] 
Read the full article in Trebuchet 7: Portraits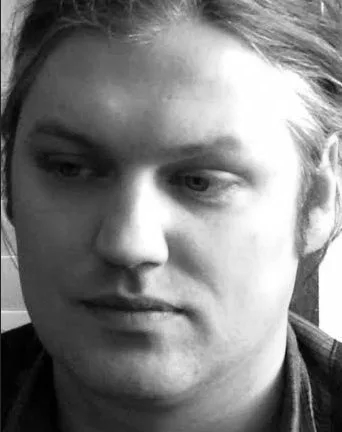 Michael Eden is an artist and researcher working in London and the south east, his artistic practice is concentrated on painting and he divides his time between this and lecturing in art history and contextual studies.