To describe Elvana as a band playing Nirvana songs fronted by an Elvis Presley impersonator doesn't even go halfway to expressing what Elvana is.
Elvana has evolved into whole new a hybrid thingy and that thingy is a thingy of pure joy, and London really needed some joy on this cold and gloomy Friday the 13th as the capital reeled from the rest of the country staying sick and turning blue.
We are very fortunate, we've witnessed Elvana's rise from tiny venues befitting of a small grunge band to playing Download, being in seemingly endless demand and now headlining the Forum.
During this relatively short time, 'Elvis's' hair has grown a little longer, perhaps a little greasier, the jump suits and capes a little flashier but the plastic framed sunglasses and trademark battered Converse remain the same.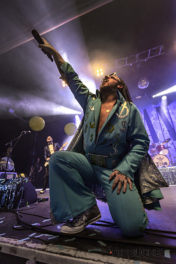 This, of course, is not the essence of a Jailhouse Rock Elvis but more the full-on kitschy pill fuelled Elvis of latter years with all the seediness and glamour of Las Vegas. Covered in dollar signs and topped with a glittery cape, this Elvis had come straight out of Disgraceland.
Upon reflection, I guess Elvis has always been a part of our Christmas and that's why the seasonal Elvana show is so special. Whether it be E himself, El Vez  or Clownvis Presley, the spirit of E has always been present. I suppose the closest thing to Elvana would have been The King with that rather special Gravelands album way back whenago.
As mentioned, Elvana has grown into its own animal. Not only do they play Nirvana songs in the style of Elvis, but also casually slip in a few Elvis tunes done in a grunge style. Their mash-up of Rape Me and Love Me Tender was deliciously inappropriate but somehow worked incredibly well.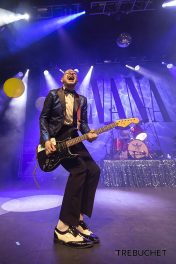 At this outing, the audience packed the venue and were just as enthusiastic in their appreciation as they were two years ago, quite possibly more so. A complete mix of ages but all in a beer / tequila throwing pogoing crowd surfing frenzy with some fancy dress Elvises thrown in for good measure.
This was certainly an early Christmas present for everyone assembled. I remember as a younger man gearing up for those incredible Gary Glitter Christmas shows. Despite what sort of year you'd had, you could always count on a bit of Gary to fill you with the Christmas spirit and that is how Elvana make you feel at this special time of year. Elvana, the new Gary Glitter? What a truly special thought.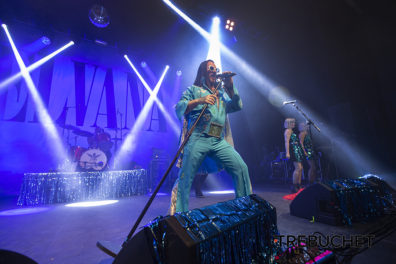 As we kick back and relax on this Christmas day, wash down a few Dilaudid with a tasty Shasta and douse our nostrils with a little festive liquid cocaine, we can look back on this Elvana show as a wonderful end to a great year and look forward also to the year ahead with more exciting shows and times.
Thank you Elvana, thank you very much.
May the spirit of E fill all your hearts this Christmas.
Elvana Tour Dates HERE
Elvana played Kentish Town Forum on 13 December 2019
Review: Carl Byron Batson
Photos: Carl Byron Batson – not to be reproduced or used without express prior written consent

Photographer, published poet, former party animal, body builder, grave robber
to the stars and renowned chainsaw juggler, Carl can often be spotted on his
Harley Davidson pretending to be in Terminator 2. He is also frequently seen in
the press pits of old London town, camera in hand, avoiding being hit by bottles
of wee and crippling his opposition with secret Kung Fu moves.