[dropcap style="font-size:100px; color:#992211;"]C[/dropcap]ontemporary art in South East Asia has been rising to increasing prominence on the international stage in recent years.
It seemed to be worth exploring this new scene, and so far, I'm hooked. I've been slowly unraveling the mazes of subtle complexities in the art world here, and one of the first events to land on Singaporean soil as I did was the Affordable Art Fair.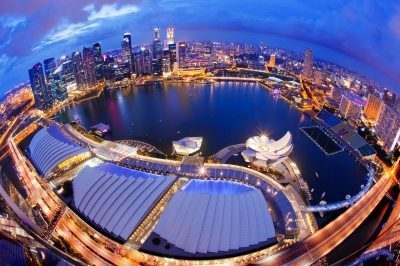 Singapore by Tanatat/FreeDigitalPhotos.net
AAF is not always an undiluted source of truly dedicated contemporary artists, being a place where a plethora of more commercial artworks and decorative pieces shout loudly at the guests above the subtle purring of some of the more thoughtful pieces that should stand the test of time.
But, it was my best shot at getting a taste of artwork good and bad from all around South East Asia in one condensed hit. Pleasingly, many pieces were worth reporting back on. The video below is my curated journey around the fair, picking out some of the galleries and artists who I felt were exhibiting work which represents the exciting contemporary art scene that is growing in South East Asia.
Over the past two decades the Singapore art scene has sprung into vibrant existence, with many artists overcoming challenges, restrictions and a lack of support for unconventional media to reach today's Singapore – which encompasses plenty of wonderful art collections, museums and galleries.
Many shows I have seen since I arrived included Singaporean artists who focus on post-colonialism and the notions of diaspora, personal and cultural identity, and change – resulting in a body of contemporary art that truly speaks of the relatively short but rich, multicultural history of this country.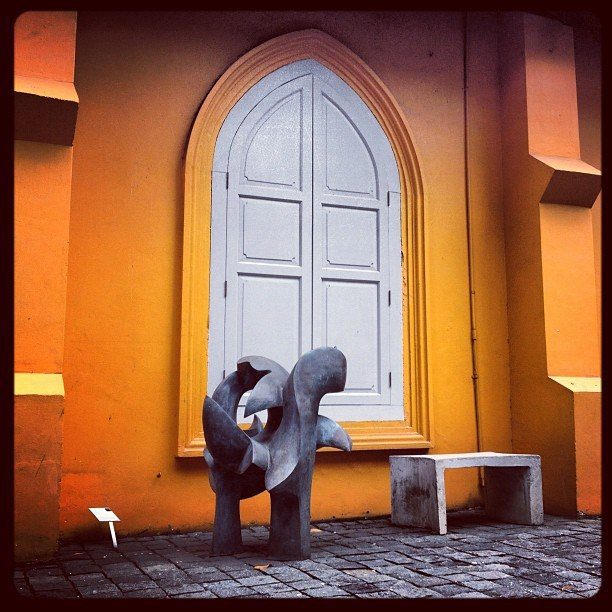 Outdoor sculpture by Michael Ong, Sculpture Square.
Perched two degrees north of the equator, Singapore has a tropical climate and was originally covered in tropical rain forest and  fringed with mangrove swamps. Today's more familiar panorama of sky scraping towers of glass and light overshadowing Victorian-era government buildings was born out of Singapore's transformation in 1989 from a colonial port to an independent city-state with the highest standard of living in Southeast Asia.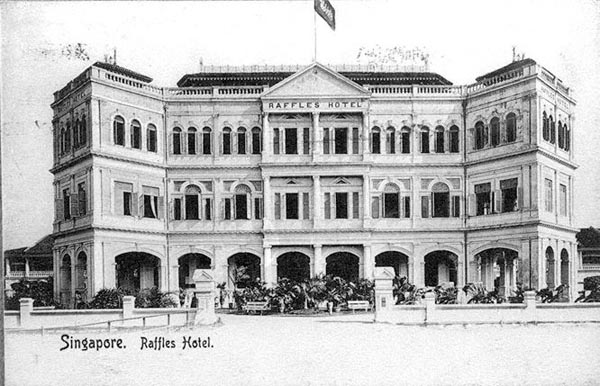 Since then a balance has been sought between tradition and modernity; cosmopolitan and local; Asian and Western. Singapore decided to 'go cosmopolitan' after separating with Malaysia in 1965 – carving a niche for itself in the world, rather than in the regional economy. Constructing this cultural and social distance from neighbouring lands to foster a new identity did indeed lead to a society that is prosperous, modernised, and engaged in worldwide popular culture, arts, media and music.
The arts here have been unpacking, exploring and questioning these topics of cultural identity and legacy, transformation, pasts and personal histories.
Image courtesy of Singapore Art Museum – Singapore Biennale 2012
Now is another time of social shift, with an echoed metamorphosis of the arts beginning in Singapore – or some might even say the shift originates in the voices and propositions put forward by the creatives. Artists have long ago broken out of the market-driven scene, and there is ever growing social awareness of art, and the potential for artists to be a catalyst for this social change.
The Government of Singapore has been known for objecting to artists questioning society or breaking rules – the type of challenging and thought provoking work we are used to in the West. In more recent times the arts have been recognised as helping to build the Singaporean community, a type of 'social glue'. Now, instead of artists being seen as responsible for this 'gluing' in a  harmonising rather than a confrontational manner, artists are being given increasing freedom.
[quote]A different set of challenges for contemporary art than the west[/quote]
However, challenges still lie ahead for artists and writers to truly express themselves. Examples of this would be the 'sticker lady' who was arrested for graffiti as art (Singapore has strict laws against graffiti, which do make it a much more beautiful city than most, but disable Banksy-style street art); or Tracey Emin who was featured in Encounter, the Royal Academy show at LASALLE. Some of her pieces were censored as they featured obscene images and words, something we are used to, or perhaps numb to, in the West.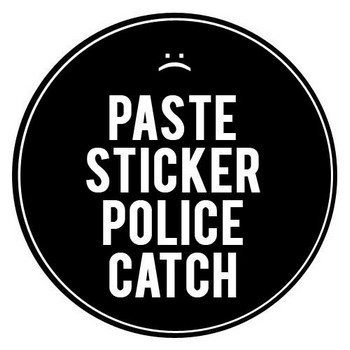 In recent years, Singapore's vibrant arts scene features progressive major art events such as the Singapore Biennale and Art Stage Singapore. It's status as one of the region's most developed cities and the progress it has made in developing its visual arts spaces, mean it is fast becoming an arts hub in Asia. With issues and hurdles to overcome, and a different set of challenges for contemporary art than the west, it is a scene to keep an eye on.
Featured: Ang Sookoon, Justin Lee, Bea Camacho, Mark Hayward, Hoang Duong Cam, Santi Lawrachawee, Michael Lee, Jeremy Sharma, Yeoh Wee Hwee, Ketna Patel, Jasper Yu, Lavender Chang, Vellachi Ganesan. ION Art, Give Art Space.
---
Nicola Anthony is an artist and art writer living & working in Singapore. She seeks to discover things which make her mind crackle with creative thought. Catch @Nicola_Anthony on twitter, or her artist's website

Nicola Anthony is a British artist known for her public art around the world. Her text sculptures are made of metal, words, memories and narratives. She has worked internationally with NGOs, art institutions, public spaces and cultural research bodies to create art which tells the stories that are often left unspoken.