[dropcap style="font-size:100px; color:#992211;"]A[/dropcap] Kickstarter-funded alternative lifestyle and music festival.
Punter-chosen Goth, Metal and Industrial acts on the main stage, body art, alternative traders field, art, sculpture and, perhaps most importantly to the alternative lifestyle parent (and those stood next to them at the performances), a creche.
Alt-Fest, brought to a South-Eastern English field on August 15th – 17th is waiting for your input. Pace yourself though, the festival will be in 2014.
Now the only issue is getting any sort of consensus from a population sector not best-known for conforming to the will of the collective.
Make it yours.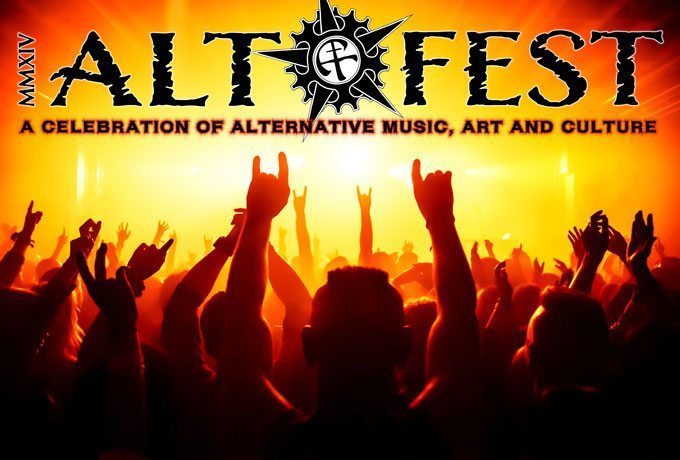 ---
The organizers AC Promotions, a vibrant alternative clubbing and events company, who have been packing the crowds in at major nightspots across London for over 8 years, promise to curate a unique experience.
Alt-Fest will feature five live music stages, presenting crucial Goth, Metal and Industrial acts, plus the 'best-of-the-next' on a newcomers stage, and the absolute 'best-of-the-best' on a punter voted main stage line-up.
Alt-Fest will also present a massive clubbing marquee, to be hosted by a different 'name' event team each night, a circus big top, an alternative traders' field, fairground rides and an artists' village, showcasing installations, body art and sculptures taking shape over the weekend.
A large kids area, with crèche (rarely offered at mainstream festivals), will provide a dedicated area for festival-going families throughout the five days of camping available.
What really sets Alt-Fest apart, however, is the innovative alternative means being employed to fund and determine the form of the festival. Alt-Fest will be the UK's first ever crowd-funded festival, sourced and created by the crowd itself.
As well voting on acts to appear on the bill, festival-goers are stepping forward to volunteer the crowd-sourced resources, labour and finance that Alt-Fest requires to be a truly punter-powered event, where ticket-holders are fully invested in the decision making process.
[button link="http://www.alt-fest.com/"] Alt-Fest[/button]
The aim of art is to represent not the outward appearance of things, but their inward significance. – Aristotle