For her inaugural exhibition with Hauser & Wirth, Simone Leigh presents a new body of sculptural works including ceramic busts, raffia skirted figures, and monumental bronze forms.
Taking what the artist terms as an "auto-ethnographic" approach, Leigh employs materials, forms and sculptural traditions of West and South African provenance while also referencing early African American forms, such as the face jugs of the American South with the exaggerated creolisation of facial features, that came to signify the representation of Blackness in America.
For this exhibition, Leigh has created a new, large-scale bronze work entitled Sentinel (Gold), which takes the form of an elongated, abstract, but recognisably female body encased in gold leaf, with a spoon in place of the figure's head. The piece continues Leigh's ongoing exploration of black female-identified subjectivity as well as our relationship to objects and is inspired by an object used in fertility rituals while also referencing the history and politics of gold-mining on the African continent.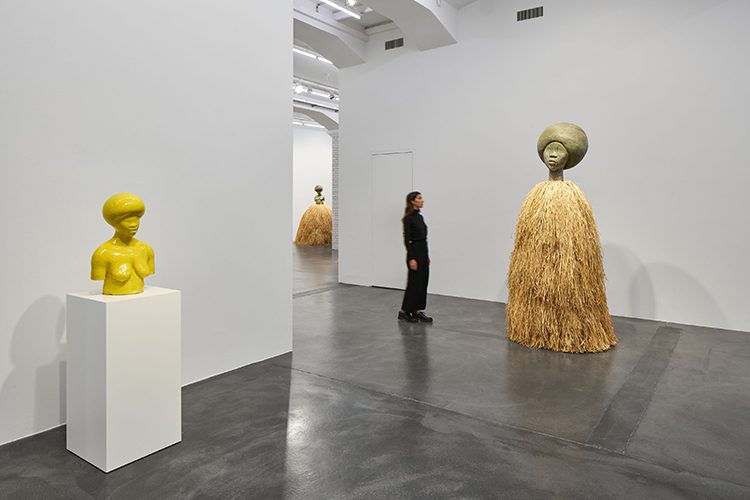 Meanwhile, a series of new raffia skirted figures with ceramic torsos gesture at notions of habitat, architecture, material culture, history and labour. "Looking to artists such as Beverly Buchanan and Noah Purefoy who reference the dwellings of the Global South in their practice, Leigh is currently developing her use of raffia as an exploration of marronage, a term which refers to a strategy of resistance by those who removed themselves from the plantations and created hidden, independent settlements and communities in swamps of the Southern states," explains the accompanying exhibition text.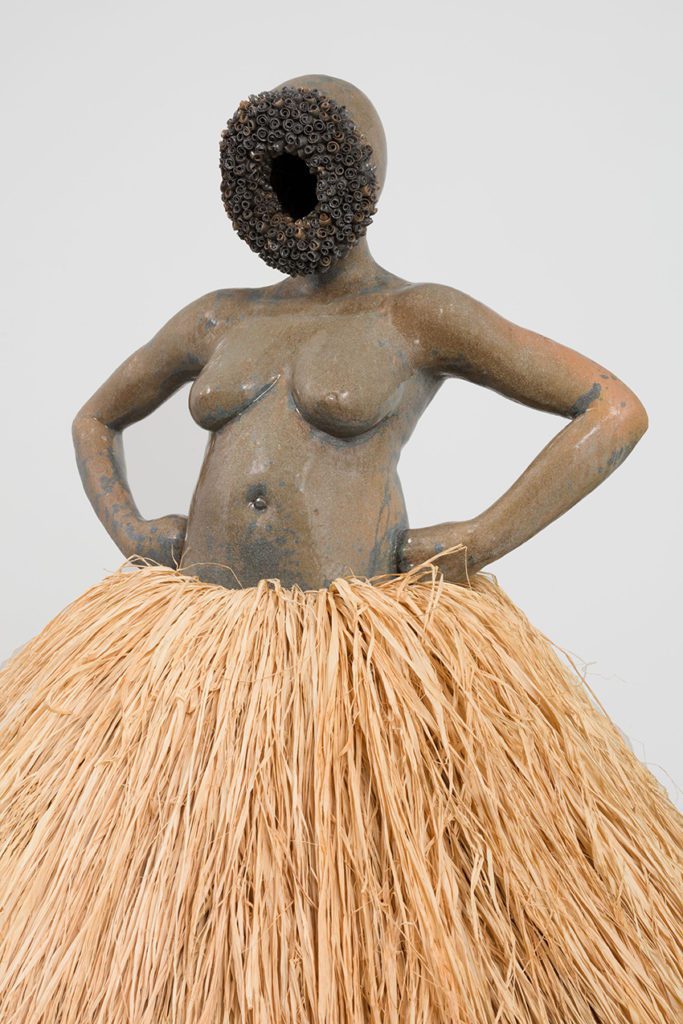 Similar investigations are continued in a new Sphinx work, made from bronze and platinum, which imitates the structure of a quonset, a basic corrugated building mass produced during World War II for the war effort in Europe and the South Pacific. In this piece, as in many of Leigh's works, she combines architectural shapes with the abstracted female form to explore the relationship between the Black female body and its location within historical and social contexts. However, her figures remain anonymous, representing a collective rather than an individual, a state of mind, or experience. 
 "As an artist, African art and vernacular objects are a means of exploring a multitude of themes, particularly the notion of women's work, authorship, anonymity, and other ways in which we perceive culture and value," commented Leigh who will represent the United States at the 59th International Art Exhibition of La Biennale di Venezia in 2022
Simone Leigh's solo exhibition runs until 4 December 2021 at Hauser & Wirth, Zurich, Limmatstrasse. Formore information, visit: hauserwirth.com
Featured Image: Simone Leigh, Untitled, 2021. Photo by Lance Brewer. Courtesy the artist and Hauser & Wirth.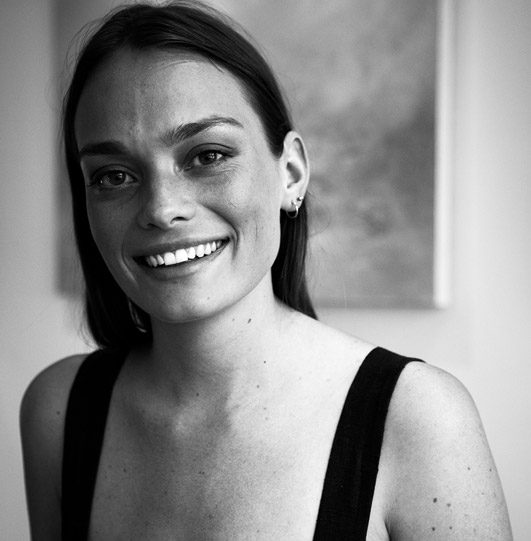 Millie Walton is a London-based art writer and editor. She has contributed a broad range of arts and culture features and interviews to numerous international publications, and collaborated with artists and galleries globally. She also writes fiction and poetry.