[dropcap style="font-size:100px; color:#992211;"]R[/dropcap]oy Lichtenstein (1923-1997), second only to Andy Warhol in the world of Pop Art, is of course best known for his comic strip style paintings, many composed of Benday dots.
The Tate Modern's retrospective of his work, opening today, is more than a collection of these popular postcard images, and gives a more complete picture of Lichtenstein and his development as an artist, including pieces from late 1950s right up to the mid 1990s.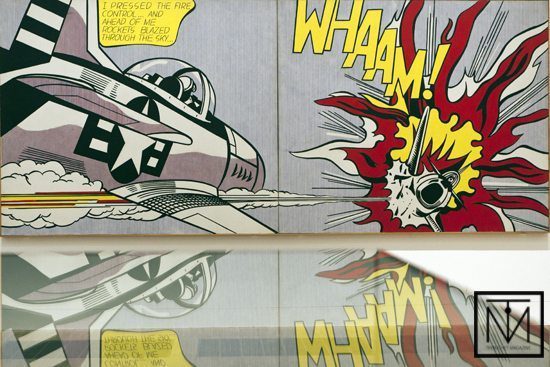 The room titled "War and Romance" best sums up the public perception of Lichtenstein, focusing on his much reproduced early 1960s paintings such as the battling planes in "Whaam!" and the blonde pin-up style girl on the telephone in "Oh, Jeff…I Love You, Too…But…" although it disappointingly does omit the multimillion dollar picture of the redheaded girl on the telephone, "Ohhh… Alright…"
In Pop Art style, inanimate objects also feature heavily, particularly in the "Black and White" room with the trappings of consumer culture – a tyre, a portable radio, a golf ball, a desk calendar and an AlkaSeltzer fizzing in a glass of water.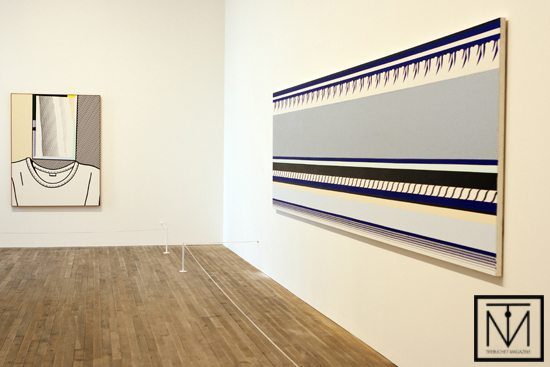 Some of the most interesting work consists of his parodies of the art styles he loved – cubism, futurism, abstract expressionism and surrealism – exploring the meaning of art itself.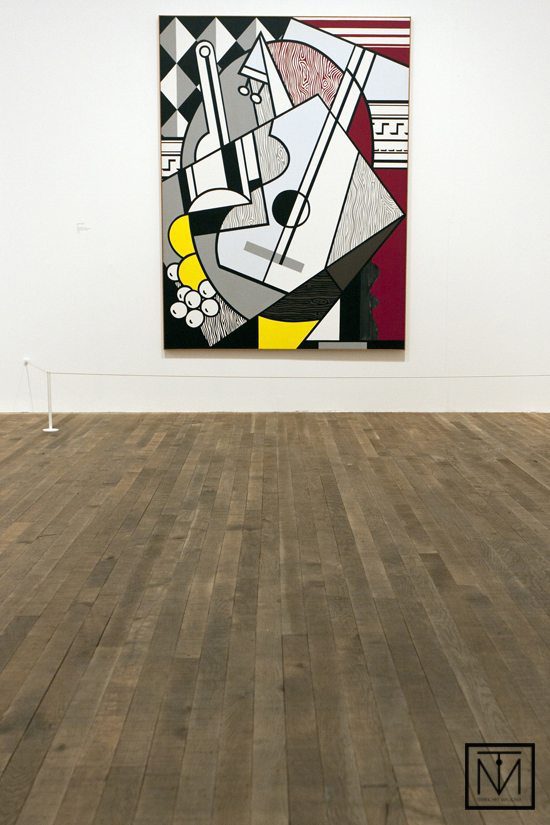 This culminates in his early 1970s series of paintings "Artist's Studios" (shown together for the first time since the 1970s), paintings of his own studio including references to his own earlier works (by then iconic) such as "Look Mickey", which is itself included in the exhibition.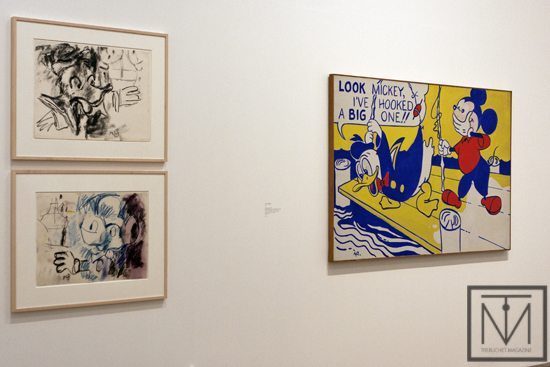 Much later in his career he returned to the pin-up style girls for his 1990s collection on nudes, to which another room is dedicated.  The women are idealised dolls, smooth and devoid of body hair with the glassy eyed, tranquilised, passive happiness of Stepford wives.
Elsewhere in his earlier works, women's feet and hands make an appearance, performing household tasks such as opening bins, spraying aerosols or using a sponge and in one case, receiving a shiny engagement ring.  These airbrushed, perfect housewives of popular magazine and advertising culture are juxtapositioned with the ultra-macho male fighter pilots – the Barbies and the Action Men, the stereotypes of Western consumerism.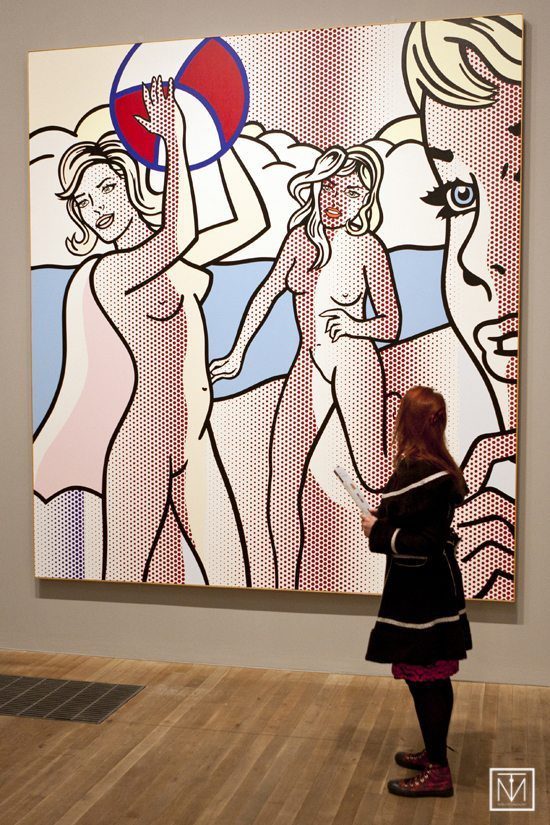 Yet Lichtenstein's undeniable gift for portraying deep emotional angst through the simplicity of lines and dots gives them an unnerving quality, rather than being emotionless replications of billboards, these characters betray their own personal tragedy in a gaze or the curve of an eyebrow.
Also featured are a number of sculptures, including female busts replicating the paintings as well as a collection of art deco style abstract brass sculptures, reflecting the architecture of New York landmarks, from the Chrysler building to the theatres, with a velvet rope stretched across one piece.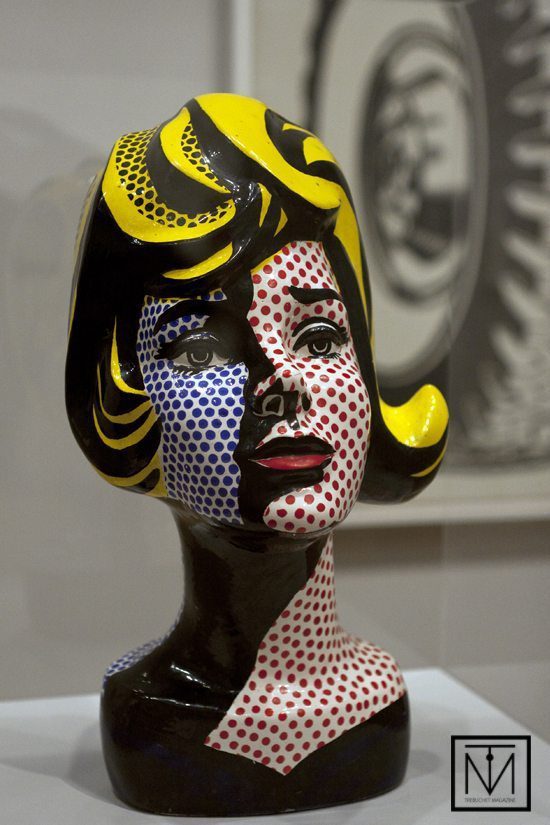 The exhibition ends with a selection of Chinese Landscapes painted the year before his death.  These feature the trademark dots, but this time in up to 15 different sizes to reflect the contours of the land giving a sense of space and tranquillity, on top of which are painted textured trees and tiny cartoon style men, both an homage to and a parody of traditional Chinese art.
This is a well-curated and extensive exhibition, second only to the Tate Modern's Warhol exhibition a decade ago. Many of the pieces are from private collections and it is unlikely that such a selection of his work will be shown together for some years thus securing the Tate Modern's place in the international art world, holding its own against the New York galleries.
All Photos: Carl Byron Batson
LICHTENSTEIN: A RETROSPECTIVE – TATE MODERN, 21 FEB – 27 MAY
[button link="http://www.tate.org.uk/visit/tate-modern"] Exhibition Details[/button]