Last Friday's daytime festival and evening private view saw an exciting collective of creatives – the Fabelists – coming together to launch an event that crossed many boundaries.

The beautiful space at Serpentine Gallery's Centre for possible studies was brought alive, becoming a slightly labyrinthine experience in which artwork adorned the walls of several spaces, performers twisted around pillars, a harpist made beautiful sounds from under the archways, and in the midst of it all, the Edible Art Movement created a focus by engaging the visitors in their participatory sculptural drawing.
There are many threads and levels to IMPRINT, and the more you delve into it the more you discover the fantastic depth to the whole thing.
You can get right down to the origins of the work and the creative process as it is revealed through the online blog-style conversations between the artists, and the quarterly publications also found on Thefabelist.com. A dialogue between artists is also suspended on threads which laced around the banisters of the staircase.
You can read that dialogue, (actually between talented painter Abigail Box and myself), in The Fabelist's latest publication  here. Or you can see a video of it suspended on threads here.
All the artists worked to a theme of 'Imprint', interpreting it widely and in unique ways. Abigail Box's totem pole of owl paintings, featured above, arose from her thinking about the imprinting and measuring of time – such as measuring a child's growth by marking the door jamb:  "I like the idea of creating a piece of work which is my own height, something which is 'built up' to this measurement, a kind of totem pole of paintings… Totem poles are 'built out of symbols assigned with a certain meaning'…  having been brought up with owls as a characteristic symbol for wisdom they suit the concept of time passing, and the knowledge and experience we gain as we grow older… and taller"
Below is a beautiful work by Chantal Powell called 'Relic', she says, "For this piece I explored the symbols used in early forms of written communication and inscribed them onto a set of deer skulls." Powell looked at 'Imprint' as producing a mark or pattern on a surface, and also Imprinting as "the notion of imparting a strong or vivid impression."
Below is my own piece, 'Rubik's Years', which looks at our imprint on (or in) time, and conversely questions if time has an imprint on us as it rushes past, and if so is there a plan or a pattern to it? Is it one we can only see when we step back from the everyday? The structure of the sculpture comes from combining the visual forms of a calendar and a Rubik's cube. It is displayed on a mirrored plinth, giving it a kind of suspended depth, and lit brightly in a dark corner. (You may recall I posted more images here & wrote about the piece coming to life  here)
You can engage in the space as an exhibition, an experience, an event or a festival – depending on what you choose to take part in. The evening was punctuated with poetry readings, music, interactive artwork as well as intriguing moments when the musicians and a lady in a red dress wandered out of their space beneath the arches of the main room, singing and playing as they wove in amongst the crowd, interacting with the artwork and the other performances in the space.
You can engage with the community of artists and see how their work has developed by working to the theme 'Imprint', and also feel the presence of the local community through collaborative pieces and workshops which have formed the basis or inspiration for some artworks. The artists have been invited to build on the history of the Serpentine's work in the neighbourhood – bringing together artists, residents, shop-owners and others to investigate, activate and imagine futures for the Edgware Road.
Taking a gastronomic look at art, you can add to an evolving sculpture in the middle of the space: Take a seat around the Edible Art Movement's table, upon which books are piled high, but not quite readable due to being frosted with white paint. Perching on the tower of books you will notice a gaggle of jaunty glasses, inside each glass pod there is an item of fruit or veg, the entire sculpture fading through the colour spectrum as you circle it from red chillies to orange lentils to deep green pulses, limes, lemons, fennel and grapes. You are instucted to choose a piece of food and draw it. Your drawing is then exchanged for the food, which is plucked from the glass with a long shiny implement in the hand of a moustached member of the Edible Art Movement, and whisked away on a silver platter. Moments later it returns in a specially wrapped package including recipes from the local market with which the EAM have collaborated. Over the course of the evening, the food based sculpture transformed into a sculpture made up of drawings.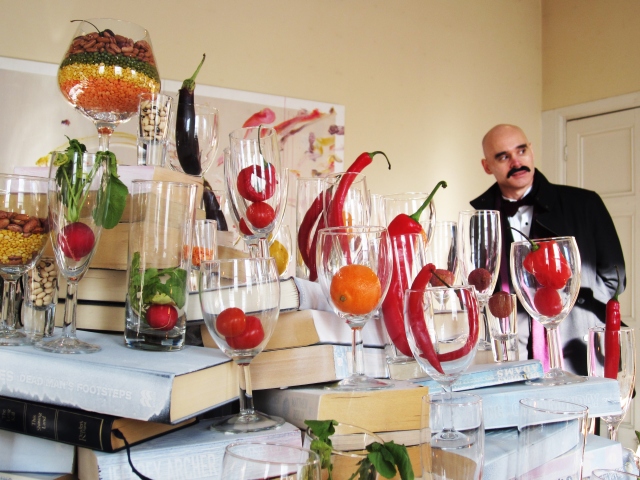 Imprint – definitely worth checking out, exhibition on until 4 Feb.
Location: Serpentine Gallery's Centre for Possible Studies, 21 Gloucester Place, 
London W1U 8HR: map 
Nearest station Baker St (also close to Edgware Road, Bond Street, Marble Arch)
Nicola Anthony is an artist and art writer living & working in London. She seeks to discover things which make her mind crackle with creative thought. Catch @Nicola_Anthony on twitter, or her artist's website

Nicola Anthony is a British artist known for her public art around the world. Her text sculptures are made of metal, words, memories and narratives. She has worked internationally with NGOs, art institutions, public spaces and cultural research bodies to create art which tells the stories that are often left unspoken.