[dropcap style="font-size:100px; color:#992211;"]I[/dropcap]t was pretty amazing to see how many people made it to HMV Forum London to see Shadowside, Gamma Ray and Helloween on a Tuesday night.
It was already packed when Shadowside were playing, the reaction from the audience was huge.
Afterwards, Gamma Ray played for just over an hour and it was obvious that some people had come to see them as well as Helloween. Gamma Ray are known as pioneers of the ultimate fast Power Metal style and sounded really tight. Due to Kai Hansen's past bonds with Helloween, some sort of action was expected and it came in a cover of Helloween's 'Future World'.
Finally, Helloween.  The stage was decorated with imagery from the Straight Out Of Hell cover and the 'Nabataea' video clip. 'Wanna Be God' was performed behind a torn curtain of greenery, whilst elsewhere were stairs made to look like parts of an ancient city and some gas masks hanging behind. Post-apocalyptic references to the destroyed city of Nabataea?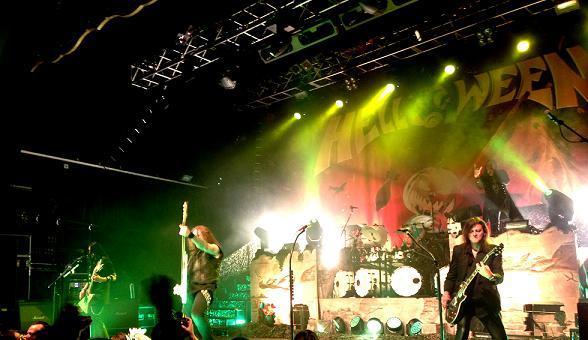 As this is the tour for the new album, they played most of the songs from that very album. But of course, they played the classics too.
Surprisingly, Andi Deris thanked the audience, announcing that UK album sales have been great and have taken Straight Out of Hell into the top 40. A look at the merchandise stand showed that they had run out of most of the product there as well. It's Helloween's time.
As for the performance, the Helloween sense of humor was dominant as usual. Andi Deris played the classic game of splitting the audience into two on the songs like 'Live Now' and 'I Want Out'. Kiss t-shirts, mugging Gene Simmons faces, the flying V Helloween guitar, slapping the bass player – not comedy gold exactly, but it worked here.
A reunion with Gamma Ray for the encore was bound to happen. Helloween played a medley of the last few songs with Kai Hansen, and then 'I Want Out' with Gamma Ray in its entirety. The audience went into full jizzmatic meltdown with 'I Want Out'.
Hi-jinks and Helloween metal energy = Win.
16th April 2013 – HMV Forum London
Tour: Hellish Rock Part II
Bands: Shadowside, Gamma Ray and Helloween
Set list:
Wanna Be God
Nabataea
Eagle Fly Free
Straight Out of Hell
Where the Sinners Go
Waiting for the Thunder
Burning Sun
Drum Solo
I'm Alive
Live Now!
Hold Me in Your Arms
If I Could Fly
Hell Was Made in Heaven
Power
Encore:
Are You Metal?
Dr. Stein
Encore 2:
Halloween / How Many Tears / Heavy Metal (Is the Law)
(with Kai Hansen) (With Bass Solo after How Many Tears)
I Want Out
(with Gamma Ray)
Photo by Seda Demir

Meltem is a London-based 'wanderer above the mist', whose biggest passion – a flame that never burns out – is Rock 'n' Roll. She contributes to the magical (for some!) world of Rock 'n' Roll by being a rock singer, a rock musician, and a rock songwriter. She has worked with great rock musicians from all over Europe. Her history as a rock musician consists of multiple rock covers, originals (rock), rock tribute bands and professional recording sessions. Where she dwelleth rock resides.