[dropcap style="font-size:100px; color:#992211;"]N[/dropcap]ow as y'all know, I'm a sucker for a feisty red head, as my good lady wife will testify, and dang it if Bonnie isn't the feistiest flame haired little darlin' on the Country circuit today.
I have a recurring dream involving Bonnie and Poison Ivy (The Cramps). Red headed girls with guitars, yes sir.
Back-to-business.
Yes indeed, Bonnie is touring at the moment and promoting her great new album, Slipstream. On the evening I caught up with her she dedicated the night to her late brother, Steve Raitt. Steve sadly passed after an eight-year battle with brain cancer. He was a major force on the Twin Cities music scene from the 1970s through '90s.
The last time I saw Bonnie was in 2009, just four short months after Steve passed away so it was a very emotional concert. This time however she seemed a tad distracted and at times seemed to rush things (possibly the threat of rain). She did also concede many guitar solo opportunities to George Marinelli instead of taking them on herself.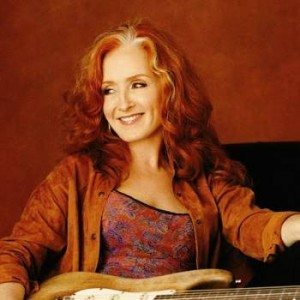 Bonnie found her feet however with Bob Dylan's sneeringly slow bluesy lament 'Million Miles' (a favorite of mine from her new album). She promptly followed it up with the foot tapper that is 'Love Sneakin' Up on You'. Marinelli hit on it with some down and dirty guitar, and Bonnie covered it with a sweet sentimental smothering of slide guitar. It was dreamy to say the least as she closed her eyes, tilted back her head and set her fingers free to explore her fret board.
Activist and Rock and Roll Hall of Fame inductee Bonnie Raitt is 62 years old, but I tell you this, she will hold you captive for an hour and a half playing with all your emotions and hitting you from all sides with classics such as the ever fabulous 'Something to Talk About' to 'Angel From Montgomery'', which she dedicated to her mom. Her vocal here was quite stunning and Marinelli once again encompassed the song with a slow winding guitar.
Organist Mike Finnigan, who has played with Crosby, Stills & Nash and Etta James, was highlighted for the Ray Charles number 'I've Got News for You', a real crowd pleaser. Rain was now falling but nothing could dampen any ones spirits at this time. Bonnie summoned up yet another keyboard wizard in the shape of Willie Murphy (Willie produced her debut disc) and fired up 'Never Make Your Move Too Soon' to shake up the crowd further in a real party time finale.
I surely hope Bonnie plays the UK soon, so y'all who've not seen her perform live yet can do so. You won't regret it. Meanwhile I suggest you buy her entire back catalogue, including the new Slipstream.
Col. Jon Burrows
Slipstream: "A loose and adventurous reminder of everything she does well… it's mood music with a razor edge, pain fronting as bliss, delivered by a vet who understands that the blues are often about just that."
— Rolling Stone
BONNIE RAITT TOUR – JUNE 2013
SUNDAY 09 SOUTHEND CLIFFS PAVILLON
TUESDAY 11 BIRMINGHAM SYMPHONY HALL
THURSDAY 13 02 APOLLO MANCHESTER
FRIDAY 14 CARDIFF MOTORPOINT ARENA
FRIDAY 21 GLASGOW CLYDE AUDITORIUM
SATURDAY 22 LIVERPOOL EMPIRE
MONDAY 24 NEWCASTLE CITY HALL
TUESDAY 25 NOTTINGHAM ROYAL CONCERT HALL
THURSDAY 27 LONDON ROYAL ALBERT HALL
Bonnie Raitt tickets go on-sale 9am on Friday 26th October priced at £33.50 / £28.50 regionally and £55.00 / £45.00 / £40.00/ £35.00 in London (subject to booking fee) and are available from www.livenation.co.uk
or www.ticketmaster.co.uk
[button link="http://www.bonnieraitt.com/" newwindow="yes"] Bonnie Raitt Home[/button]

Col. Jon Burrows. Conceived in the ghettos on the outskirts of Memphis. Hailed as the new face of the hood. Haikus to him can be found on underpasses, large rocks at public parks and the occasional idling limo.
Nearly all of the words he writes are spelled correctly, occasionally managing to format a page with a paragraph break. He once drove a tank and lives solely in hotel and hospital suites covering the windows in tin foil.
His epic autobiography, 'Fuck You Buddy', will hopefully one day be published, if someone in the literary world can decipher its sophisticated and convoluted message.