[dropcap style="font-size:100px; color:#992211;"]I[/dropcap] don't know if it's a case of being in the right place at the right time, the wrong place at the wrong time, the right place at the wrong time, the wrong place at the right time or whatever, it doesn't really matter.
The fact is, throughout my controversial life I have always found myself in rather strange places at various times.
I guess we all have some moments that lead to amusing anecdotes, I sure do, be it shopping with The Cramps or telling Francis Bacon to piss off, my life has been filled with some very bizarre moments. Did I ever tell you what Tony Curtis once told me? Well maybe at the next BBQ.
This one I will tell you now, as it's kind of short and sweet.
If you have a reasonable knowledge of musical history you will know who Link Wray is.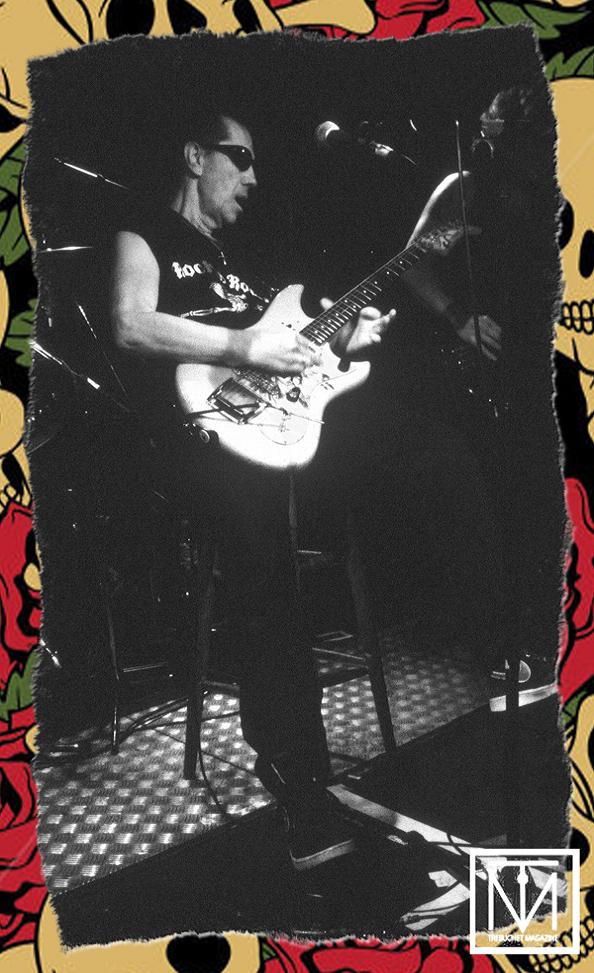 If you don't know who Link Wray is then this will mean nothing to you and you have permission to boil your head. Link however is considered to be one the best guitar players that ever lived, an icon and an inspiration to many guitar greats that followed.
Anyway. There I was strutting around sunny Camden Town in the late afternoon (I misspent a lot of time there) sometime during the nineties when I saw this guy pop up behind me. He was kind of hunched over a little and there was a woman with him (presumably his wife). She appeared to be giving the poor guy a hard time and had a cold hard tone to her voice; she was a fast talking nagging kind of woman. If it wasn't for the fact it sounded so much like a domestic, I probably wouldn't have given them a second glance but I'm kind of nosey and the woman was kind of loud so I turned my attention fully towards them.
Now I remember actually saying this out load, "It's fucking Link Wray". I have very rarely had an outburst such as this but to me Link Wray was like a God. I looked around in disbelief. I was standing right there on Camden High Street, Link Wray was about a foot away from me being henpecked and people were just walking past oblivious to the fact a living legend was in their midst. Things then began to feel slightly surreal. It felt like Jesus Christ himself could be floating down Camden High Street throwing flowers as he went and no one would be taking any notice whatsoever.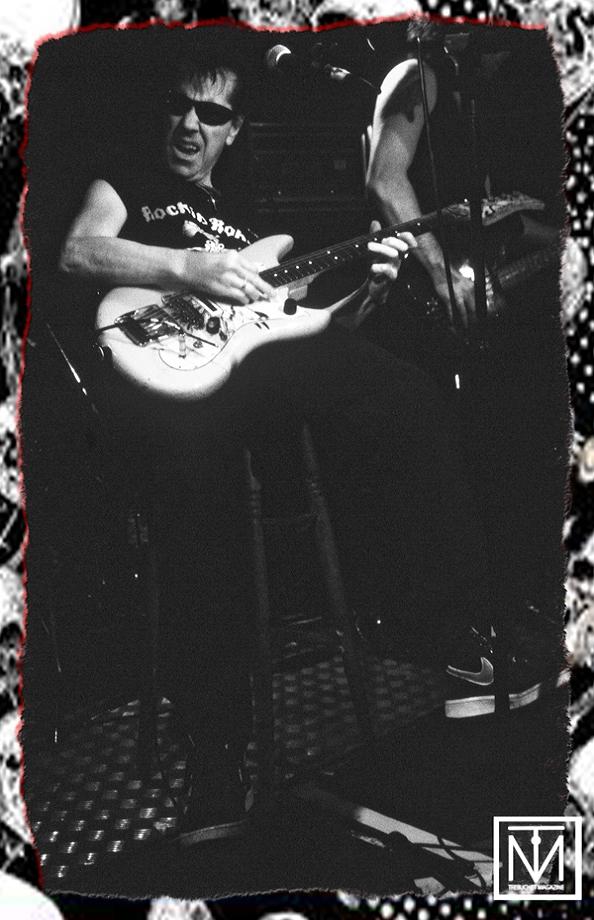 Link seemed to be having trouble walking and didn't seem to be getting the right assistance from the woman he was with. At this moment I had a decision to make. One part of me wanted to reach into my camera bag and start snapping but instead I said, "Let me give you a hand" and proceeded to walk arm in arm with Link Wray, dodging the traffic, across Camden High Street where a car was waiting on the other side. Safely over, he thanked me and was gone.
My reward for being a road safety conscious citizen was seeing Link play later that evening when he returned to Camden to play a show at Dingwalls. He played most of the show sitting down and if I remember correctly, he said he had hurt his leg falling off the stage in San Francisco (hence the earlier hobbling). I did photograph the show and I remember he would occasionally look straight at the camera and hold a pose just long enough for a shot and of course, the guitar playing was just out of this world.
Sadly almost nothing remains of my pictures from those days. This was pre digital age, no back ups. Just about everything I had from that era was destroyed. I recently found some surviving test frames for what they're worth, but the money shots have sadly long gone.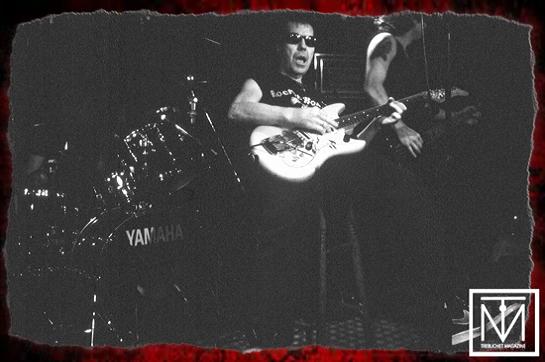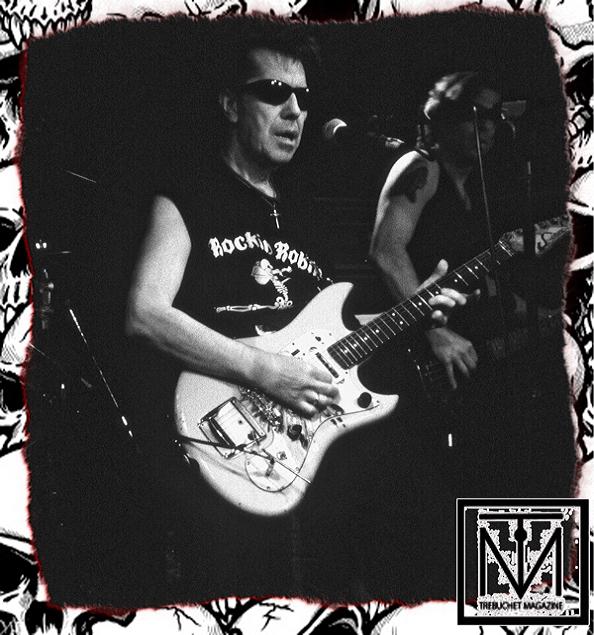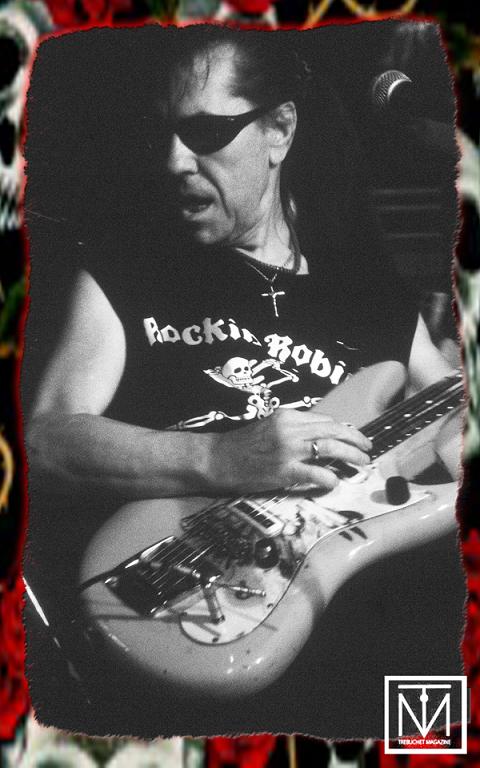 All photos: Carl Byron Batson
This article is about Link Wray. Link Wray is a guitarist. It was Link Wray's birthday last week. Happy Birthday Link Wray.

Photographer, published poet, former party animal, body builder, grave robber
to the stars and renowned chainsaw juggler, Carl can often be spotted on his
Harley Davidson pretending to be in Terminator 2. He is also frequently seen in
the press pits of old London town, camera in hand, avoiding being hit by bottles
of wee and crippling his opposition with secret Kung Fu moves.