Hannah Cohen's debut album Child Bride seems a fitting April/May release for those of us that are struggling through transition of the awkward weather and mishaps of general life, but should you dedicate 33 minutes to listen to this significant debut?
Child Bride is a transitional album; it evokes feeling and demonstrates the movements of feelings that Cohen so clearly fluctuates between throughout the album, but at the same time Cohen holds a clear direction in her work, and in this, Child Bride is an incredibly strong collection of songs. The album seems to signal an opening and closure of memoirs of a young lady that has seen too much too young, has fallen in and out of love, and has trodden in a few puddles on the way through… but who has now grown strong holding a very powerful, loving, and storming voice.
[quote]
a true artisan of the NYC bohemian subculture
[/quote]
Cohen comes from talented stock but is of her own making; having travelled the world as a teenager working as a model (being framed by names such as Richard Prince, Terry Richardson, David Salle, Will Cotton, and Ryan McGinley). Cohen immersed herself into the New York City music scene, partied hard, working artistically with peers and friends, and by being a true artisan of the NYC bohemian subculture Cohen has blossomed into the musician we hear today. But between the blossoming and beauty in Cohen's work, the pain is iridescent and open; a fine mixture of flowing melodies and soulful refrains worked into heart-wrenching lyrics.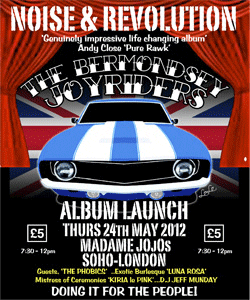 Child Bride opens with 'Don't Say', a conversation with a lover 'don't say this wouldn't work/didn't hurt'. It holds an ebbing flow of the guitar and piano reminiscent of 'Hallelujah', a flowing rhythm of melodic pairing sewn together with Cohen's harmonious voice. Very listenable and a gentle statement of intent. A light shuffle plays around in the background of 'Don't Say', perhaps a rute being lightly driven across a snare or homemade rice Macarena of sorts being moved delicately side to side, to the dull thud of a bass drum which holds the track together allowing the other instruments and voice to flow in and out.
'The Simplest' follows delicately on from 'Don't Say' into a poisoned chalice of lyrics, and the wobbling of a creaky chair (by the sounds of it!) Another stunningly soulful track. At this point it is a good time to say that the whole album fits together very well, and all the songs have been captured and mixed to a very high standard: Child Bride was produced by Thomas Bartlett, aka Doveman, who has worked with artists such as The National, Martha Wainwright, and Antony and the Johnsons.
On 'Shadows' Cohen really exposes her terrific voice to the ears, and the production team have allowed Cohen to work through the many depths of her vocal tones. Cohen's voice is undisputedly the carrier of the song, to great effect.
[quote]
a joyless viola crying for home
[/quote]
'California' then delivers a pogo of willowy harmonies to follow up 'Shadows', prompting a longing for time once spent in Cohen's home state. It's a concoction of rhythmic and playful guitar picking and strokes, upbeat drumming, what may be a joyless viola crying for home, and light key punches on a piano. 'California' is another weathering track of emotions, homesickness, and tender memoirs that open up Cohen's ability once again. We then move into a weather front hitting the West Coast in the form of 'Boy + Angel': a Doveman cover done to a believably unbelievable high grade having listened to the previous tracks.
'Boy + Angel' is a monkey's wedding: a storming track of rumbling bass-lines, punchy rain-filled drum beats, unpredictable lighting strikes of piano, and a blow of wind coming through the cracks. All with Cohen's damped sunshine voice breaking through over the horizon. Cohen's voice reflects a spectrum of colour and shapes with the ever-changing mood of the track. A fast paced start of vibrant toots and energy as if a raindrop hits a window, the raindrop loses pace as the track slowly pulls up, but driven by fearsome drum beats and piano the raindrop merges with another to gain pace again until settling into a distorted shape that is the end of the track. 'Boy + Angel' should be played loud.
But then, to the island track of the record, 'Sorry'. 'Sorry' is an after-stroke of pain having seen this monkey's wedding through, the tree that was once lived in has been blown down by the stormy weather in 'Boy + Angel'; a sorry state of affairs is now exposed in 'Sorry'. 'Sorry' exposes Cohen's fragility and core in way that few artists I have heard can. And with this, you feel the influence of Thomas Bartlett and Rob Moose (musicians on this record) whom have both been involved with Antony and the Johnsons. 'Sorry', although short, is svelte in such a way that if it were to go on any longer one might just have to give Cohen a hug and tell her its ok, things will pick up.
It's hard to follow up a track like 'Sorry', and for this reason you do find that most artists will splinter towards the end of a record and not be as brave to place such a track in the middle of an album. 'Child Bride' really roller-coasts you through a mixture of emotions, which is then followed by 'Say Anything'.
By 'Say Anything' Cohen and gang have you under their spell, and let you relax into a drifting melancholy. Things then have a surge of power as you move into 'Carry You Under', which is especially tasty.
Having just fallen out of the nest in 'The Crying Game' there is little or no rest going into 'Sunrise'. Once again, it's a difficult but beautiful song. The album finishes in a manner that clears your head of subliminals and emphatically fills it with your own memoirs alongside Cohen's.
Out Now
http://bellaunion.com/

Sean Keenan used to write. Now he edits, and gets very annoyed about the word 'ethereal'. Likely to bite anyone using the form 'I'm loving….'. Don't start him on the misuse of three-dot ellipses.
Divides his time between mid-Spain and South-West France, like one of those bucktoothed, fur-clad minor-aristocracy ogresses you see in Hello magazine, only without the naff chandeliers.
Twitter: @seaninspain