[dropcap style="font-size:100px; color:#992211;"]L[/dropcap]ocated in leafy Hampstead, Lahd Gallery takes its name from the Arabic word meaning 'blink of an eye'.
Founded in 2005, the gallery initially exhibited from a single location in Riyadh, Saudi Arabia, expanding to include its current London location in 2010. Developing from its initial remit to gather and present the works of women artists in the Arabian Gulf, it has since expanded its ambitions, now presenting artworks by young and contemporary artists from across the Middle East, Asia and North Africa to an international audience.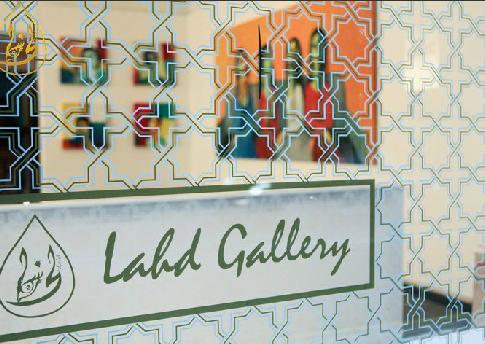 Lahd Gallery's Nauf Albendar Al Saud answers some questions for Trebuchet Magazine:
---
What first drew you to art?
My childhood passion has always been in art.
How did your gallery start?
It first started in Riyadh to provide a focal point for women artists from the Gulf. It then quickly expanded to promote young contemporary artists from the Gulf region and Middle East as well as North Africa.
How did your involvement begin?
I got involved with the art world in the beginning just so that I could give the women artists from the Gulf, who were under-represented at the time, a chance to show their works and to have a bigger voice in the wider world.
What is the vision for this gallery?
The primary vision for the gallery is to help create a level playing field for all Middle Eastern artists and to give them the opportunity to show their works alongside their global counterparts. We also believe that any artist who has a meaningful message to convey has to be given the same opportunity without limitations. We do not show art for the sake of showing art.
[quote]we see it as educational as well as informative[/quote]
In addition, we are not primarily a commercial gallery and do not place undue emphasis on achieving big sales at the expense of showing good meaningful works, but rather we see it as educational as well as informative. The gallery also has a certain intimate feel about it, with friends and loyal followers forming a regular audience at event openings.
Furthermore, the bigger picture for us is to make contemporary Middle Eastern art accessible to everyone.
Which artists typify the vision you have for your gallery?
We have artists representing different styles. Their contrasting styles highlight the diverse and global image of the gallery.
What do you dislike most about art?
The messages that art conveys can be powerful. The only instance where I dislike art is when it borders on ridicule. [Artworks] without any real meaning, but because they are branded commercially, have to be exhibited.
How would you define artistic controversy?
Artistic controversy usually arises when art goes beyond the norm as commonly accepted notions are challenged. This usually causes a chain reaction of resistance, doubt, and denial as new art is not generally accepted readily in the beginning.
Do you think that controversy in is a positive force in art or a conceptual red herring?
I think that controversy is only relevant if it is placed in a specific social cultural context, and it is also time-specific. Some artists seek this out intentionally, others, inadvertently. In any case, it is more of a positive force in my opinion as it only shows that art is not insular, but it provides dialogue with the wider world at large.
What's been your biggest challenge?
The biggest challenge has been taking the plunge in setting up the gallery in Riyadh, which no one had done before. Especially when, during that time, Middle Eastern art was still unheard of. I feel a great sense of pride and achievement to be able to be the first person to do it.
What's been your biggest success?
My biggest success has been to get all the artists that I promoted to the world stage, gaining a bigger audience for their art, and bringing Middle Eastern art to the rest of the world.
Who do you think is the artist to watch at the moment and why?
All of the artists that Lahd Gallery represent have an edge over the other artists because we choose artists purely on the aesthetic and social aspects of their works. However at the moment, we choose our artist Shurooq Amin as an artist of the month and the one to look out for.
Her works are totally groundbreaking because of the subject matter and she has captured the interest of big galleries and auction houses.
What does the future hold?
Middle Eastern art is set to boom in a very big way. I envisage that in three years time, it will become the next big thing.
[button link="http://www.lahdgallery.com"] Lahd Gallery Homepage[/button]
The aim of art is to represent not the outward appearance of things, but their inward significance. – Aristotle