[dropcap style="font-size:100px; color:#992211;"]F[/dropcap]ounded by a painter with a degree in painting from Brooklyn's Pratt Institute, and her brother (a marketing and business expert) Jester Jacques Gallery showcases work by emerging, and established, street/abstract artists.
Working via pop up shows, a consistently updated inventory on their online space, and regular workshops, the gallery builds its presence without occupying a regular physical location. That's not without its challenges, but as curator/director Karen Shidlo is keen to stress, 'some pretty cool collaborations have come out of it'.
Hanging Offence puts the questions to Karen Shidlo of Jester Jacques Gallery:
---
What first drew you to art?
Growing up, my family moved a lot; we lived in Israel, all over the USA and then France, before I even left home to go to college in New York. Art helped me with the transitions and difficulties of moving; saying goodbye to friends and being scared about how I would fit in the next place was made easier knowing I could be creative, whether writing poems or drawing.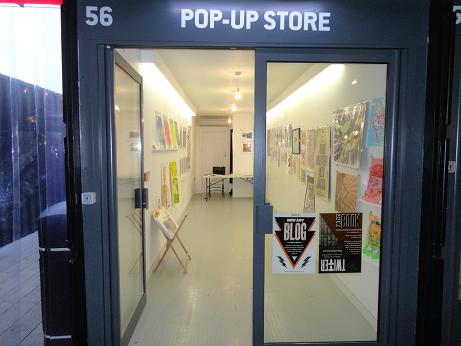 I studied painting at Pratt Institute in Brooklyn and nothing has ever felt so right as when I am painting.
How did your gallery start?
I moved to London in 2011 and was really uncertain as to which direction to take next. I had just been working at an art gallery in New York for six months and loved every second of it, but was also still daydreaming about becoming a successful painter.
In the end, I decided to start my own gallery rather than pursue painting because I didn't want to isolate myself in a new city… plus I wanted (and still want!) to help other artists. My brother, a business/marketing professional, was very keen on the idea and it evolved from our mutual love of art!
What is the vision for this gallery?
We really want to stand out. We have an online shop which is limited in products and that is because we have developed personal relationships with the emerging artists whose work we are selling. It is time-consuming, but we do want to offer art that you cannot get anywhere else, art that is meaningful and that we believe in.
We are participating in our first art fair this April in The Other Art Fair and, after our pop up at Box Park in February. We want to continue doing these two ventures as well as selling art online.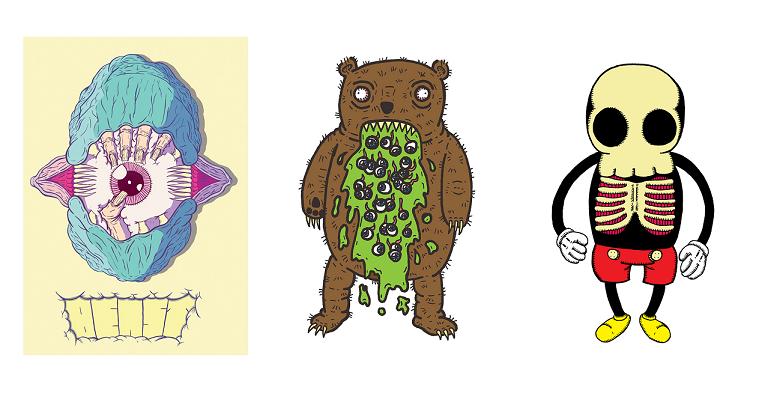 Various works by Michael Petterson
Which artists typify the vision you have for your gallery?
Ben Rider has been with us since the beginning; he has become our bestselling artist online! He is a wonderful illustrator, always pushing himself and the boundaries in screen printing, never afraid to experiment. Marcus Pettersson is another strong illustrator who continues to explore drawing and iconography when not doing his freelance projects. And Philip Harris, who is apprenticing to be a tattooist, is an absolutely incredible draughtsman whose drawings are detailed and rich with meaning.
What all these artists have in common is their relentless passion for the work they make combined with the sense of playfulness and freedom which allows them to take risks.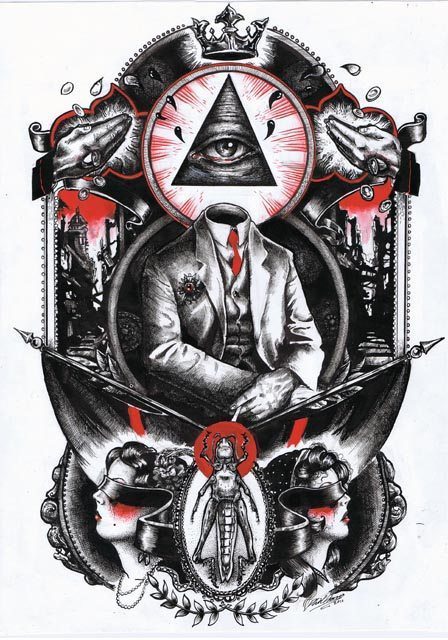 Philip Harris  – The Banker
What do you dislike most about art?
The art world. I hate when artists become celebrities, when galleries become super competitive, when people are snobby about art. We take what we do seriously, but we do not want to exclude anyone; we want to be approachable and put on good, fun events for the public.
What's been your biggest challenge?
Not being able to have a physical gallery space has been challenging. But it in a way it is good, as it forces us to always look for projects that we wouldn't otherwise and some pretty cool collaborations have come out of it, like with FAD and Box Park. That isn't to say that we don't want to find a permanent retail space; that would be amazing! So the hunt for the perfect space continues!
What's been your biggest success?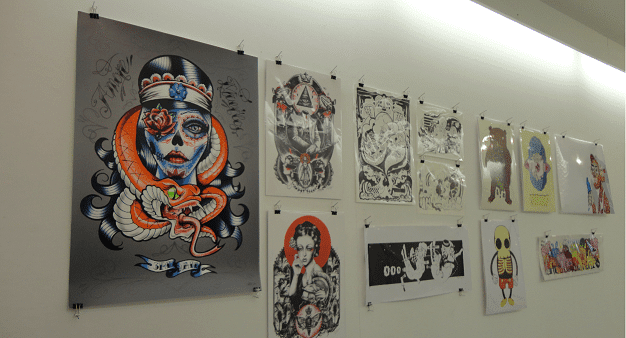 Being invited to participate in and share a booth with FAD this April! We had been discussing which fair we would like to take our artists to and we were approached to be in The Other Art Fair. This, and having our Pop Up unit at Box Park, have been the most exciting projects for us so far!
Who are you five favourite artists?
My five favourite artists are Sophie Calle, Bill Viola, Philip Taaffe, Catherine Opie and Jenny Holzer. I love video art and installation work, as well as photography and, of course, painting! The list could go on and on!
Who do you think is the artist to watch at the moment and why?
Philip Harris is definitely one to watch! With his artwork featured in Juxtapoz Magazine, Who Killed Bambi and having been in Art of England magazine, he is getting to be recognized for his wonderful illustrations. With a strong tattoo influence, they are impeccable in the way they have been drawn, with pen and ink, very detailed. My favourite print of his is 'The Banker', which is full of symbolism and narrative, as well as being viscerally wonderful to look at.
[button link="www.jesterjacquesgallery.co.uk"] Jester Jacques Gallery Homepage[/button]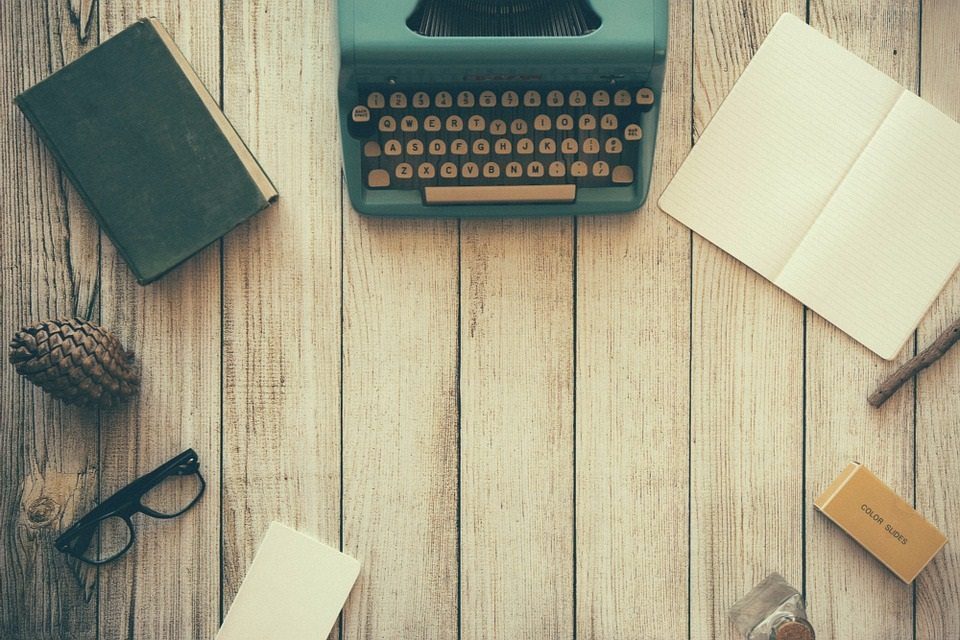 The aim of art is to represent not the outward appearance of things, but their inward significance. – Aristotle