Daniel Crews-Chubb heavily works the surface of his paintings, creating strange, twisted figures from a patchwork of torn fabric, inky spills of vivid colour and bold charcoal gestures.
Following the recent opening of Humanoids, his solo exhibition at Timothy Taylor Gallery in London, the artist discusses his process, use of materials and mythical narratives.
What do you find interesting about mythology?
I think what I find interesting about mythology is that, essentially, it's stories, retold and regurgitated. I like finding links and similar stories between different cultures. For me, it makes them almost become more real.
Many of your works reference specific stories or characters. How would you describe the relationship between your works and the original narratives?
When you're making a painting, ideas overlap and intertwine, and your original idea may become diluted by formal or aesthetic decisions that you make during the process. So, inevitably the original narrative becomes more unclear. I don't pay too much attention to the title of my work, it just gives the viewer something to associate with the painting, but there are so many suggestions and references in my work, I could come up with a hundred different titles and they would all have a resonance to the ideas in the work.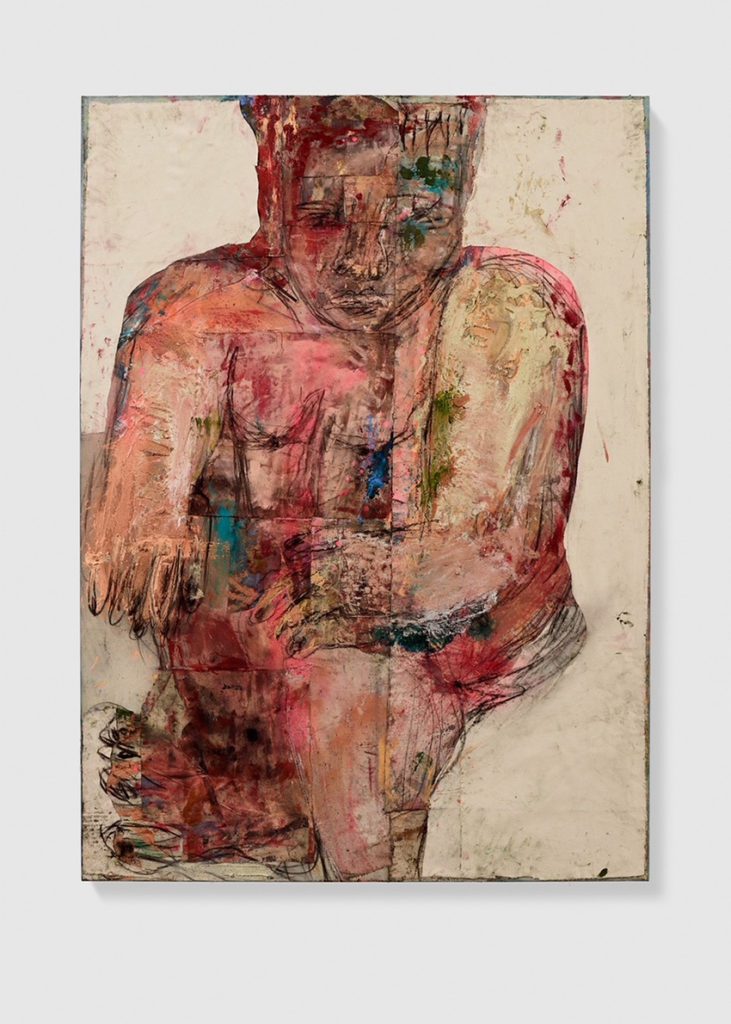 How does a new work – or series – generally begin?
Up until now, I've predominantly worked with the figure, so every painting informs the next. There are things I reintroduce from one painting into the next, it might be something to do with colour or tone. In terms of beginning a new series, I like to question traditional subjects by looking at them in the framework of my own style. For example, if I were to paint a still life or a landscape or an animal with this more chaotic, collage approach, how does that translate elements of the subject in reality?
Do you need a particular atmosphere or mindset to be able to create?
Not really: I find material everywhere I go and I like to keep working every day if I can. Even if I go on holiday, I'll take my drawing stuff to keep my hand moving. In the studio, though, I really rely on space. I've never made a picture from start to finish without starting another five pictures. I work simultaneously on multiple works, and that way they inform each other and become something coherent and cohesive. It's like cooking for twelve instead of cooking for one, you need a large space to do it. I'm lucky to have enough room to have lots of paintings around me that I can work on at the same time.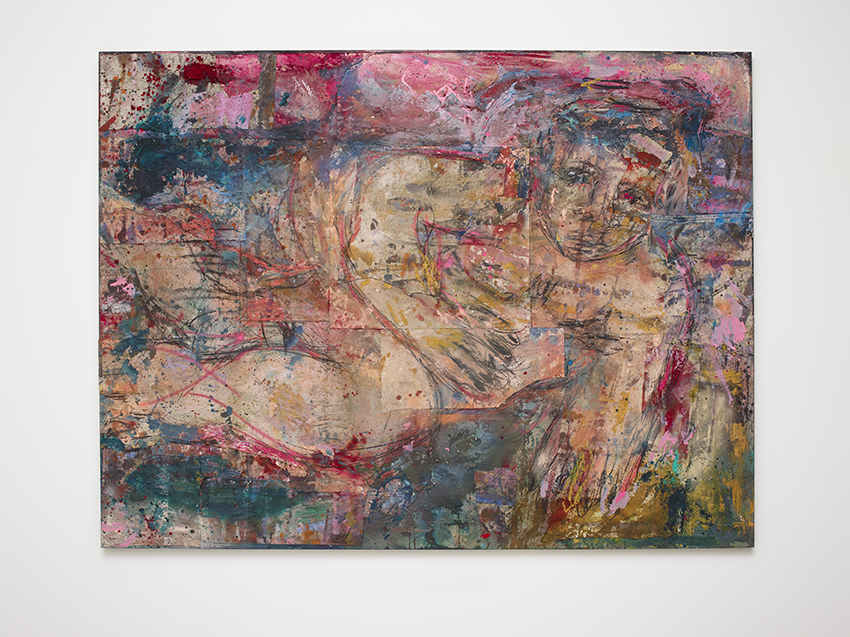 How do you think the use of collage elements disrupts or challenges the conventions of painting? And what role does it play in your process specifically?
I think the role that collage plays is as an immediate eraser. I work quite quickly: the drawing gestures are very rapid and almost impulsive – I want them to be uncontrived. And sometimes that looks great, and other times I simply have to stick a piece of collage on top of it and redo it, create absence and bulk at the same time. So, it's just another tool in the toolbox, same as the charcoal or the ink or the spray paint. They all have their place.
Where does the title Humanoids come from?
The semantic definition of a humanoid is a non-human creature or being with characteristics resemblant of a human. So, this felt fitting for my figures, whom I see as other and alien. I like to think of them as very fluid. There's no muse, no sitter or identity, no age or gender or ethnicity – they really spring from my imagination.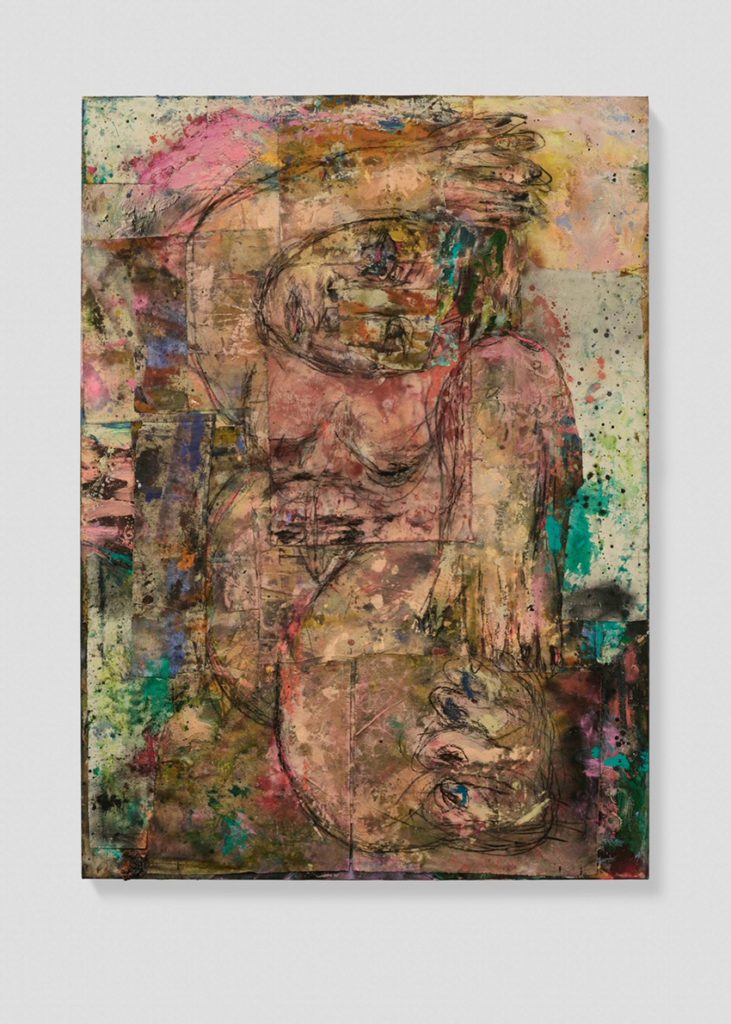 How do you decide when a work is finished?
I think you just know. It helps working on multiple things at once because you might leave a picture for a matter of days or weeks while working on the other ones, and then revisit it and the materials and composition have kind of settled and it tells you it's finished.
Do you think your approach to making art has changed at all over the course of your career?
I'm more interested in surface and experimenting with different materials and textures now. My practice is developing through progress I find in the nature of the surface.
What does 2022 hold for you?
My first major institutional show is opening at the Ashmolean Museum in Oxford at the end of 2022. Then, I'll also be featuring in a two-person show in Milan with Kevin Francis Gray and a group show in Mumbai with Galerie Isa with Conrad Shawcross and Michaela Yearwood-Dan.
"Daniel Crews-Chubb: Humanoids" runs until 22 January 2021 at Timothy Taylor Gallery, 15 Bolton Street, London W1J 8BG. For more information, visit: timothytaylor.com
Featured Image: Daniel Crews-Chubb in his studio, South London, 2021. Photography by Prudence Cummings.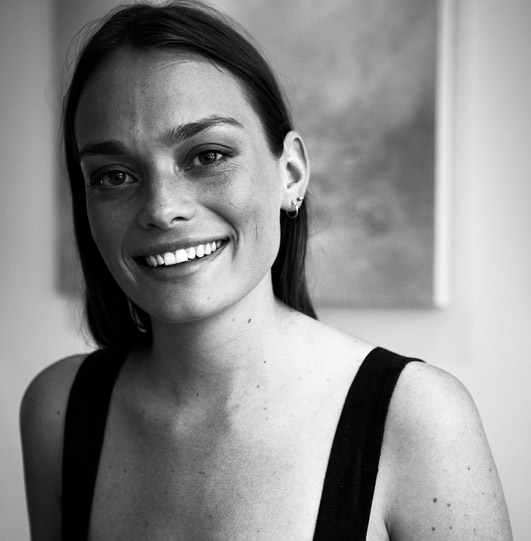 Millie Walton is a London-based art writer and editor. She has contributed a broad range of arts and culture features and interviews to numerous international publications, and collaborated with artists and galleries globally. She also writes fiction and poetry.