Born and Raised in Brent, London Eugene Ankomah is a visual artist known for his work in many styles of art. His works can be found in the collections of celebrities including Uri Geller, Colin Salmon, Michael Horovitz, Dizzee Rascal and Chiwetel Ejiofor. 
Born and raised in the London Borough of Brent, Northwest London. He spent his early childhood living in Ghana with his parents and four siblings, before his family relocated to the United Kingdom in 1990.
Ankomah first realized his love and passion for art as a child of around four years of age, when he recalls being obsessed with drawing boxes, and then moved on to drawing practically anything and everything around him, At the age of 17 years, Ankomah became the first ever recipient of the Peter Evans Award, (originally funded by the family of the late Peter Evans) awarded by his school for best student, winning a prize fund of £900 as part of the prize. After completing his secondary education Ankomah followed a Foundation course at the prestigious Central Saint Martins College of Art & Design. He later also graduated in Illustration and Fine Art at the University of Westminster.
"I have always had this memory of having always drawn and created since childhood. I have no recollection of a moment or period when I wasn't drawing or making something out of found stuff around me. Other times, I would also be looking through my mother's fashion catalogue admiring the way the models were drawn, in their fabulous poses. All of these visual triggers meant I was always on the go exploring with great curiosity-even if sometimes, that was simply putting puzzle pieces together, because I like the artwork image on the puzzle.
I began being inspired by the local gardener in Ghana (Tema). He had some lovely small paintings of some local characters within this garden. I remember seeing those made me want to draw even more. I was then inspired by the lovely drawings of one of my auntie's who had a sketchbook at our house. Moving forward. Once I discovered renaissance art, as a teenager, I became fascinated by all that, and consumed books on them at every opportunity. These were artists like Michelangelo, Raphael, Titian and the likes. Rembrandt's was also a huge influence.
Fast forward. I became influenced by the works of modernists such as Picasso, Mattise, Braque and Kandinsky and even Francis Bacon.
Moving on, I am now heavily influenced by the idea of excellence. But also by figures we all know well throughout history who practised excellence in their respective fields. This ranges from Pele or Maradona the footballers. But also Beethoven the composer. It also included Paganini the Italian violinist and Miles Davies, along with Coltrane. I am just as much inspired by great thinkers and philosophers such as Socrates. Not least, I also love authors such as Maya Angelou. In addition, I admire the likes of Michael Jordan for his mindset. Those are just a few people on the list. My list goes on and on. I just pull inspiration from everywhere."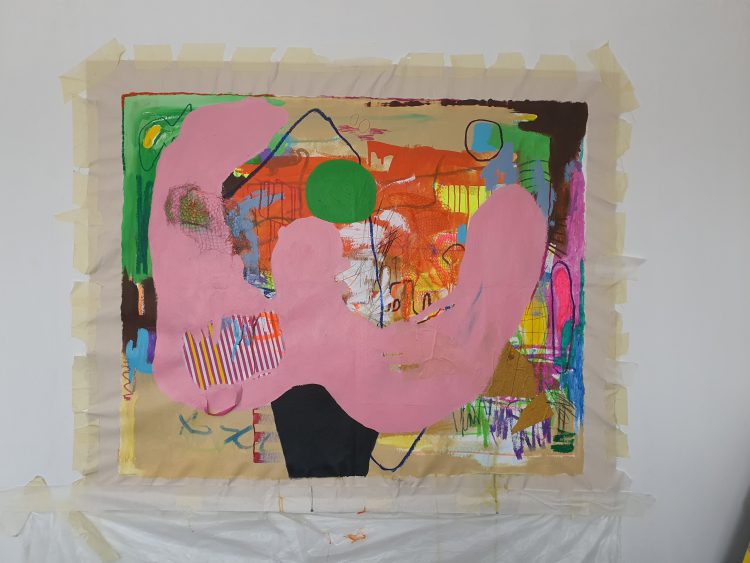 His exhibitions have included such places as, Buckingham Palace London (Flag design) 2003, Carnaby St. London 2005, Gallery Technohoros Athens 2011, Art House London 2014, Royal Festival Hall, The Windmill London 2015. Ankomah has also exhibited with the annual Screen Nation Awards and his work and profile showed on ITV, the BBC, Sky TV, London Live, on African TV stations and through other online international TV stations amongst others. His work has also been featured widely in other media outlets including the Observer, The Voice Newspaper and many radio stations.
"During the period 2001 to roughly 2014, I made a lot of mixed media 'paintings', which I came to call 'Tribal Paintings' due to immediate references to ancient African sculptures, but also the peculiar materials I had employed. These were mostly made from and consisted of rusty nails, feathers, animal body parts, black eye beans and even chicken heads amongst other materials. Upon seeing these works, I was asked many times 'If I was smoking anything?, what the presumed substance was, and whether the substance was allowing me to see visions?. Which in turn allowed me to create the works?'. The truth is that I did not take (and never have) anything other than my willingness to take my art further. These questions floored me with laughter each time. I couldn't believe my effort to really dig deep and to consciously push myself, to push painting forward through experimentation and imagination, was allowing what I considered to be such funny interpretations.
At school, and at age 15/16 years I had one of my teachers flowing with tears in front of one of my 'Early Works' – 'Elijah Ascending To Heaven'. Then she said this, ' I don't understand what it is that allows you to see and think in this way. I don't understand how you are able to create paintings with such skill and deep feelings'. I never ever forgot that reaction."
Eugene continues to be dedicated to providing his experience and talent to the young, charities, the less fortunate and the deprived, often making work to raise money for them. He continues to be in demand for making presentations and talks with various youth organizations, schools, colleges seeking to empower and inspire. His work is in many private international collections and is noted for its conceptual layers talking to Trebuchet Ankomah talks us through some of his methodologies and experiences. 
"At the beginning of each piece, I build up textures and depth using all sorts of materials, usually collages to the surface. I explore abstracted lines and shapes too. These are often painted over in my pursuit to satisfy the 'creative feeling' which draws me into surface depth. Once there, I will immediately pull myself away from the piece. At this point, I know the piece of work is then 'completed'.
Lastly l, but not least. I see the process of creating anything as a 'collaboration' between myself and the materials that are being used. If I'm able to let go and trust the process enough to allow the materials to behave as it would without my controlling of it. Then I know the end product will surely be a satisfactory one.
Depending on the period or projects of my works, the techniques would differ. But I would describe my current technique as free flowing, energetic but experimental and welcoming of accidents within my application- as I believe, these moments are the honest and most natural parts of any creation. There's a lot of spontaneity in my technique.
With my current works, as seen in the photos. There is hardly any planning at all. I rely on what I describe as the 'inner composition'. This for me is when by a kind of faith and 'risk taking' approach. I rely on the stored information, stored experiences, knowledge and my opinions of the world to show through, automatically. So to answer more specifically, the plan I rely on, is already in me. And I rely on it fully."
What has been the most important discovery in your practice to date?
"This is a good question, but a slightly tricky one to answer though. I find it tricky because I feel I have discovered a lot through the different 'styles' I've worked in. The simplest way to answer this question is this. I grew up making a lot of drawings and paintings constantly. But I did not realise up to a certain point, the experimental and curious nature of my mind. Once I discovered my interests and abilities went beyond those two mediums, and into other areas such as costume making, sculpture, arrangements, print making and so forth. I became and experienced what true artistic freedom is. This discovery has allowed me to continuously move into other disciplines with confidence.
This discovery has immensely influenced the creation of my ongoing public project ('Re- Claim. Which has been about utilising the power of art and the to tackle the huge issue of knife crime in the UK.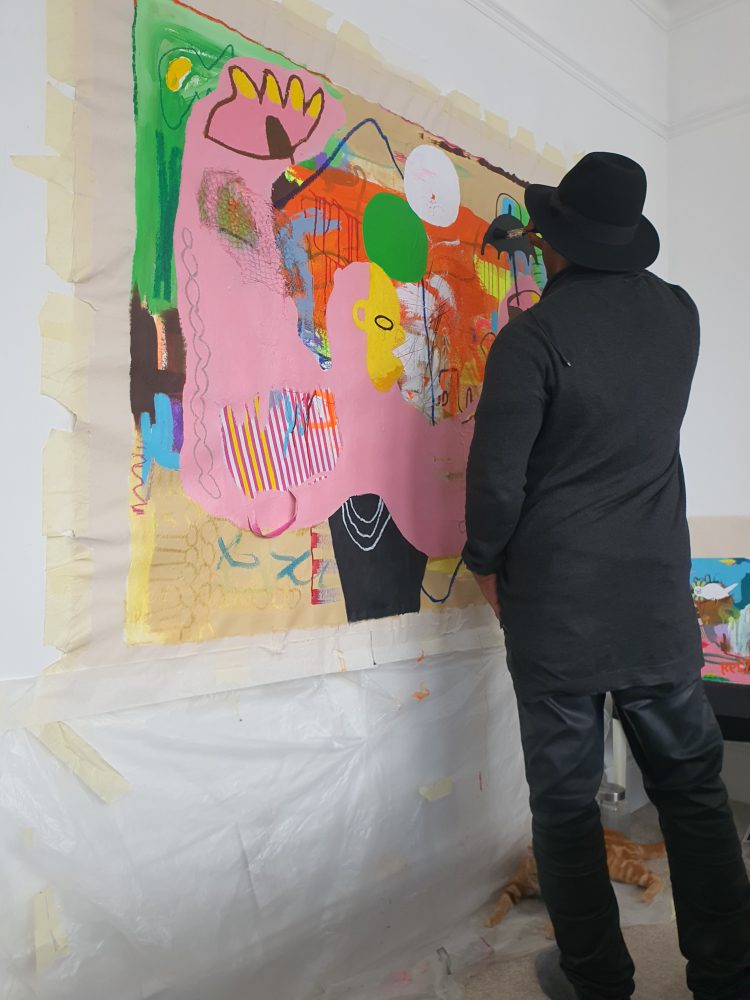 The emotion in my work is something that for me represents connection (to the subject and people) and truth, especially in the way the work relates to the viewer. Emotion is ofcourse something we all relate to. When experienced in a work, I believe it allows the viewer to also face their own truth. It can even be the gateway to finding out more about yourself in a deeper way."
What is your most successful artwork and why?
"It is difficult for me to state what my 'most successful' artwork might be. I'm even considering what successful in this context might mean. Why?, because in my mind, and looking at the eclectic work that I've made over the many years. I see various pieces and projects as having been successful for entirely different reasons. It is therefore difficult to pick one or two as most successful. Having said that, I do very much like my 'Blacked Out Portrait' (mainly images of young people in state of uncharacteristic silence). I would also mention my 'Tribal Sculptures', for the sense of surprise it created whenever I showed them. My 'Tribal Paintings' series of mixed media works also caused a shock to many, in a positive way of course.
I'm very blessed and lucky to say that my art has created a huge encouraging reaction of admiration since childhood really. I have had so many positive situations and reactions over the years. Some of which have sometimes amazed, surprised and humbled me.
I think the general gist or feedback with people who have seen my work, followed my works or experienced my work over the years is of bewilderment that I and my work have kept transforming and 'evolving' through many ideas, inventions alongside my different 'personas' and fashion sense."
Where should people start with your work?
"Depending on which project of mine or style of work one is looking at, I believe the approach in understanding it should be shifted or changed to suit. But, one of the similar features that exist in all my works is a willingness to dig deep, and present back ideas, emotions and approaches to creativity the audience may not have expected. I have always been unafraid to lay myself bare in my works. When I have changed as a person, my work has also changed.
For argument sake, let's take my current works – BW (Brain Wave) Digital Paintings and the physical paintings which pushes the digital works ideas forward. These are consciously made without prior planning. But rather, I rely purely on the flow of my imagination, subconscious and the things that have come to affect me or inspire me to show forth. Of Course this can be almost anything. But I also trust the process to bring me to place where for example, the works reflect my obsessions, my concerns, themes and the world around us. And in doing so, I aim to present my truth. My truth therefore allows others to open up in their truth. This relationship, albeit mostly mentally and emotionally is what allows a lasting connection to form between myself, the work and the viewer or collector.
I am currently busy in the studio making some exciting large scale works which I hope to introduce in 2022. These involve paintings Sculptures and other experimental things.
As I have throughout my life so far. I shall soon be introducing yet another new 'persona' to front a never before seen series of playful works that I created during the intense part of lockdown in 2020.
I am hoping to share more of my work through physical exhibitions. I have lately had too many questions concerning when my next Solo exhibitions might be. These include some international interested galleries too.
One of my favourite quotes about art is by Thomas Merton 'Art enables us to find ourselves and lose ourselves at the same time'. The ultimate goal though, is to keep expressing my truth in all my transformations. Everything else has a strange way of falling into place after that!'
Further information
artdependence.com/articles/the-aestheticized-interview-with-eugene-ankomah-ghanauk/
kilburntimes.co.uk/news/kensal-rise-artist-eugene-ankomah-wins-award-7073572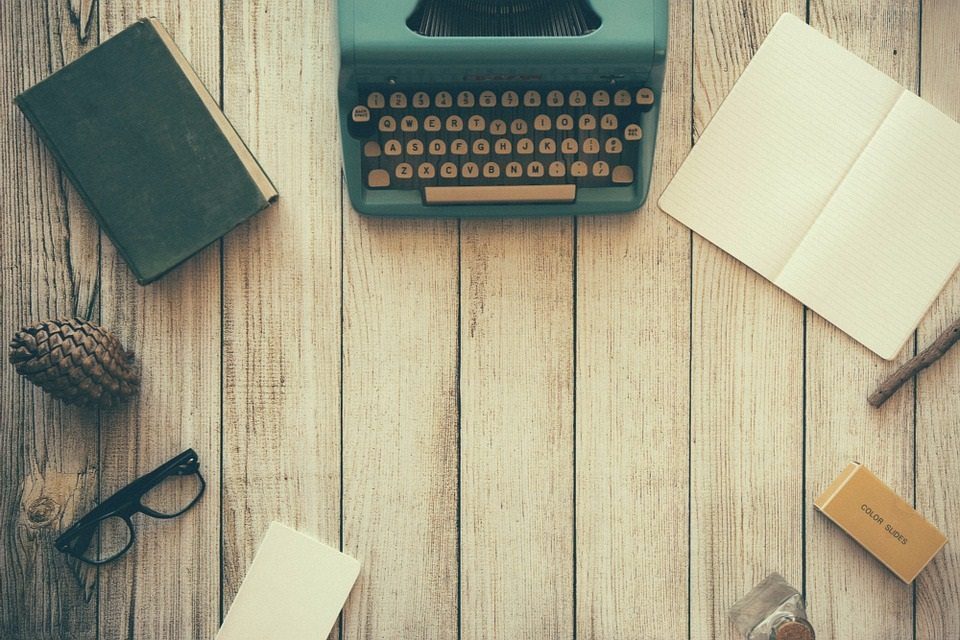 The aim of art is to represent not the outward appearance of things, but their inward significance. – Aristotle