"Anyone who fights with monsters should make sure that he does not in the process become a monster himself. And when you look for a long time into an abyss, the abyss also looks into you," said Friedrich Nietzsche. But what if, asks Greek artist Sofia Mitsola, the boundary between good and evil isn't so clear cut?
The artist's upcoming solo show Aquamarina: Crocodilian Tears at Pilar Corrias, London will present a new collection of paintings and charcoal works that manifest Mitsola's own mythical tale.
Set in a watery world, the story follows two warrior sisters 'Aqua' and 'Marina' who are depicted as powerful, sensual god-like figures that challenge not only conventional notions of femininity, but also the concept of "monstrous".
As in many of Mitsola's previous works, the sisters often seem to be staring directly at the viewer, but while their expressions are authoritative, they are also secretive, soft and sensual. As such, the artist subverts the fear of the female gaze that characterised heroines in Greek and Egyptian mythology, such as Medusa and the Sphinx, and invites us, as viewers, to relate to her characters as emotional beings.
Alongside paintings featuring multiple characters resembling ancient Greek Caryatids, the exhibition will include a frieze-like drawing in charcoal which will extend across two walls of the upstairs gallery, depicting a battle-scene between the sisters and their enemy, a vicious crocodile known as Crocovelus Niloticus. Meanwhile, the downstairs gallery walls will be lined with velvet, adding to the sensuality and sense of drama as the final part of the story – in which the crocodile is captured – unfolds through a triptych painting.
"Aquamarina: Crocodilian Tears" will run from 2 September to 2 October 2021 at Pilar Corrias, 54 Eastcastle St., London W1W 8EF. For more information, visit: pilarcorrias.com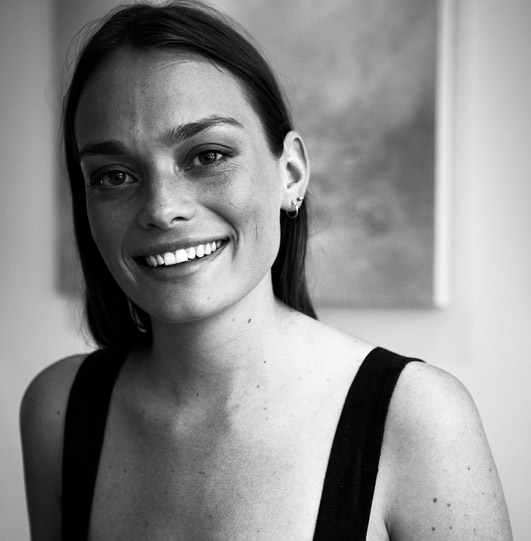 Millie Walton is a London-based art writer and editor. She has contributed a broad range of arts and culture features and interviews to numerous international publications, and collaborated with artists and galleries globally. She also writes fiction and poetry.