People collect art for many reasons. For lawyer Tina Grønning art is part of an ongoing experience of life that has joined her professional and personal lives with passionate intrigue. 
Why do you collect art?
Why do I collect art? It's a good question. Art is not just a question of collecting. To me art is to be compared with having experiences, experiences of great moments or for that matter moments of total indifference. Art makes me curious, thoughtful, makes me laugh, irritated, makes me carried away, high. I totally understand why Enter Art Fair gives the participant the possibility of choosing 'Art lover' as a personal category. That's me. The fact that I also can buy some of the art works I like I feel is a total privilege.
My first and favourite piece of art?
My first piece of art would not be my favourite today. When I was young I preferred paintings to posters. On a study budget that meant visiting estate auctions. One time I had a lucky punch, I bought a painting that reminded me of Oluf Høst, a well known Bornholm painter from the last century. As it turned out, the painting was by another, unknown, Bornholm painter and had a value of more than ten times the sale price! Of course, it helps that as time has gone on my budget for art gets bigger, and yet for me the most essential part of art is still visiting galleries and being introduced to artists – simple things that have grown with my interest and joy for art over the years.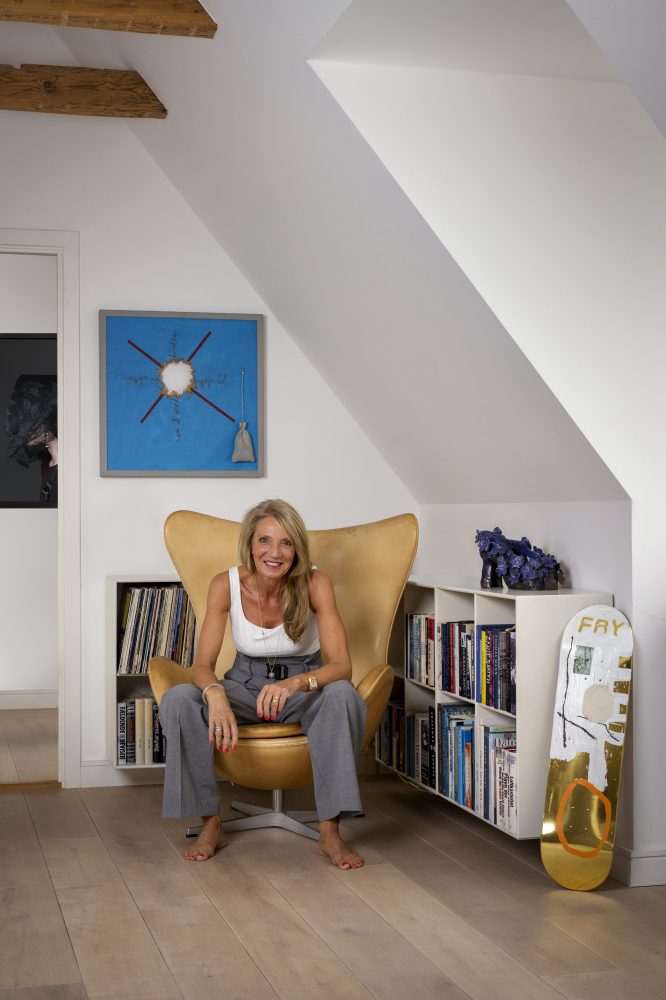 Today, I have quite a lot of photos by Matt Saunders, Ebbe Stub Wittrup, Nicolai Howalt, Trine Søndergaard, and Elina Brotherus. I'm lucky and I feel it's a privilege that I'm able to loan them out for exhibitions and museums, and I am doubly lucky that I can look at them and still receive excitement and happiness.
I've found that by moving them around I find something new in them. One of the Matt Saunders pieces is hanging next to a painting by Sven Dalsgaard. The painting is in blue with a big, crooked, red cross, made on a Masonite board. In the centre of the cross is a big hole and in the right corner of the painting hangs a small bag with unknown material inside on a thin string. It's called 'The Present', it may not be my favourite but it is special. In fact, I can't pick out one of my art works as a specific favourite. To me it's the joy, the feeling, the circumstances, when I bought the specific artwork that's important. All my art works have a history to me. I'm mentioning 'The Present' because in all its simplicity it represents what art can do.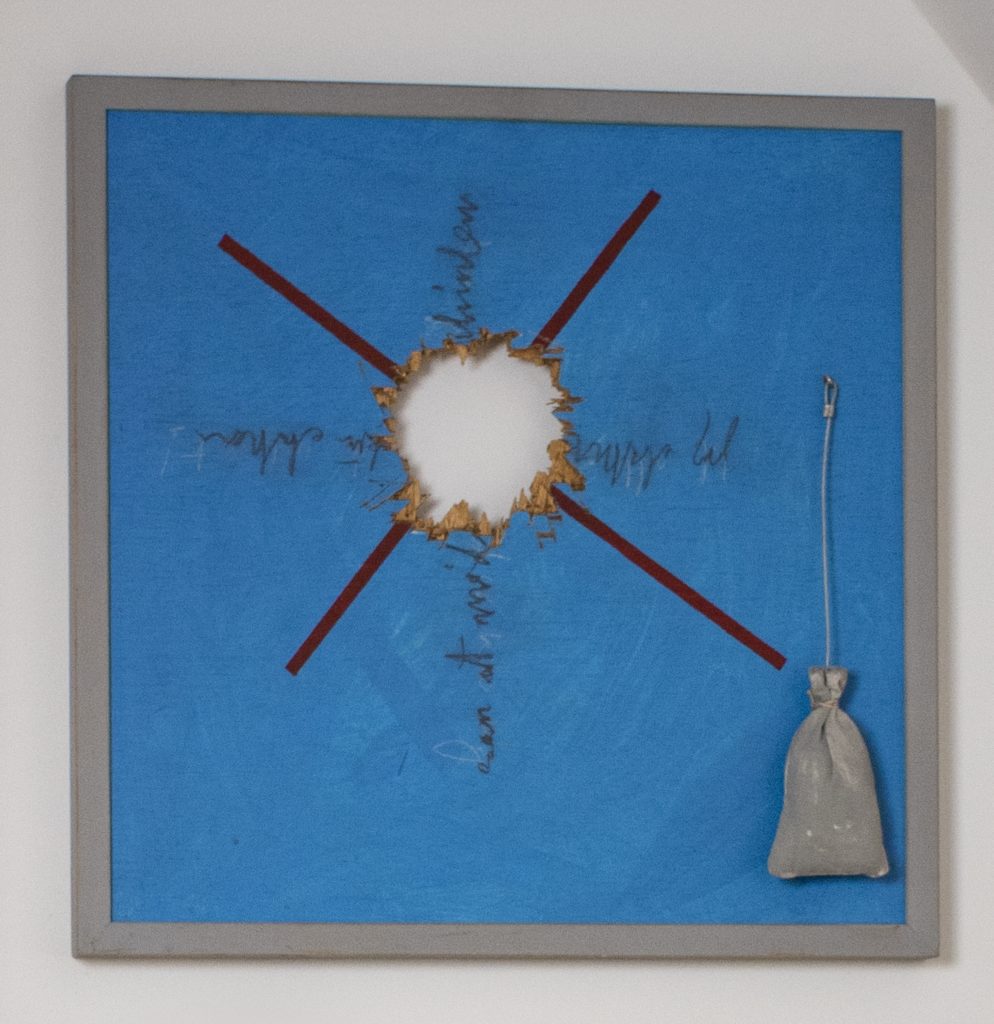 Looking at the work your immediately notice a big hole, apparently from a big punching blow, so the work appears with splinters in the board. Was this hole made to remind you that you shall always look out for new possibilities, be open to what's out there? Or did the recipient smash it, because he/she simply didn't like the present. if so, that's quite bad behaviour, nevertheless – you get curious.
Do artworks come to you or do you seek them out?
Art to me is like a love affair. You get struck when you see the right one. Having said so, I find it important that you respect and acknowledge all the work the galleries do and their skills – of course it's up to you, which gallery you like and what art you like. I, myself have been totally devoted to Martin Asbæk Gallery for many years and yet over the last few years Gether Contemporary, Hans Alf Gallery, and Collaborations Gallery have shown me their delights too.
It's important for me that I can enjoy my art works, wherever I am; at home, at the office, wherever. I wouldn't like it if they were stored in a stock room but believe me, it gives me certain challenges. For instance, at the moment several of my paintings and photos are stacked on the floor and around furniture. It's like an exhibition itself with the advantage that you can change the impression you're after daily, depending on the mood you're in. Right now, I'm into sculptures!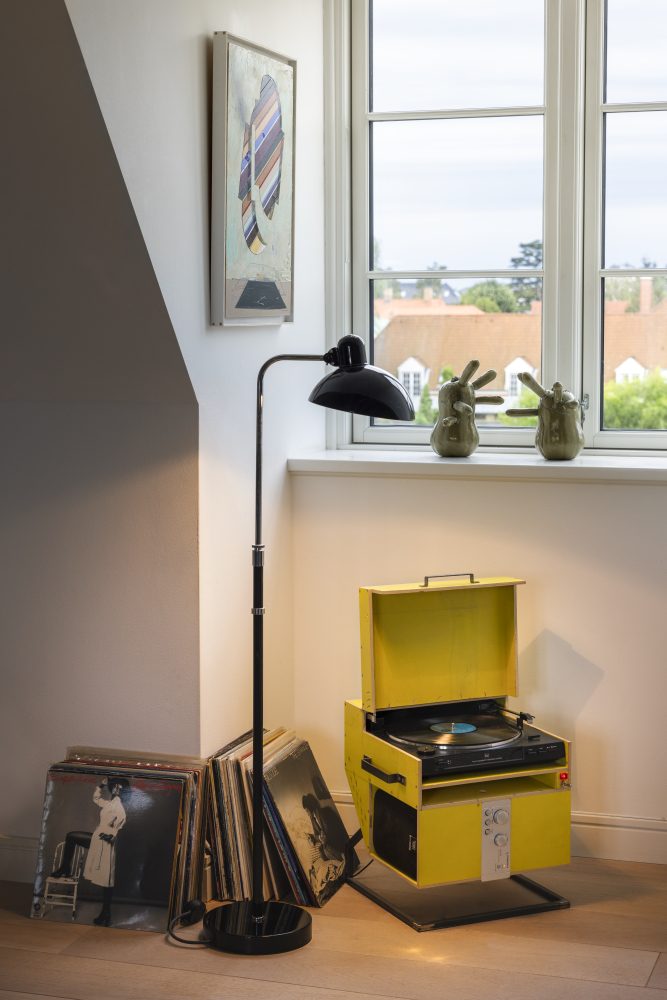 My latest two purchases are;
1) a record player by Jay Gard. Bright yellow. Totally cool in all its references to Bauhaus, and as an additional bonus it allows me to go down memory lane and revisit my vinyl records again. So, not only do I have the pleasure of singing out loud like in my teenage years but I've found that my son, his friends and my friends prefer playing music on this art piece rather than listening to Spotify. People gather around and share their music with me – a total win/win.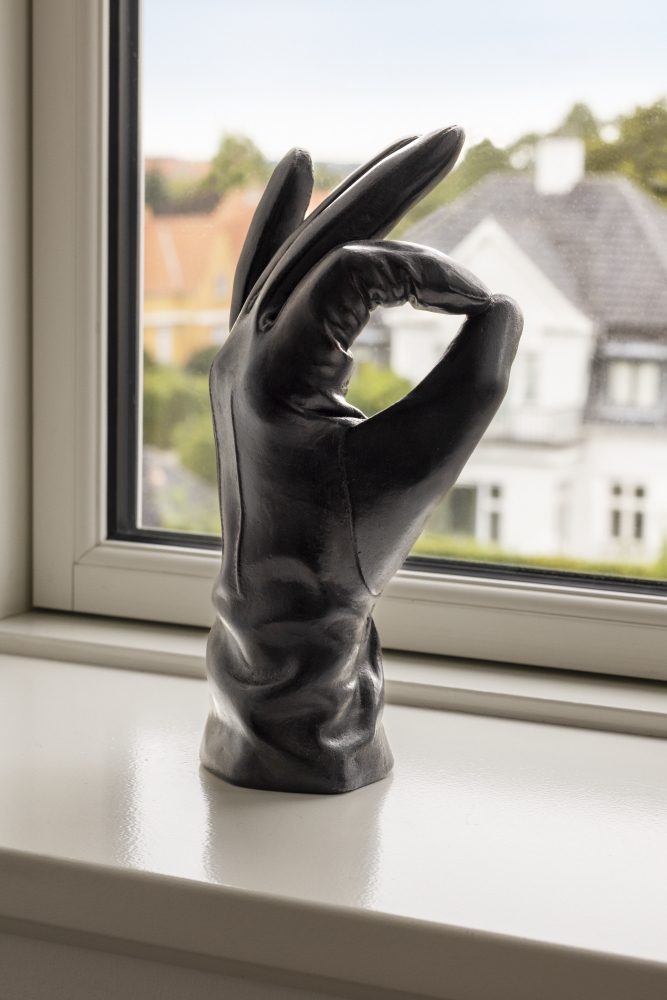 2) a bronze glove sculpture by Ebbe Stub Wittrup which was part of a fantastic show he had at Contemporary Art in Copenhagen under the overall heading of the 'right to ownership'. It asks the question: who is the real owner? The Indian symbol the glove signals or the Englishman, a former colonial master, wearing the glove? It's powerful but the reason I bought it is because it comes from my personal history. During my childhood my mother took me to all the museums in Paris including Rodin's. This was such a powerful thing for me that I get echoes of those feelings and emotions whenever I see certain things sculpted in marble. Needless to say when I saw this glove I was totally struck. Experiencing all Ebbe's different gloves gave me a flashback to those early art experiences and connected me with my own history with art. So now I don't have to go to Paris to get that feeling. I can simply look at that hand sculpture, touch it, and wonder how it will look in 30 years. How will it reflect my ownership of it after that time? Will it have a patina from moving it around everyday? I love it, I love thinking about it.
Which piece are you most proud to own and how did it happen?
I will never be proud of owning a specific artwork. I have joy in my art works, whether it is walking around in my home with one of my art skateboards or simply looking around in my home or at my office. Sometimes the greatest pleasure is in talking about my art pieces to friends and clients.
What artists are you looking at now?
I'm always interested in new artists with an edge. For example, I'm interested in Sif Itona Westerberg and her choice of material, concrete. The concept behind her latest works which bring together Greek mythology, climate and sustainability I resonate with. And her skills in expressing emotions are both moving and outstanding. I've held her in high esteem even before she had her exhibition at Aros and participated in a Danish tv-program, so it's exciting to see how she is progressing.
Who is your most important art ally and why?
I'd like to answer this question in another way, not to focus on who is important to me, but on how we can communicate our interest and joy in art to others.
Based on my long life working with real estate and development, I'm so privileged that these skills in combination with my huge joy in art have led to my involvement in exciting development projects. With this privilege I'm happy to say that art will be on the agenda when it comes to discussions regarding ESG. And it's safe to say that art is already a qualifying factor when it comes to sustainability within construction.
So that's what I'm working towards making allies of art and real estate in terms of its surroundings, specific architecture, the history of the area and intended users of the buildings. In this way our projects can be a platform that involves a broad church of users and visitors sharing in what art can bring.
Galleries mentioned:
martinasbaek. com , gethercontemporary. com , hansalf. com , collaborations. dk/en/
Images courtesy of Tina Grønning. In Collaboration with Enter Art Fair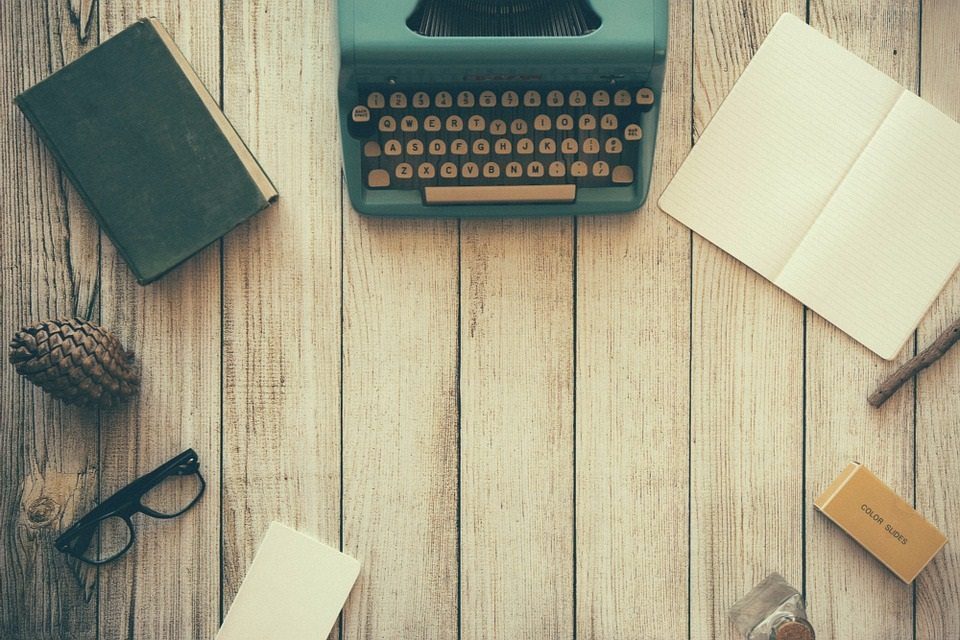 The aim of art is to represent not the outward appearance of things, but their inward significance. – Aristotle