Exploring the intertwining between leisure and labour, nature and industrial, heritage and contemporary, light and dark, presence and representation, Céline Condorelli creates installations that extend the limits of the visible and tangible. 
Interested in forms of display, the history of exhibitions and exploring the idea that exhibitions are privileged territories, Condorelli meditates on the things that are meant to be seen and elements that escape one's grasp. These invisible entities, or what Condorelli calls "support structures", trigger a particular curiosity within her mind. "Throughout the history of architecture, there isn't a history of building solid or scaffolding. We don't have any idea how building sites were organised just 200 years ago. We have a history of architects' architecture, but we don't have a history of the workers of architecture". Thus, Condorelli contemplates on things as processes, tracing not only the thing itself, but also who made it, what preceded it and what will come after.
Condorelli's thinking process is greatly inspired by archives and heritage. Recently, she came across MoMA's online archive of installations, exhibitions and photographs which was published during the pandemic. While browsing through the materials, Condorelli noticed a peculiar feature of plants within the exhibition spaces. "One of the first images I saw was a photograph of an exhibition by Rothko with a plant peeking out on the corner. I started going through all of the exhibition installation shots and the photographs that were in the MoMA archives thinking, when it stopped and how it started and what it actually means".
Curious about the origins and longevity of this display particularity, Condorelli discovered that there were only six species of plants that were 'showcased' alongside art – all subtropical plants that thrive in indoor conditions, at 21-22 degrees. All of these plants are part of Zanzibar (2018 – ongoing), corresponding to the history of plants in exhibitions as well as contemplating the relationship between nature and culture. These features are all inherent to the work of modernist architect Lina Bo Bardi, whose works also have a great impact on Condorelli's practice. Inspired by Bo Bardi's architectural gesture for the cultural centre/restaurant built around a mango tree comprising in situ casts, corrugated metal and a void in the roof, Condorelli transferred this conversation between architecture and nature to Zanzibar.
"From orientation, history, exhibitions and plants and Bo Bardi I developed a number of works – the frame on the wall, prologue, the model on the windowsill are all part of the series and different modulations of it. All plants in this display come directly from history, the rocks are split from 3 gigantic rocks which have been resting outside Edinburgh College of Art for 20 years. These rocks split into chunks with sledgehammers that we could deal with and then they were spray painted according to my instructions so that you do not know if they are fake. It was also quite nice as a way that the material comes from the article, goes through a sculpture workshop and comes here – as a recycling of something that was not used in a previous course and that was quite a nice way to use materiality".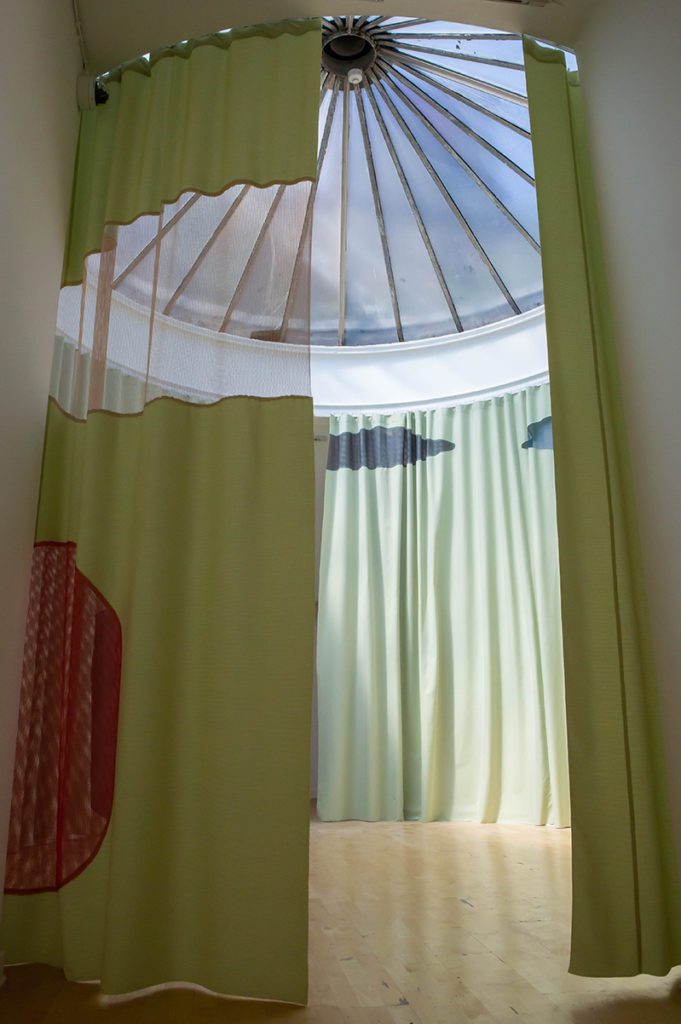 These conversations between the display and the exhibition space, natural and constructed, heritage and contemporary crystallise in After Work as a melodic accord. Composed as a response to particularities of Talbot Rice Gallery spaces, the survey exhibition is a trial through Coldorelli's practice within the landscape of clinical white cube spaces and embellished former Natural History museum. While the combination of these "species of spaces" (Georges Perec, 1974) references the history of the museums – conceived as Wunderkammern and transgressed to white cubes- After Work traces the development of Condorelli's practice through the sequence of installations and the "atlas", which she assorted specifically for this show to unveil references and collection of things which accompany her creative process. After Work contemplates on the fact that "a lot of the history of exhibitions is generally rooted in the Salon, the Great Exhibitions, but very much originally private spaces displayed artworks in private collections. It is a domestic setting yet it is quite grand. Museums, like the National Gallery, still replicate the idea of the grand living of the aristocracy, which eventually are open to the public. But, then the white cube is somehow the other end of that history".
The intertwining of nature with the exhibition space and architecture creates an impression that nature is the leading theme within this discourse. This is underpinned by numerous natural/biological/geological presences within the displays through a variety of living plants and their prints, models of sandboxes, natural rocks, and species of living beings. Yet, on the contrary, Condorelli claims not to be thinking about these matters as being the core of her practice but rather meditates on multiple ideas of heritage: her own, implications of cultural heritage, and that of the artist in the museum space. For her, the preceding is a departure for contemplating the possibilities and alternative futures. "It is very much about trying to see beyond, what the next direction might be. Thinking that the world is actually not exactly as we were told".
Condorelli seeks to reach these understandings through reconsideration of the means of production which interestingly she entangles again with nature. Inspired by cephalopods, who have not changed for the past 16 million years and are able to produce colour in a way that humans are still incapable of reproducing, Condorellii aims to uncover alternative methods of printing. Acknowledging the outlived capacity of CMYK printers, she has been examining the structure of octopus skin in order to suggest more sustainable ways of printing. Thus, in a collaboration with the graphic designer James Langdon, Condorelli designed a series of instructions based on her chemical colour experiments. Following these directions, Langdon built a machine replicating the cephalopod's process of colour production which then created a series of works suggesting different ways of connecting to the environment. Condorelli concludes her meditations with a rather uplifting thought: "I cannot become an octopus, but I can mimic or maybe I can mimic the mimica. Or I can try and invent a technology that does some of the similar things and see what comes out. That is why it is so different."
Condorelli's practice extends the borders of the graspable, offering a glimpse of an inspiring realm of alternative possibilities. Rooted within and cherishing the heritage, this realm is reached through the touch of the opposites – old and new, natural and produced, present and represented. This touch is an organic process triggering us to consider things as something different from what they are told to be or appropriated to be. Thus, assembling her works to correspond to the particularities of the gallery spaces, Condorelli shifts the common meaning of a survey exhibition, interpreting it as an exploratory trail guided by the "atlas" rather than a timeline overview of works. Similarly, colliding the ancient species of animals and contemporary means of production, Condorelli opens up new potentials where the latter can mimic the former offering alternative ways to engage with the environment. Encouraging to see beyond, Condorelli's practice makes one to question the next possible directions, to perceive things as states rather than effects or reproductions. Sounds quite mysterious, doesn't it?
After Work is available to view 25th June – 1st October 2022 at Talbot Rice Gallery.
This article has been supported by Talbot Rice Gallery
Featured Image: Installation view, Céline Condorelli After Work, 2022.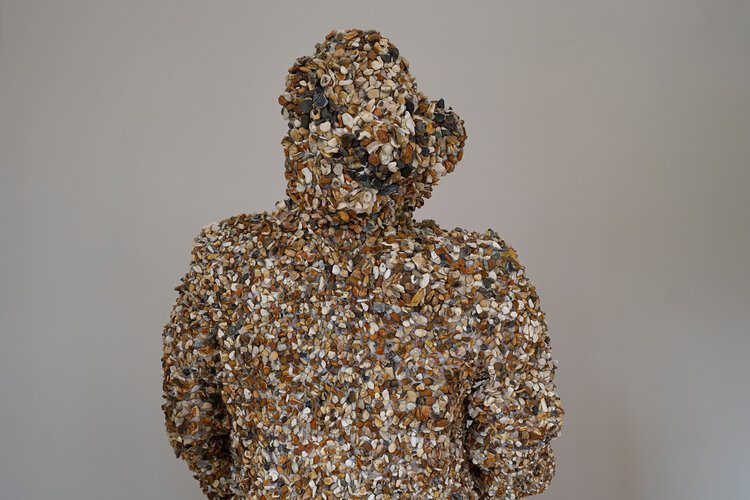 Olga Tarasova explores the interconnection between spatial and artistic practices and perception in relation to phenomenology. Her work focuses on the capability of spaces to contain elements that are unavailable for human perception and cannot be grasped. These elements manifest themselves in the experiences that affect the subject.