[dropcap style="font-size:100px; color:#992211;"]W[/dropcap]ith its 267 participating art galleries from 32 countries,  Art Basel Miami makes you drunk on art.
You feel electrified, stupefied, sore-footed and nauseous. It's not just because you squeeze yourself down airplane aisle after airplane aisle with hundreds of faces blocking the view and the toilets not where you expected.  Or the vision of Sylvester Stallone and Adrian Brody's debuted paintings. Nor the 77,000 visitors with whom you're up close and personal. There is simply so much to see, so little time.  And with some 20 satellite art fairs and numerous exhibitions calling for attention, you'd be advised to pace yourself ahead of your cocktail intake.
Art Basel may be an elbows out, snatch-and-spend (assuming you have loose change from $4000 and up) experience, but a comparatively zen time can be spent elsewhere. Miami is home to some of the world's most ambitious collections which inhabit vast air-conditioned buildings.
It was in some of these spaces that I decamped, caught my breath and saw not just a fleeting kaleidoscope, but truly memorable and thought-provoking art. Among the best is the Rubell Family Collection, situated in a former Drug Enforcement Agency building in the once rundown neighbourhood of Wynwood. This 45,000-square-foot space, once a final destination for confiscated crack and cocaine, now showcases exhibitions drawn from the vast assemblage of Mera and Donald Rubell and their son Jason.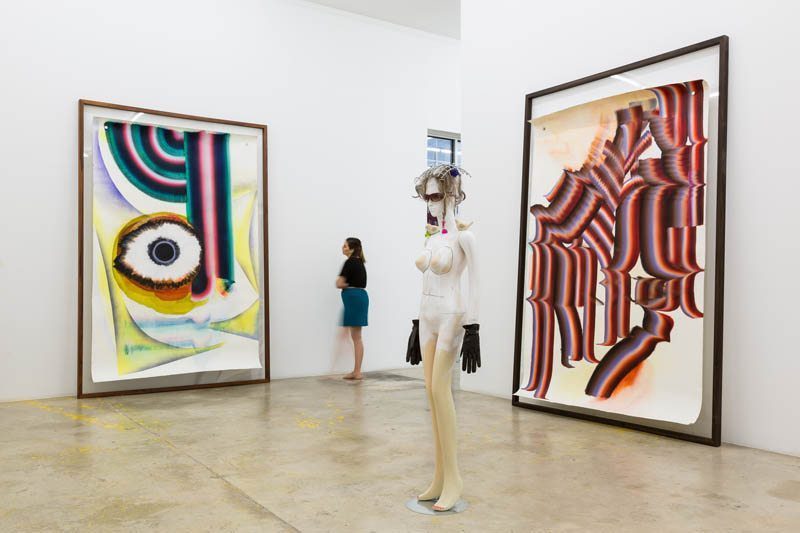 (Installation image, No Man's Land, courtesy of Rubell Family Collection)
Their current show, No Man's Land, pulls together an all female cast of 100 artists – among them Marlene Dumas, Solange Pessoa and Lisa Yuskavage. With a title that has overtones to exclusion and peripheries – and bias against women in the art-world being a topic that is gaining increasing traction – you would be forgiven for imagining that the gender debate might be forefronted in this exhibition. If it is, it does so by stealth, revoking the idea that there exists some essentialist "female" type of art.
Instead through their unorthodox collection of politically, aesthetically, generationally and intellectually diverse artists, the Rubells ensure an open and far-flinging dialogue. It is precisely in this free-fall (which throws together a cross-section of young, well known and overlooked practitioners, collected over four decades and from 28 different countries) where the magic begins. It is an exhibition that leaves you wanting for nothing, least of all the men.
Nearby in the Design District, Rosa and Carlos de la Cruz present their 2016 show You've Got to Know the Rules…to Break Them.  40 artists, with show-stopping works by Cosima von Bonin and Mark Bradford fill the 30,000 square foot building. Unlike No Man's Land which claimed no narrative link, this exhibition was curated with a mind to "contextualise New American Painting with German Neo-Expressionism revealing earnest explorations of the artists technical acumen."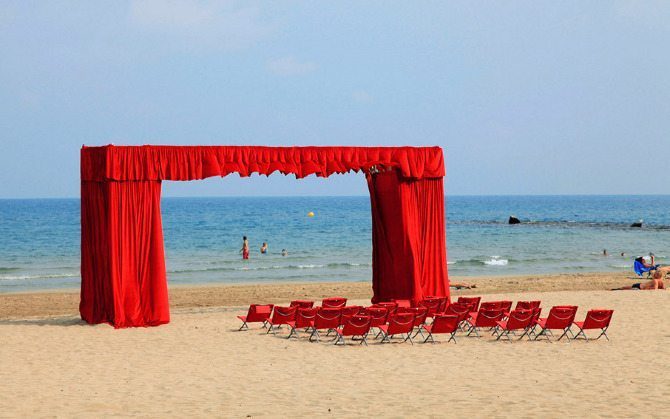 (Almudena Lobrera Un espectáculo para la vista (A sight to behold), 2011
Installation in public space. Curtain on scaffold. 8 x 4 x 1,5 m; 30 beach chairs)
Who knows if it did, but I thoroughly enjoyed this spirited collection and its star cast that included Peter Doig, Tauba Auerbach, Christopher Wool and Félix González-Torres, whose pile of sweets on the top floor greatly assisted those of us experiencing sugar lows.
Also in the Design District, a Who's Who of reputable artists contributed to what was possibly the most sensational event of the week.  Mega art dealer Larry Gagosian and curator Jeffrey Deitch (former director of the Museum of Contemporary Art in Los Angeles) joined forces to present Unrealism. This exhibition of figurative painting and sculpture, from the 80s to the present, was hosted across four floors of the Moore Building, a former furniture outpost, recently refurbished by Zaha Hadid.
50 international artists showcased a vast selection of oil paintings, paper cutouts, charcoal drawings, and sculptural pieces. A younger generation of artists including Emily Mae Smith, Tala Madani and Turner Prize nominee, Lynette Yiadom-Boakyeheld, held strong alongside bold works by Ricard Prince, Francesco Clemente and David Salle. Prime Instagram bait was a life-size candle of Michael Chow by Urs Fischer, which burned slowly in the centre of the space.  Tony Matelli's "Sleepwalker" – who looked like I felt – was also furiously papped away at.  If I had flown the 4,400 miles from London to Miami and only seen this vibrant exhibition, it would have been worth it.
Half the fun of going to Miami is the great outdoors, specifically South Beach. Biceps, bulges and bronzed bottoms, provide the perfect backdrop – or foreground – for public art displays.
There is no guilt in forgoing another art fair when you can lay back sipping a Skinny Bitch on the beach, with a three metre tall mammoth's skeleton on one side, courtesy of Damian Hirst, and a sea fronted installation of a theatre by artist Almudena Lobera on your other. The whisper of Shakespeare coming through Lobera's "A Sight to Behold", situated right in front of Miami's new and most dramatic Faena Hotel, felt fitting.
All the world's a stage. And Miami during Art Basel – but perhaps not at Art Basel – is where the spotlight shines brightest.
Featured Image Courtesy Art Basel
Art Basel's next event takes place in Hong Kong from March 24th