New York-based street artist Jerkface takes iconic cartoon characters as his subjects, creating kaleidoscopic, faceless compositions that play with colour and form.
In the context of his first solo exhibition in the UK, the artist speaks to Trebuchet about resistance to his work, capturing nostalgia and retaining an air of mystery.
Why is anonymity important to you? 
My privacy is important to me. I enjoy my success without the personal attention.
How does the "Jerkface" persona reflect the aims of your work and your wider approach to art-making?
It certainly has added an air of mystery that I did not intend, but it fits me well. When I paint murals, it makes people feel special to have found me in public. On the flip side, when I do quiet releases, people also feel special to have been involved. In the end, it's not a necessity but more of a personal preference.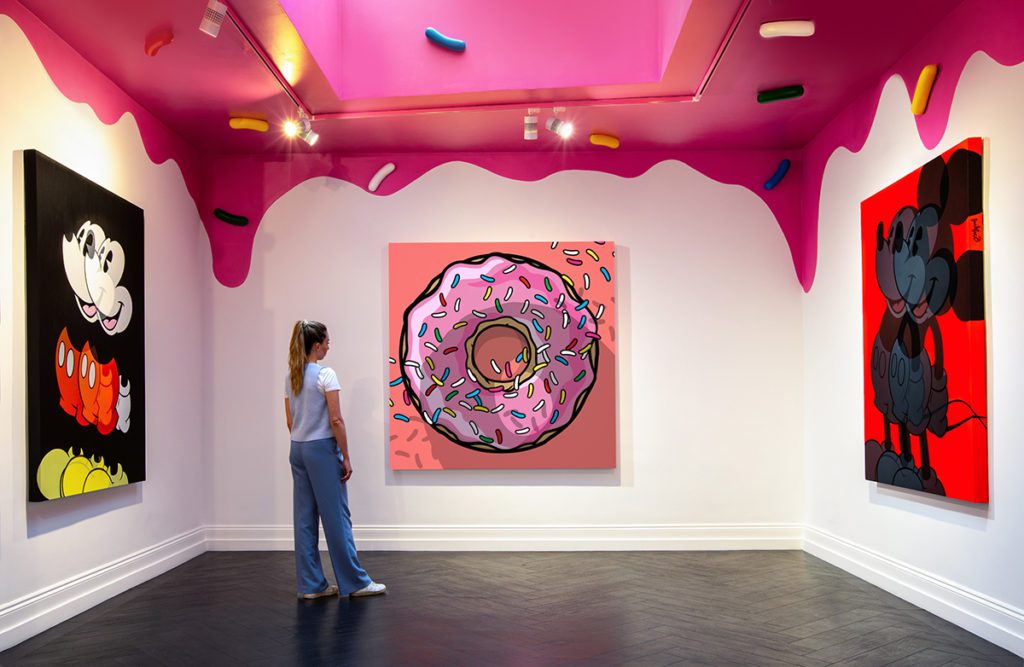 Tell us about your current show Villainy. Why did you choose that particular title?
Using the world's cartoons as the letters of the language I've developed is interpreted by some as wrong, or as an unoriginal form of expression. This failure to recognise the originality of the Jerkface style – which constitutes repetition, colour disbursement, transparency, shadow placement and all-round movement of composition – puts me in the role of the villain. Having a recognisable style that is original and using unoriginal subject matter is a fun challenge for me. The work in this show is a further development of that style as well as some experimentation in new directions.  
You've said before that your main intention is to create "a gateway to youth". In making your work, is it important for you to embrace a childlike consciousness?
Yes, it is. The creative experience I'm having is with characters that bring back memories for me, as I know it does for others. Personally, my main intention is to surprise myself with each new composition, to outdo my previous self. 
The experience of youth is rapidly changing with digitisation. In depicting characters such as the Teenage Mutant Ninja Turtles and Mickey Mouse are you capturing a certain nostalgia? 
I'm capturing nostalgia for myself. I only paint for myself and what I connect to. So, in that sense I'm capturing nostalgia both for myself and for those who grew up appreciating the same things. 
Do you think that society's relationship to cultural icons has changed?
As far as the subject matter I paint, sort of. People appreciate them more than ever, out of their normal context. They have entered art and fashion in a much bigger way.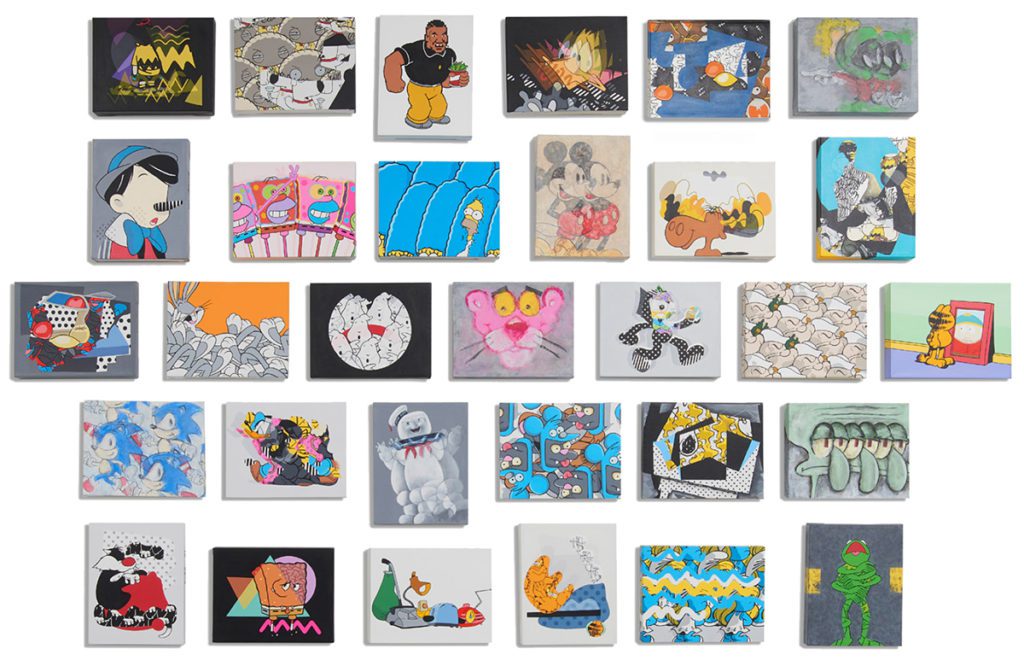 What draws you to the bold palette of 'Memphis' style?
Memphis style was started in the 80s. At the time it was so loud that it was hard to digest. The way it is now being mixed into the present in the art world is very exciting to see and perhaps, more tasteful to our current palettes. 
As a street artist, what's it like for you creating work for a gallery exhibition?
I was painting on canvas before I started painting murals, and they're very different experiences. I use acrylic paint and paint brushes in the studio. I use spray paint and house paint on the walls. Being in the studio is not as energising as running up and down a ladder on a public street. I have to find ways to keep myself fresh while sitting in the studio for a few months at a time.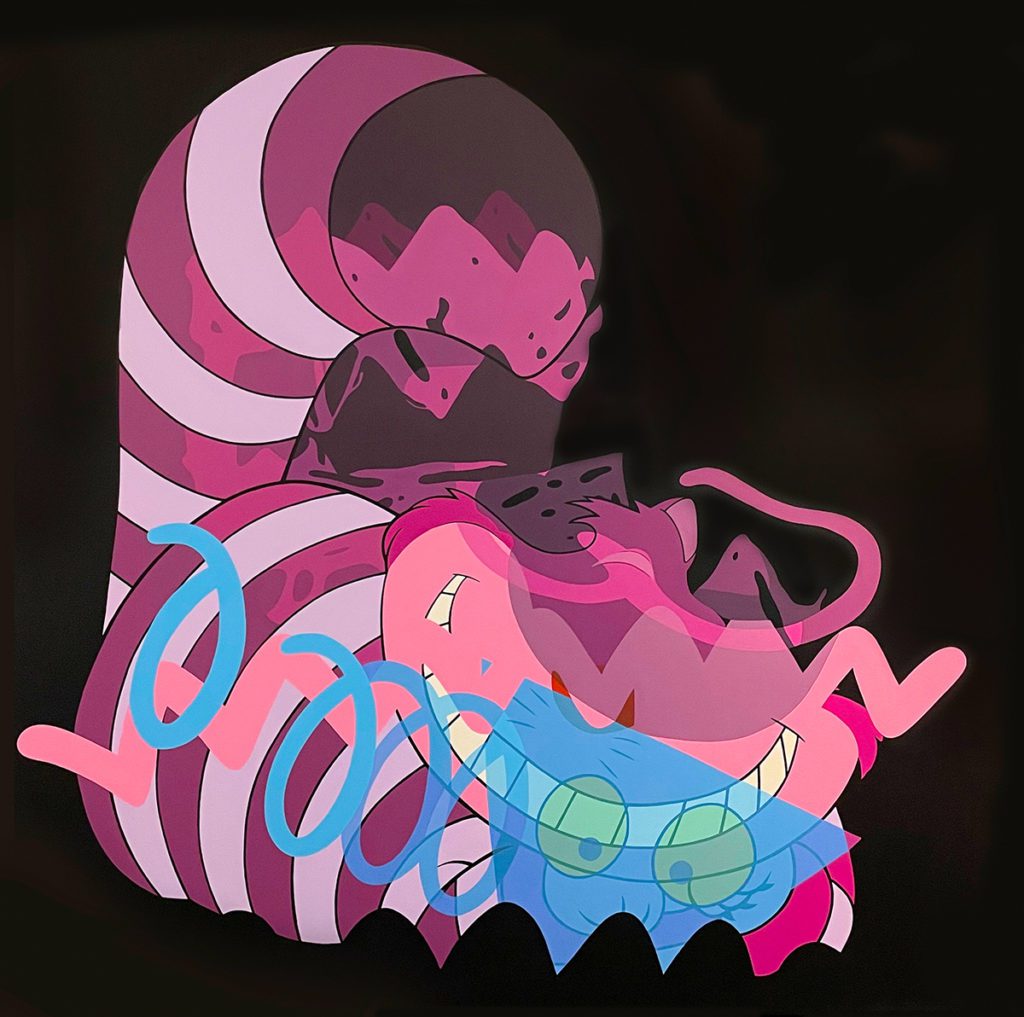 What role does humour play in your paintings?
My work is light and happy, and the cartoons, in their essence, are humorous. Certain works, like the hybrids, are meant to make you laugh, but it's really up to the observer to interpret how they see fit.  
How much do you think about your audience's reaction when you're envisioning a new piece?
It's hard to predict so I stopped trying. I realised a long time ago that I can be very excited about something and get no reaction, and at other times, it's the opposite. I made a decision to just do what I like and if everyone else likes it, it's a bonus. They say if you live by the compliment, you'll die by the criticism. I do it all to put a smile on my face. 
What's next for you?
Surprises are the best, and I guess we'll find out soon. 
"Jerkface: Villainy" runs until 15 July at Maddox Gallery, Maddox Street, London. For more information, visit: maddoxgallery.com
Featured Image: Pinkerton, 2021, Jerkface. Courtesy of Maddox Gallery.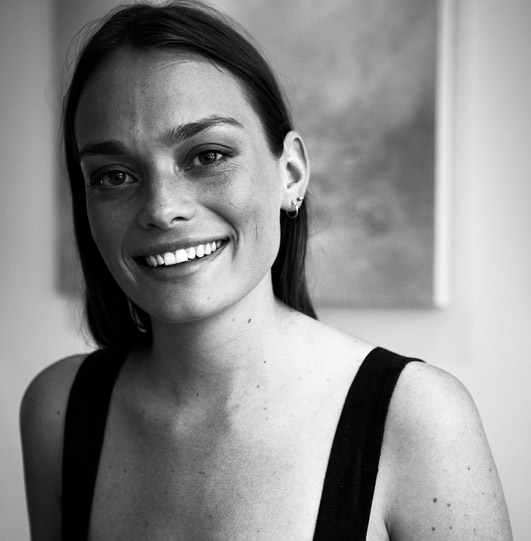 Millie Walton is a London-based art writer and editor. She has contributed a broad range of arts and culture features and interviews to numerous international publications, and collaborated with artists and galleries globally. She also writes fiction and poetry.