From their separate studios on the same former industrial lot, Muirne Kate Dineen and Paul Vanstone have been working on their latest exhibition Colour and Form: Sculptures, Frescoes and Drawings opening on the 7th of December at the Royal Geographical Society. The artists have known each other for well over thirty years, share children and have even recently taken the step of getting married, yet they rarely show together. 
Their individual practices and contrasting mediums works well in this new joint exhibition. Dineen creates captivating blocks of colour using the process of Araash Fresco, a rare practice derived from Western India, she uses this to express the most vibrant and captivating array of colours and shapes in smooth blocks which are really quite unique. Vanstone on the other hand, is a sculptor, having trained in Italy and India as well as working with Anish Kapoor. His figurative sculpture carves natural materials, such as marble, alabaster and onyx to utilise their hardness and natural layers, creating often imposing faces and bodies.
Yet there is a similarity here. Both have trained with artisans and masons to hone their craft, both have a sense of weight and surface to their work. Dineen and Vanstone spoke to Trebuchet about collaborating, their history and how to navigate an exhibition space with no walls.
How did you meet and what is your relationship as artists?
Paul Vanstone:  Kate definitely led me out to India, and I think that had an enormous effect on me and the things that I am interested in. And you've [Kate] been going there since you were 18 years old.
Muirne Kate Dineen: I was doing a PhD, having completed my Masters at the Royal College of Art. India was already a big part of my life as I was on a British Council scholarship there where I was learning the Araash fresco process.
The Royal College then asked me if I wanted to come back and do a studio-based PhD. It had to be an original contribution to knowledge and Araash fresco is a process that nobody knew anything about, except a bunch of guys in India. So I went back to do a studio-based PhD and I was based in the School of Communications, but I made very physical work, so I ended up in the sculpture studios a lot, which is where Paul was. I needed marble dust and he carved marble. So that was how we met.
Paul: By the end of my time at the Royal College of Art, I'd been invited to go and work in Carrara in Italy, but first I went to see Kate in India and I worked in a Murti religious carving area in the Royal city in Jaipur. I'm not particularly interested in the religion, but it was the way they carved things in extraordinary detail…
Kate: The man who taught me was a master craftsman and he was traditionally a mason, so he knew all the workers in the stone carving area. He took me and Paul to meet all these carvers in Makrana, which is a huge marble quarry just outside Jaipur. It's where all the marble comes from to carve Murtis (religious gods and goddesses).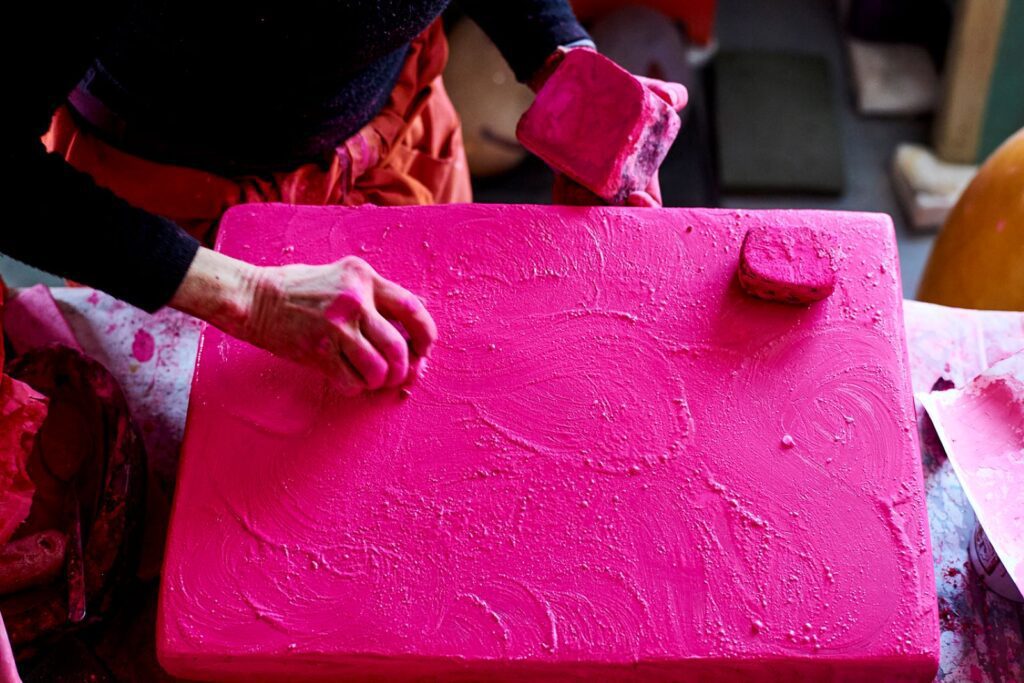 Kate, could you elaborate on the Araash fresco process you use?
Kate: I noticed Araash fresco because I had visited India quite a few times, and particularly Rajasthan. There was this incredibly beautiful surface, very minimal in a lot of the palaces, temples and the wealthy kind of merchant's houses. I'd see just a long ivory white corridor with a black line round it and it was just beautiful. I was already a bit obsessed with walls and the fragmentation – it was just beautiful. So I wanted to know how to recreate this surface, I wanted to know what it was and because I was on a scholarship with the British Council, I had access to people who knew about these kind of things.
There's a very famous Indian artist called K. G. Subramanyan who told me about this guy Shy Gyarsilal Varma who taught him. I went and sought him out in Baroda, which is not a tourist destination by any stretch of the imagination. When I found him I saw there was a very, very beautiful fresco black polished elephant. And then I thought, oh my god, this is it! This is the guy!
I asked him if I could work with him and he was like, 'yeah, whatever', he probably didn't really think I was serious. I went out again and worked with that same guy for three years, working with him day in, day out, day in, day out.
Paul, you mentioned you trained in India, but also in Carrara working with masons. What influence do you feel this training had on you becoming a sculptor?
Paul: I always knew I wanted to make sculptures, it was just knowing how to make them.
And then I met a sculptor called Simon Hitchens who was working for Anish Kapoor. Hitchens asked me if I wanted a job as Kapoor was looking for people. So then I worked part-time for Anish for about five years… I learnt an awful lot. I think he's an extraordinary genius of a man. I remember him being invited into shows of Indian artists and always refusing because he said 'I'm an artist, I'm not an Indian artist', but if you look at his work, you'd see that love of materiality and substance which I think you can really see that it comes from references in India – I don't think he denies it. That had a big effect on me not only the way, financially, the way he ran his business…but also his aesthetic choices. It is just fascinating how he put together that extraordinary practice and body of work. So, going to Carrara, going to Jaipur, all these things had a massive effect on me. Looking back, you kind of see a pattern, but at the time it felt that things just fell into place.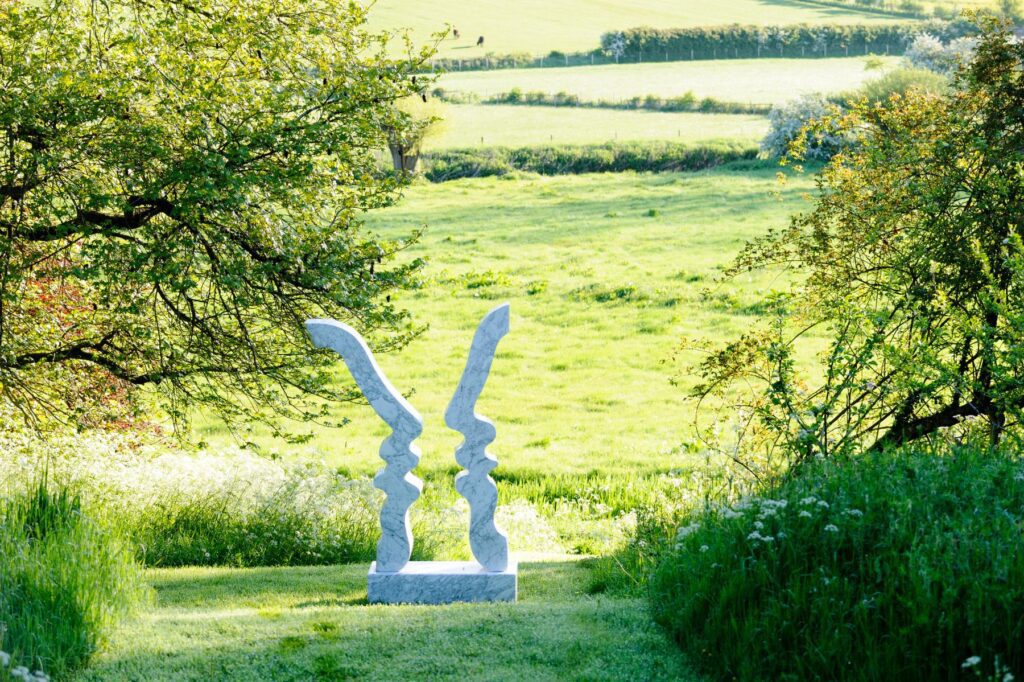 Kate, you describe yourself as a colour artist and being in your studio there is colour everywhere. How did colour come to be at the forefront of your practice?
Kate: I've always loved colour and I've always loved drawing and I've always loved making work. I think I remember it was a friend of my sister's actually who is a photographer and he'd created some very beautiful books on India. I remember I was about 17, and I saw some of his books and I remember seeing some of the pictures that he took and I just thought 'Jesus… just the colour, the light, the kind of texture everything I saw… I have to go.'
And when I went there, it was sort of a done deal. I went on my own and it was a sort of a love hate relationship. I think I was scared shitless at the same time as being completely overwhelmed. I met extraordinary people and saw extraordinary things. And above all, just the colour and the light… there's a sort of anarchy in terms of colour. There are no rules and people have a sort of innate sense about colour without even thinking… And for me it was just like 'wow'… It was a kind of an assault on one's senses, it's like I'd been half asleep up until that point.
Paul you've said previously how you love the hardness of the materials you work with, but then making these softer, figurative shapes out of them. What does this mean in relation to your process?
Paul: I think there are two different philosophies between modelling and carving. Carving is, generally, a reductive process where you can never rewind because it's gone. You've removed this stuff, which has been here for millions of years and in a way it forces you to make a decision and stand by it, which actually I think my character needs. Whereas I do remember… I've made some big statues in bronze, but I just felt myself pushing clay around. Obviously, there's amazing, amazing sculptures, but I think that resistance that the material gives to me almost helps me set the form that I want to make. And that play, I mean it's almost like a painter. You are reacting to the material. I'm not doodling, I know what I want to make, but it's a reactive process. A bit like a painting builds up over balancing that pink against that red for example. It's a bit dangerous. You can go too far, but in a way that keeps it exciting as well.
The space is glass covered so Paul with your work being freestanding, one can see how a glass space would work, Kate perhaps for you this is going to be more of a challenge?
Kate: It's been a bit of a challenge. We have built all the walls and reinforced them because my work, on the whole weighs between fifty and a hundred kilos. And quite clearly I can't hang that even on art fair type walls. And I've had to choose what I'm showing to be able to make it possible.
Paul: I think what's interesting with both of us is how our art has evolved over the 36 years of knowing each other.
Kate: Is it that long?
Paul: And I think it's interesting to see where that goes. I don't think you can force parallels in what we do. I think our love of surface or the skin are the things that we make. I think there are definite parallels there. But then I think there are very different things between us, but almost that's why it's –
Kate: Well, yours is kind of more figurative than mine. Mine's much more about colour and form and weight. Yours is about weight but you know…
Paul: But you do have figurative elements in what you're interested in.
Kate: I am beginning to slightly go back to that again, but essentially…
Paul: But in a way, when you're having a show you don't want [works] too similar, I think you almost want things which are quite distinctive from each other.
Muirne Kate Dineen & Paul Vanstone, Colour and Form: Sculpture, Frescoes and Drawings is on at the Royal Geographical Society 7th -19th of December 2023.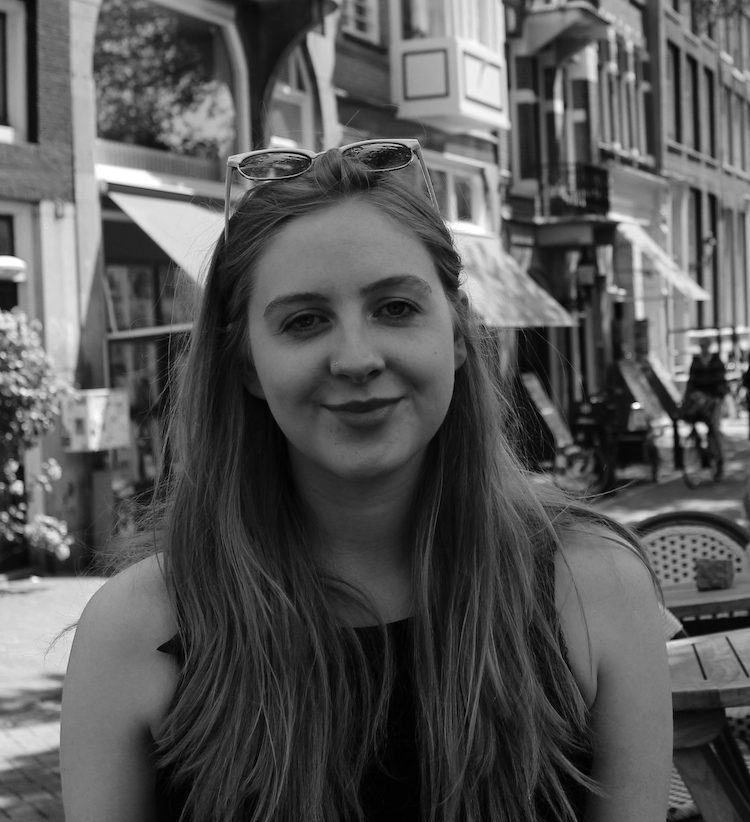 Ruth O'Sullivan is a London-based artist and writer. Her work explores subjects from artificial intelligence to challenging traditional relationships between the artist and model. Professionally, she has worked on projects for some of the leading art institutions in the UK, as well as having her own visual art practice.