[dropcap style="font-size:100px; color:#992211;"]A[/dropcap]rguably the biggest and hottest band in metal right now in terms of current hype, popularity and momentum, the multi-national death metal powerhouse which borders on supergroup territory that is Arch Enemy is back again.
With 2014's War Eternal debuting new members and beggining an intense three year touring cycle which included a headlining slot at the prestigious Wacken Open Air in 2016 (which was recorded and subsequently released earlier this year in the form of a live album/dvd entitled As The Stages Burn) and a rather impressive special guest slot performance at this year's Bloodstock Open Air, the band are back on the road again. This time it's in support of their newest studio effort: Will To Power.
With some dissent amongst fans prior to this release in terms of band dynamics – virtuoso Jeff Loomis was apparently excluded from writing by band founder Michael Amott (Carcass, Spiritual Beggars etc) due to Ammott fearing too much deviation from the Arch Enemy 'sound' – there has still been a significant buzz about this release amongst the majority of fans, both hardcore and casual. So enough exposition, lets get some power!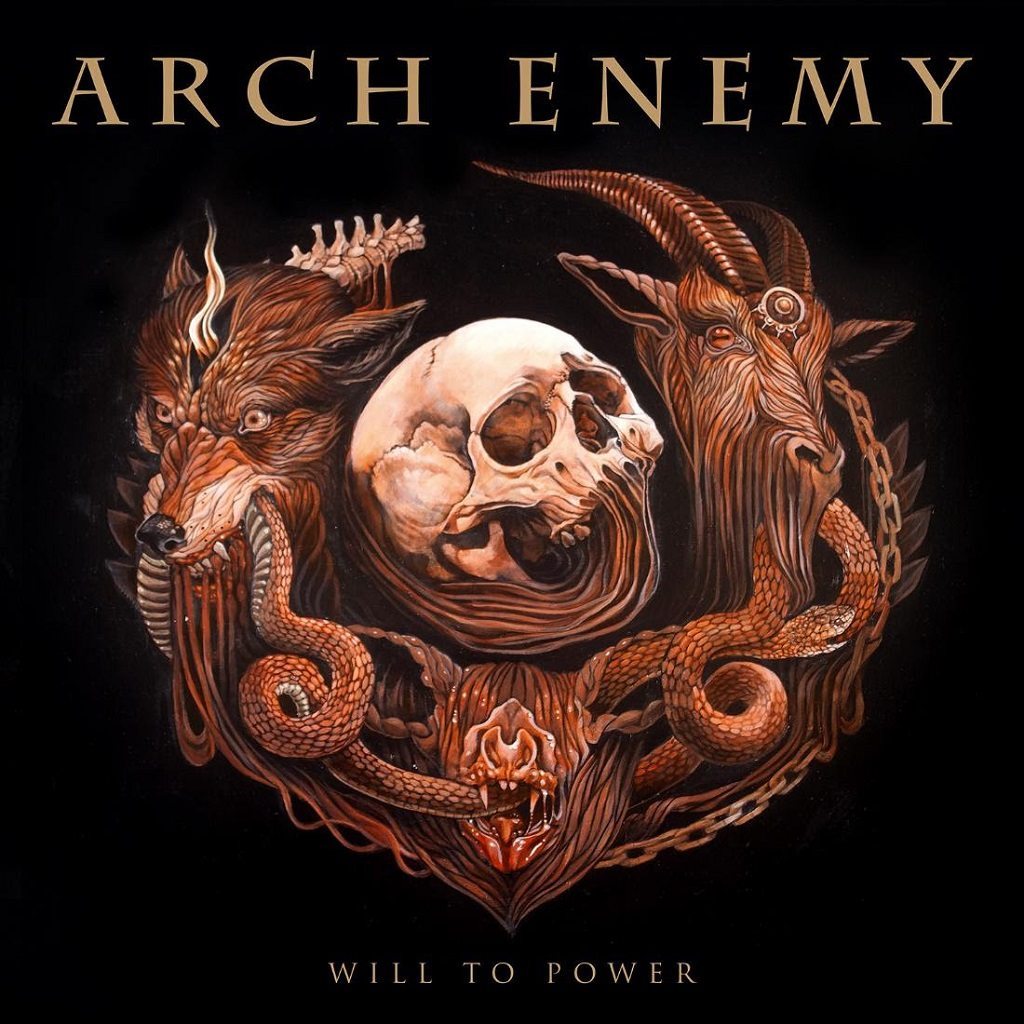 As you would expect from Arch Enemy, this is a high quality release. The standard instrumental track "Set Flame To The Night" which fufils the current Melodic Death Metal trope of having a scene/feel-setting track to introduce the album and act as an extended intro for the next track builds the anticipation and atmosphere. "The Race" explodes to life from it. Living up to its name, this is a high octane, adrenaline fuelled assault of riffs and blasting drums. Extremely aggressive with its delivery – cutting guitar riffs, an intense rhythm section assault and scathing growled vocals which have a nasty bite about them, it surges forwards and takes no prisoners with its approach.
With this opening shot fired, the rest of this musical payload follows on with a similar approach. With subtle shifts from surging pace to soaring grooves, Will To Power is a real statement of intent. With rich melodic sequences which dip into familiar sounding territories; "Blood In The Water" has some Bill Steer (Carcass) styled melodic leads but at times comes off as a tad "too polished" in terms of its construction. The leading single "The World Is Yours" has that anthemic feel which draws some similarities to Arch Enemy classic tracks 'We Will Rise' and the more recent 'You Will Know My Name'. Later, "The Eagle Flies Alone" touches on some classic NWOBHM styled licks in its instrumental sections. This is a very accessible record in terms of listenability.
"Reason To Believe" demonstrates some more melodic approaches like the use of clean vocals which express some serious emotion, and the track itself is rather uplifting. Meanwhile, "Dreams Of Retribution", which comes in the later stages of the recording features a lot of atmospheric influences, lending it an impressive edge amongst the tracks. It also boasts an impressive effort in the form of the closing track "A Fight I Must Win". Massive riffs, anthemic choruses, melodic build up phrases and crushing, relentless riffs. It rounds off what is ultimately a solid album on all fronts.
Yes, there are gripes and issues. As mentioned earlier, the reluctance of Amott to allow Jeff Loomis to contribute to the song construction for fear of it changing Arch Enemy's sound is up there as a major roadblock for some. Perhaps an intense and technical edge here or there might just push the band further, cementing their status as a major force in Death Metal. There is also the fact that to many, Arch Enemy is just "Carcass for kids"; melodic death metal but more accessible compared to Amott's previous band (who are legends in the death metal scene and, through the albums Necroticism and Heartwork, laid the foundations for metalcore, melodic metal and melodic death metal.
The other major gripe is the predictability of the band. You know what to expect, and whilst some bands have made a living out of predictability (and the fact that it is a tried and tested, successful method for creating music and consistency), a band with the talent of Arch Enemy could be so much more creative and expressive (again, refer to the Loomis issue).
Still, Will To Power does not disappoint. It packs a punch, it hits hard, fast and furiously. It is an extremely tight album with little seeming out of place and overall, it could be one of the top metal releases of the year. Given how the profile of Arch Enemy keeps rising, do not be surprised to see some people (myself excluded!) claim it as the metal release of 2017.
Born in the 80s, grew up with the 90s and confused by the millennial generation, I am Peter, more commonly known as Fraggle (long story, don't ask, details are a little hazy!)
With a degree in biochemistry, an ever growing guitar collection and a job handling medication, things are far different to how I expected them to have turned out, but the one thing which hasn't changed is how important music is in my life—it is one of my main passions, be it playing it, listening to it or attending it and experiencing it in the live setting (the way it is meant to be).
Blessed with a 'proper punk/metal spirit' (quote from Kailas), you will often encounter me at gigs or festivals with a beer firmly clutched in one hand and shirt in the other… Or these days, a pen and notepad too, maybe a camera if needed.