Eva Gold's new exhibition at house-based gallery space 3 Ada Road, A Bead of Sweat, Stilled, draws upon cinematic tropes by transforming and narrativising everyday objects through the tactile.
The title and further words in an accompanying text by Gold play to this theme by conjuring a dramatic moment from the mundane. "In Pursuit (of Dust)" is a written supplementary piece that artfully imagines a polluted and suffocating metropolitan city. Inspired by film noir, the text and artworks take on a brooding, dark atmosphere of the unknown.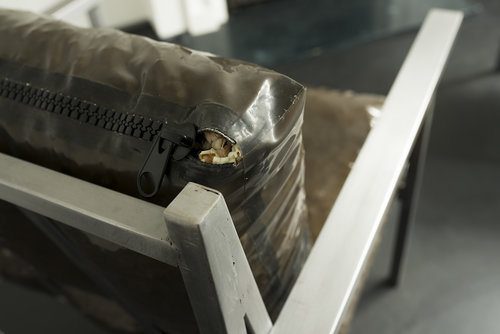 The suburban exhibition space at first seems ordinary, housing several everyday items such as two chairs and an ashtray. These objects are reminiscent of props described in "In Pursuit (of Dust)", acting as an installation that creates a stage for Gold's textual narrative, rather that each work being viewed in isolation. The familiarity of these objects soon dissolves as it becomes apparent that an uncharacteristically bumpy chair is filled with popcorn, the ashtray contains a porous substance and another chair's fabric is distorted under a large metal weight, whilst a black sponge sits out of place atop the fireplace mantelpiece.
Instead of being given a title, each work is recorded in the exhibition handout by the materials it is composed of, emphasising the tactile transformations that the artist has catalysed. These altered and enhanced physical properties question and distort each object's original function, provoking new ways of engaging with them. No longer just humble props, the sculptures become the focus of an unusual chronicle that sits beyond the viewer's grasp.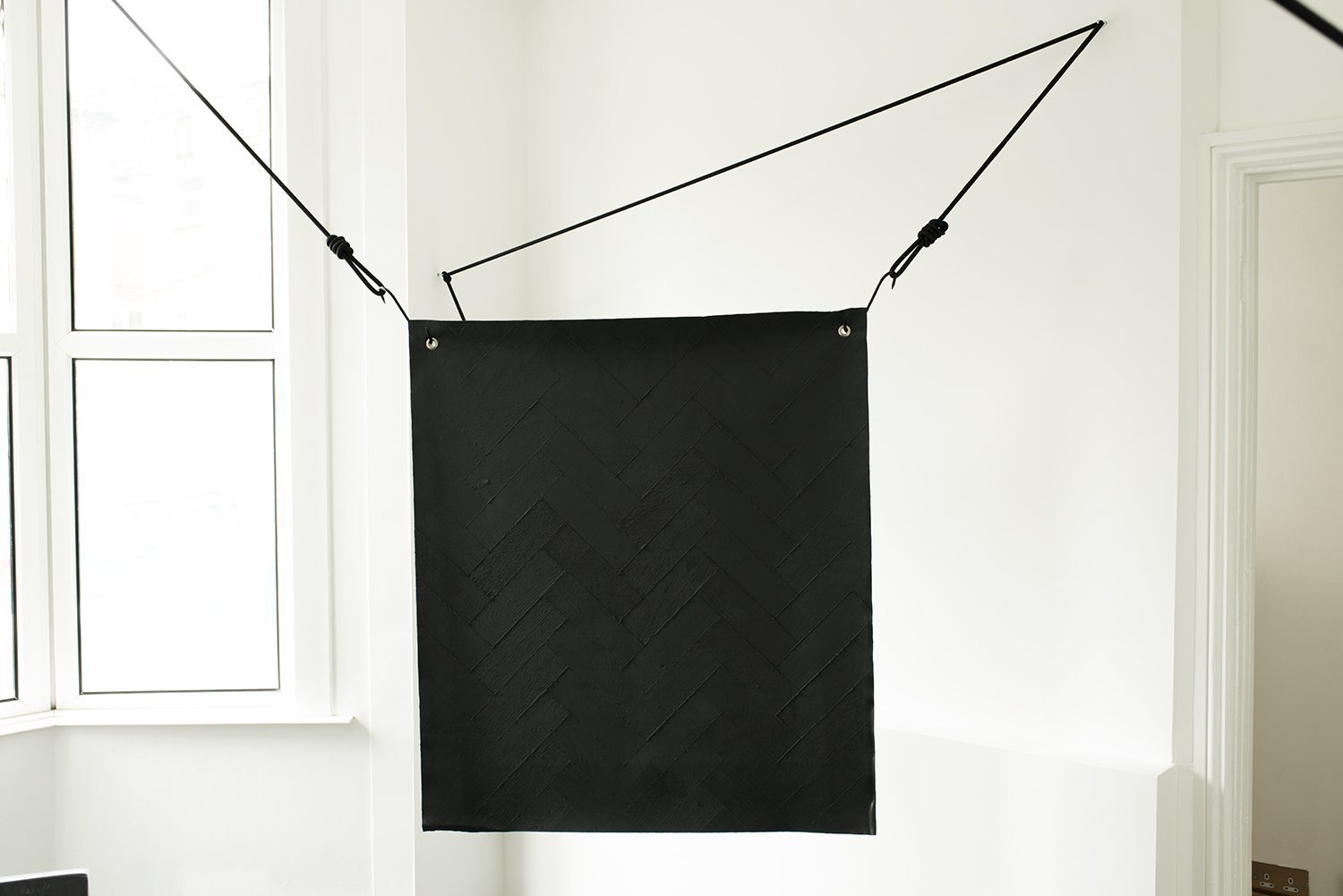 The most dramatic intervention in the exhibition is a thick black bungee cord affixed to various walls. Sharp angles of cord cut through the space, drawing the viewer's attention around the room and to the physicality of the material. It provides the suspended support for a dense sheet of black rubber that is hung somewhat like a painting, but with the three-dimensionality of a sculpture. More conventionally, at the entrance to the space is a framed etching of a rock-like object. Despite it's flatness in form, the rich detail of the textured subject matter continues the exhibition's emphasis on materiality.
A Bead of Sweat, Stilled evokes more questions than answers through the artist's simple yet loaded interventions. This seems to be precisely Gold's intention – as the opening quote from the exhibition text states:
"Why is there something here when there should be nothing? Why is there nothing here when there should be something?"
– Mark Fisher, The Weird and Eerie
Exhibition continues until September 24th.
Images by Nick Paton/Thishappened