Part 1: Fire and Water
At the time of writing (11:17am on Saturday the 3rd of July, 2021), everyone's Twitter feed is full of images of the Gulf of Mexico on fire. A ruptured gas pipeline has set alight, whipping the waters of the Pacific into a whirlpool of liquid flame.
Firefighting ships are pouring water on water to try and put it out. Both in terms of its terrifying, elemental imagery, and its sense of being a power far beyond human control, it's closer to looking like 'hell' than anything we've known. All of which seems to mark, for many people, judging by the tone and content of the online discourse, the point at which the lived realities of consumer capitalism and runaway climate change literally became 'unimaginable'. The sea is on fire. We're looking directly, and in real-time, at a horror we could not have imagined.
Given that 'imagination' tends to cast itself out into the future, and reality then does the catching up, this collapsing of an as-yet-unimagined future into an unmediated present seems like a short-circuiting. A counter-temporal perversion of our lines of communication with the world around us. The phrase, "the ocean is on fire", doesn't appear to make sense. Our lived language fails us at such moments. The world is out of sorts in a way that feels ungrammatical. History feels warped in a crisis, like a bad sentence. Even moreso in the midst of several crises that already seem ceaseless, distended. Life sentences. All the while, the waves burn.
Open in another tab is a film by the German artist, Anne Imhof, entitled ONE, which will be screened on the Piccadilly Lights on the 8th, 16th and 24th of July with CIRCA. In it, a half-naked figure stands at the end of a causeway on the coast of Normandy, attacking the waves with a whip. The horizon cleaves from the top of the frame in a clean curve, into which the sun sets, fire becoming the ocean. At the top-right of the frame, we begin to make out a distant lighthouse interrupting an otherwise blank sky.
The figure whipping the water has the same oceanic futility of those boats we all saw spraying water into burning water, a minuscule act in the face of some Biblical-seeming vastness. But this is only the most recent of its precedents. Throughout apocryphal and literary history, a lone figure defying the sea has been a potent symbol of impotence. At the height of his power, Cnut the Great, King of Norway, Denmark, and England from 1016 until 1035, was said to have sat in his throne on the shoreline and commanded the waves not to rise. The tide came in anyway, and his wet shins became the proverbial image of human limitation.
Mythical Irish warrior, Cú Chulaind, attacks the waves in grief after unknowingly killing his own son, the slashes and sloshes of his sword in the massy shallows exposing the mindlessness of conflict, the ocean beyond mirroring the shifting hugeness of his pain.
Imhof taps into these myths to give her film symbolic weight. Whether you know them explicitly or not, they inform the film's initial impact. We can tell, immediately, that we're dealing with Something Big, here. Like all good symbols, it feels significant because it's a simple, timeless image. But, as with all good symbols, it's important to think through its contemporary resonances. What does whipping water mean today?
Brexit is an obvious concern here. Imhof herself draws attention to "the faint gesture of [the] lighthouse in the distance" in the film, "creating a dialogue with the imagined British shore beyond". Those of us who watched on in a slow-motion horror as the dishonest, self-serving Vote Leave campaign became successful have lived with a directionless sense of anger for some time, and many beyond Britain's shores who believed in the European project rightfully and angrily view our exit from the Union as a symptom of renewed Nationalist fervour.
But Imhof's imagery creates dialogues that are more fundamental and deep-rooted than its simplicity suggests. As well as being an explosive, unmediated gesture of anger, the whipping of water enacts a more subtle diagnostics. Imhof's film tries to understand, expose, and ultimately overcome a deeper kind of energy that's been at the core of much that has gone so spiralingly wrong in Western politics since around 2016. It also performs a new politics of flux, relating to borders and how we urgently need to reconceive them. To begin understanding these subtleties, it's important to get a handle on a contemporary form of 'hate' and its operations. Something like what we're getting at can be understood by looking at Rainer Maria Rilke's curious philosophy of love.
Part 2: Love and Hate
Towards the end of his only novel, the German poet Rilke explores his theory of a pure and objectless love. Robert Vilain, Rilke's translator, calls it his "doctrine of intransitive love", accurately following Rilke's use of grammatical language to describe a love without a loved one, 'intransitive' in this sense like a verb which doesn't connect to a direct object. I exist. I agree. I die. I love.
After I typed the above examples of intransitive verbs, Google Docs underlined "I love" with a blue, squiggly line, denoting a grammatical error. The suggested correction was "I love it", the algorithm deciding on my behalf that I had to love something (though exactly what was, blessedly, left up to me). The other verbs were left un-underlined.
'Love' doesn't sit very comfortably within an intransitive setting. Our language, reflecting our interpretation of the world, prefers that we direct our love onto something or someone, turning it/them into the 'object of our affections', literally objectifying it/them. Intransitive verbs often function as affirmations of selfhood (I exist, I do). Arguably, even negative formulations (I wilt, I die) affirm a sense of the bodied self, as they still anchor themselves without need of another. They still, in short, make sense. But when I say "I love" without telling you what or whom, it makes you a little uncomfortable. It feels unmoored. Google Docs, reflecting our interpretation of the world, gets anxious when I love out into an open and abstract space (though it also shies away from suggesting that I love you, or any other person, hedging its bets with 'it'). Perhaps we, and therefore our language, feel my objectless declaration of love to be unnerving because I'm exposing myself, I'm vulnerable. The squiggly blue line tries to protect me by nudging me back towards the safety of sense.
But 'to love' as an intransitive does make perfect sense, as we can see in recognisable phrases like, "Better to love and lose than never to love at all," and "In this house, we're happy because we live, laugh, and love". No squiggly lines here, no matter how much we might like one to warn us against using empty clichés.
Rilke's conception of intransitive love is no cliché, however. In fact, it's maybe the best argument for the usefulness of God that I've yet encountered (Vilain, after all, does call it a 'doctrine'). For Rilke, being the object of someone else's love is a destruction of the self, but the act of loving is fulfilling, even self-actualising. "Being loved means to be consumed by fire. Loving is to shine brightly with inexhaustible oil", he writes at the end of The Notebooks of Malte Laurids Brigge (1910). "Being loved is dying; loving is lasting".
In Rilke's conception, God manifests as someone towards which to direct our love, but then recedes into an absence, meaning our love never tarnishes any 'object' with its destructive fire. And never, crucially, is it reflected back to us. We can love intransitively. God is "this superior beloved who calmly defers his own desire in order to allow us, slow as we are, to achieve our own fullness of heart".
Intransitive love, then, is love for love's sake. I find it strange that Google Docs seeks to correct expressions of this kind of love, given that we're very accustomed by now to the idea of algorithms aiding and abetting the manufacture of hate for hate's sake. The Scottish MP, Mhairi Black, recently spoke in the House of Commons, with great eloquence and calm force, about how such hate is manufactured then directed at targets (in this case the trans community) as a far-right recruitment tool. She highlighted how anger and hate generated by the use of bots or false accounts on twitter and facebook is a powerful device for fascist political organisations, such as the current manifestation of the UK Conservative Party, whose entire political standpoint is built from fear of change, and whose entire economic model relies on precarity, austerity, and exploitation. Stoke fear among ordinary people, and they're far more likely to sympathise with a political ideology based upon hate.
Transphobia is a very real and very terrifying scourge, and it has found a new voice on social media in recent weeks. But Mhairi Black rightly pointed out that, in these most recent cases, trans people were almost arbitrarily 'selected' as the target of manufactured hate by parties with a vested interest in divisive discourse. "As with all far-right tactics, a minority has been targeted, and hatred and distrust are stoked against them by preying upon people's fears. In this instance by projecting a manipulative and false narrative that there is a conflict between trans rights and women's rights. When the truth is, we are battling the same problems and the same patriarchal beast," said Black, citing a 2017 right-wing fundamentalist rally during which "transphobia was openly discussed as a tactic to be deployed".
To fundamentalists like this, it doesn't particularly matter who is the target of such hate. What matters for the political organisations behind this type of radicalisation is simply that people hate. Intransitively. Twitter bots or ghost accounts sow a seed of hatred by making divisive troll comments, people are whipped into an oppositional whirlwind of hate-commenting, the thread becomes so active that it is given preferential treatment by twitter's algorithms, which favour 'engagement', and appears on more and more feeds. The more people engage, the more people see the thread, the more people engage. The accounts who start and stoke the fire, like Rilke's God, recede, becoming an absence, the direction of peoples' hate but no longer its object. The hate becomes objectless. I hate.
But 'I hate' is just as unstable a formulation as 'I love'. Moreso, in fact. It wants to connect to something. And so it's easy to manipulate. Objectless hatred's thirst needs slaking. And many profit- and/or power-driven entities are all too happy to oblige. We should know this by now. People spouting transphobic and xenophobic hatred in 2021, such as the new social-media hate movement calling itself 'Gender Critical', should recognise that they've had their inherent fear of The Other manipulated and directed at non-threatening targets for political gain, just as we're kept in a constant state of precarity and want so that we keep buying and consuming. Art like Imhof's can remind us to take stock of something like anger and make sure we're not misled by it. The whipping figure in ONE acts in slow motion, the film's playback slowed down so that the gesture seems controlled, almost crafted. We can learn something from this.
Imhof's film both enacts and reclaims a directionless, futile act of anger for anger's sake. It also, because of its operation as a curiously moving piece of art, its function as a symbol, creates a resonance, a new frequency that affects a viewer and in this sense 'endures'. Futile in many ways, whipping the sea in a certain context is a powerful act, reminding us to regain control over our own expressive gestures and disallow their co-option by bots, Borises, and bullish capital. It reminds us that our greatest passions sing themselves out into vast spaces, intransitively, and in this sense define who we are. Will you allow your greatest expressions of passion to be hateful, or full of love?
Imhof's film, ONE, adapts images from an earlier piece called SEX. As a final thought in this section, it shouldn't go unacknowledged that the act of whipping is sexy as hell, and that the half-nude figure in a fiery sunset is erotic, intoxicating. The film takes place at a permeable boundary between hate and love, violence and sex, to pose the problem of passion. What do we do with our strongest emotional urges? What happens when the boundaries of our Selves meet the boundaries of some Other? What goes on at our shores? It can be fruitful or futile, fecund or frightening. It's time we thought about it.

Concluding: Borders
Climate change is inherently related to borders. Whip them all we want, the oceans are rising. This will change the edges of our nations and therefore literally reshape national identities. Rising sea levels and uninhabitable temperatures near the equator will also, of course, mean millions more climate refugees crossing borders and oceans seeking safety. This will be the definitive crisis of our species. If some form of consciousness survives in some form of future, it will judge humanity on how we treated those desperate among our own at such a time.
It's often being pointed out that our current moment of crisis – impending climate change and the coronavirus pandemic, likely the first of many pandemics related to consumer capitalism and a changing climate – has unfortunately coincided with curiously incompetent and/or malicious governments – Trump, Johnson, Bolsonaro. This is in fact probably no coincidence. There's a general and growing awareness that an existential threat is upon us, and a politics of fear and division, a politics, in fact, of senselessness, begins to appeal.
In a time of existential threat, people can easily be encouraged to fall back on certain locales of selfhood, a common one being the nation state. Borders harden and people retreat within them. 'Existential threat' is also a key phrase in terms of nuclear defence. Many countries with nuclear capability see an "existential threat to the Nation" as the only justifiable circumstance in which these weapons might be launched. It can only be imagined that the millions of displaced people seeking a new Nation, and the other effects of advancing climate change, will accelerate whatever process moves these powers to consider themselves existentially threatened.
In both cases, it's the arbitrary upholding of borders which causes the escalating tension. Instead of hardening borders and re-emphasising the lines which divide nations, we should be relaxing our definition of the nation state, welcoming people across borders, and rethinking our contemporary 'existential threats' as being posed to humanity as a whole, not certain arbitrary groupings of humans under national identities.
In the face of bureaucracy and politics, those coggy machines, universal truths often sound glib. But they should still have a place in the conversation. True, glib statements like "migrants should be welcomed and protected" and "nuclear weapons should not be launched" and the demand for "no borders, no nations" deserve to be heard, now more than ever. Increasingly it's the job of art to make these statements.
The second part of Anne Imhof's film shows the same figure (the artist Eliza Douglas) holding bunches of burning roses. This is a true, glib, symbol. An image so stark it's almost clichéd, for which it makes no apology. It's moving and immoderate and immediate. Light flashes on and off as though someone is continually flicking a switch. Douglas revolves with the flowers in hand. The flames shine equally brightly in the darkness and the light, the only constant in the visual landscape, though of course themselves always leaping, flickering. To borrow Rilke's phrase, they seem to "shine brightly with inexhaustible oil". Like the vast openness of saying "I love", the fire endures across the boundary between dark and light. As we watch, someone sings Brecht's poem, on which it makes sense to end:
In dark times, will there still be singing?
Yes, there will be singing about the dark times.
___ Notes___
Supported by TREBUCHET, Anne Imhof's ONE has been commissioned by CIRCA, a new public art platform in London that pause the adverts on the Piccadilly Lights screen every evening at 20:21 BST and public screens in Seoul and Tokyo with new artist commissions, whilst raising money in support of art and culture through the #CIRCAECONOMY.
ONE is part of the group exhibition 'London Zeitgeist' curated by Sir Norman Rosenthal, and is screened alongside new work by artists Alvaro Barrington, Matt Copson, Larry Achiampong and artist duo Hannah Quinlan and Rosie Hastings. The exhibition runs everyday from 1st – 31st July, 2021, on the Piccadilly Lights screen in London, Yunika Vision screen in Tokyo, and Coex K-POP Square screen in Seoul.
A series of four signed, limited edition prints by Alvaro Barrington, Matt Copson, Larry Achiampong and Hannah Quinlan & Rosie Hastings are available to purchase for £100 on the CIRCA website until 31st July. Created in support of the #CIRCAECONOMY, 70% of the profits are circulated back into helping artistic communities and cultural industries.
Main image: Anne Imhof, One, 2021. Photo credit: Joseph Beeching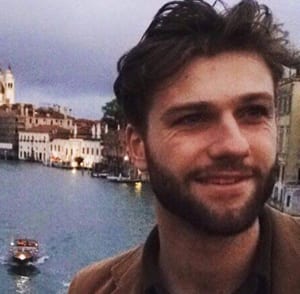 Adam Heardman is a poet and art-writer from Newcastle upon Tyne. His poems have appeared in PN Review, Belleville Park Pages, and elsewhere. They have also been exhibited at BALTIC Centre for Contemporary Art and at Berwick Visual Arts, and were awarded a Truman Capote Fellowship in the US. He currently works from Clapton Pond.