You Are Here by Wangari Mathenge explores the diasporic experience of home, drawing on the artist's early memories and personal observations.
This latest body of work originated from stills from an animation work entitled The Ascendants, which is part of an ongoing series of the same name addressing relocation and acculturation in relation to diasporic communities.
"I have an ongoing series – The Expats – that was inspired by a conversation with a friend in which we made the realisation that two seemingly interchangeable words, expatriate and immigrant, were typically reserved as racial and wealth status or class signifiers," Mathenge told Trebuchet. "While expats come from varied racial and socio-economic backgrounds the descriptor has been typically applied to the white western migrant. The series contemplates my family as expats in 1970s London where my father relocated the family while he was attached to the Commonwealth Secretariat. Considering my early beginnings in the diaspora and my later relocation to the United States for school made me think about how migrants strive to acclimatise to life abroad while retaining vestiges of their homeland. It was this idea of homemaking away from home that directed my investigation into diasporic material culture and its celebration in the living space. At its essence, this is what my latest body of work – The Ascendants – explores."
Large-scale paintings present intimate snapshots of figures in domestic spaces, surrounded by everyday objects that act as markers of time, location, and culture. Significantly, Mathenge's women reclaim the domestic sphere – traditionally a space for labour – as a place of sanctuary and learning. Her figures are depicted in poses of relaxation or contemplation, sprawled across the sofa lost in thought and often surrounded by books, signifying knowledge and intellectual curiosity.
The exhibition also includes Mathenge's first immersive installation, comprising a life-sized family living space complete with wallpaper, furniture and a retro television set playing the artist's animation on a seven-minute loop.
"The installation is […] a fictional rendition of a room in my family's 1970s London home. It will include objects that stay true to those owned and displayed in my family's home," she commented. "In the simplest terms, the installation depicts the past while the paintings depict the present. The installation allows the audience to step into a room in the reimagined diasporic home, while the paintings, a two dimensional presentation, afford a distanced observation of a similar space albeit of a different era. Thus, each lends a contemplation of space in dissimilar yet complimentary manner."
"Wangari Mathenge: You Are Here" runs from 12 October to 13 November at Pippy Houldsworth Gallery, 6 Heddon Street, London, W1B 4BT. For more information, visit: houldsworth.co.uk
Featured Image: The Ascendants XIV (TBT), 2021, oil on canvas,193 x 160 cm. Courtesy the artist and Pippy Houldsworth Gallery, London. Photo by Brian Griffin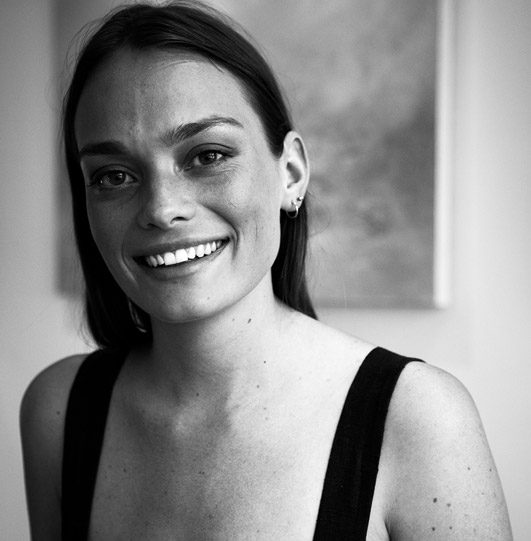 Millie Walton is a London-based art writer and editor. She has contributed a broad range of arts and culture features and interviews to numerous international publications, and collaborated with artists and galleries globally. She also writes fiction and poetry.