[dropcap style="font-size:100px; color:#992211;"]I[/dropcap]n between huge support slots with The Who at Wembley Arena and the Rolling Stones in Hyde Park as well as an appearance at Glastonbury Festival, American retro blues rock band Vintage Trouble played a small acoustic gig at the St Pancras Renaissance hotel in aid of the Teenage Cancer Trust.
Of course, with an intimate charity gig in such lavish surroundings there is the risk that the audience will consist of industry and corporate types with more interest in backslapping than in the music.  Thankfully however, those squeezed into the hotel bar included a healthy contingency of "Troublemakers" – the band's loyal fan base.
Vintage Trouble are on their way to great things and they know it. 
Slickly dressed in tailored waist coated suits, they have the stage presence to match their ever-increasing profile.
Vocalist Ty Taylor has a truly outstanding voice from a bygone era that simply has to be heard live. Recordings and youtube footage doesn't even begin to do him justice.  With ease he switches from soulful notes to high shrieks, combining tone and depth with dancability.  Reports that he may be a modern day James Brown are not exaggerated.
With vocals this memorable, there could be a temptation to overlook the rest of the band.  However, they played their part in getting the party going with a solid and swinging performance and the songs lost none of their potency despite the acoustic setting.  At times I would have liked the guitar to have had slightly more slide, but this is a minor gripe.
The first song had barely started when the crowd put their hands in the air and started clapping along.  It didn't take long before the dancing started, with the audience becoming more excitable with every number.
In a touching moment during 'Nancy Lee' (a song about his mother),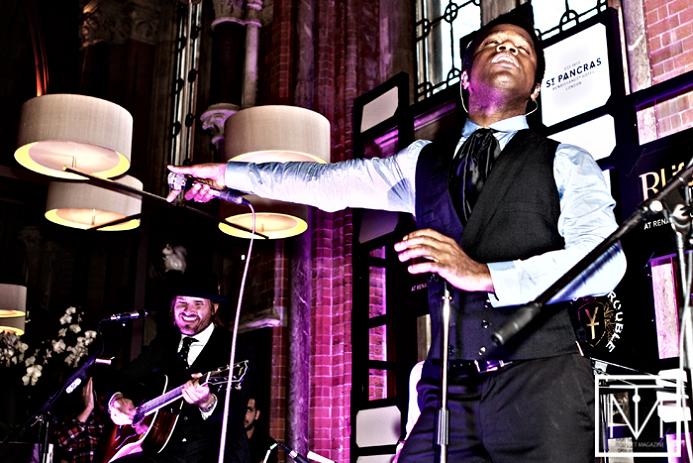 Ty left the stage and ventured into the crowd to have a dance with his sister, further delighting the fans.
As the first set ended with 'Pelvis Pusher', those at the front were moving and grooving as if they were dance-off competitors in Hairspray, while even those crammed into the back of the hotel bar were tapping their toes and singing along.
The gig may have been billed as low-key but it was actually nothing of the sort.  During the second of the two sets they played, Paloma Faith joined them, standing on a bar table with Ty to perform a close-up and passionate cover of Etta James's 'I'd Rather Go Blind'.
Chatting with the Troublemakers and new converts alike between sets, Vintage Trouble are a band who have gained in confidence and professionalism but lost none of their approachability or inclusiveness. And therein lies their strength.  They have the ability to get everyone on their feet and to take the party wherever they go, like a bunch of sharp suited, feel-good pied pipers.
And those parties are only going to get bigger and bigger.
Photos: Carl Byron Batson.  Live review St Pancras Hotel, London 9/7/2013