[dropcap style="font-size:100px; color:#992211;"]T[/dropcap]rappings, Friezes and Being Female.
Gold brocade, dollhouse domestic scenes and reworked portrayals of 70s vogue models seem potentially trite choices for an International Women's Day group show. If, as the Crossroads pamphlet purports, this is supposed to reflect "the different perspective of six female artists at work today" why does it seem so hegemonically stereotypical? Where are the riot grrrls amongst the polite pretty things? Where is the rebellion amongst the petit matriarchs?
Walking into the Hyatt Churchill rooms, the dressed up well-to-do, fine champagne and delicious canapés created a distinct air of consumption. Catching sight of Kleio Gizeli's miniature maquettes a sympathetic chord was struck, a week after Miranda Donovan's The Home Unleashed show at the Lazarides Gallery it seems that both artists are taking elements of installation and making them packagable. Scale in both cases works to bring the viewer into complete worlds, unobstructed by participation. Complete, empty and spatially distant, unlike installation.
When presented with miniatures (as opposed to sculpture) the intention behind scale has always pestered this reviewer; why this size? Why this perspective? Why do we have to look from this angle and how does that inform the composition? Gizeli's work conjures the macabre worlds of early David Lynch and the Cremaster Cycle by Matthew Barley.  Decapitated manikins, flickering television sets, and the suggestion of dial tone all convey a suburban emptiness. The miniature rooms are detailed as decaying relics of the 70s housing boom but outside of an eeriness, the absence of statement becomes an acceptance of fate. In short, we are presented with frozen moments of inaction.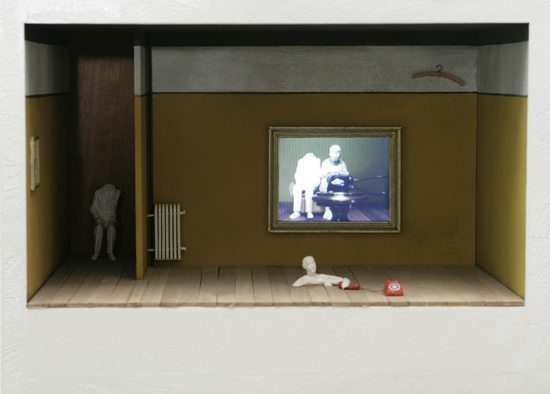 In You Have Dialled an Incorrect Number we're given a title that suggests an ordinary event where: someone talks to someone they don't know; a situation where a recorded voice suggests the person you're trying to reach has moved, is dead, gave you false information or that simply you've dialled an Incorrect number. We're told 'the narrative seems to have paused in a single moment and the one which follows may contain any number of possibilities' however these all seem either singularly dull or unsupported by the work itself. I.e. Picasso dressed as Mary Poppins hangs up the telephone in order to resume teaching Karl Marx to sing while an elephant does differential equations on a banjo seems unlikely.
We may be asked to consider this as the investigation of a domestic fantasy through Art, a dollhouse scene re-imagined and composed in such a way that we are forced to confront our own preconceptions of ordinary life. But since this has been rigorously explored through reality TV, lifestyle magazines and the like, I'm not convinced this work adds anything to the discussion.
In contrast, Rana Begum's abstract sculptures seem striking in their tributes to Modernity. The geometric symbols give rise to a variety of interpretations backed by a vivacious sense of colour that playfully pulls the viewer around the work as different perspectives change the way the pieces appear, the contours changing emphasis with position, and duly affecting the relationship between colour and shape.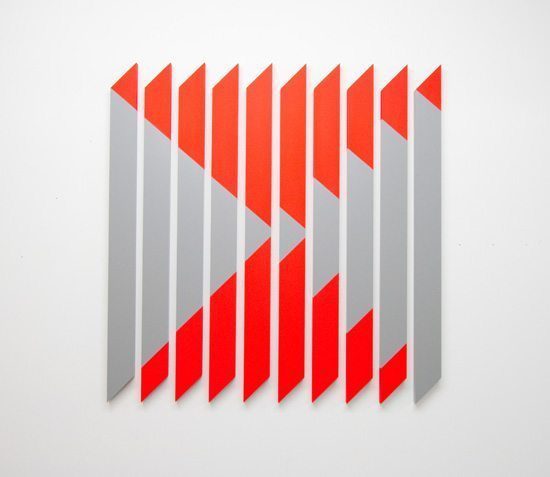 Described elsewhere as 'Visual Puzzles' Begum's work rewards the viewer, creating an instant relationship that promises further delights from lingering contemplation. It's a shame that jostling amongst other people similarly taken by the pieces on show, such contemplation wasn't totally achievable, however this is certainly an artist worth following up.
From the abstract to the figurative, Martha Parsey's work draws heavily from the photographs and imagery from her childhood. The pure faces of the women depicted allude to pinnacles of dramatic feminity, as shown by television programs such as Dynasty and fashion illustration from the 70s and 80s. When asked about why she uses these images Martha replied that she sees these images as being both pure and optimistic, in a sense, simple.
Sentimentality is not usually seen as an attractive feature in art and it's hard to separate the nostalgia from the now in Parsey's work. Where artists such as Stuart Semple tackle sentimentality in a much more forthright manner, Parsey sublimates the past, practically painting the heroine's body into the background while the face emerges stridently to the fore. Looking at Parsey's work at length, a sense of the artist's anger comes into focus, though it is unclear whether the anger is directed at these models of female classicism or at the situation that surrounds them.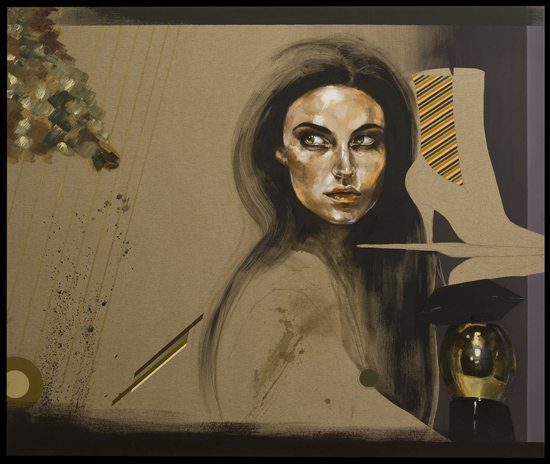 Some of the paintings seem to verge on self portraiture, posing the artist as demure or coquettish, put upon with tinges of defiance. But when questioned Parsey became evasive without denying it outright, her subjects being apparently 'too pretty'.
The titles of the works are once wry and unnerving; Without A Paddle, Teacher's Pet and Taking it Lightly, attending pictures that suggest reflective moments preceding or following violence and it is this frisson that gives Parsey's work life. Over the last three years her skill and confidence as an artist has developed to a great extent, lifting the output from being brash and in some places inattentive, to a level of technical completion, conceptual directness and emotional subtlety that signals further interesting works to come.
Susan Gunn's tiled gold triptych celebrated process over formative content per se. Each of the tiled canvases had been treated so that the gold leaf placed over the top cracked and rippled in unique ways reminding the viewer of dry lake beds and volcanic rock. While eye catching, the work didn't grab me they way the others did. An acclaimed artist Gunn's previous work, particularly the Ground Formation and Divided Ground series, is of a markedly higher calibre both conceptually and visually. It would be cynical to suggest that it was the artist's intention to create a series of gold works in line with the unsatiated tastes of the upper end of art market but in the end I think the Aurum series has a limited appeal on its own merits.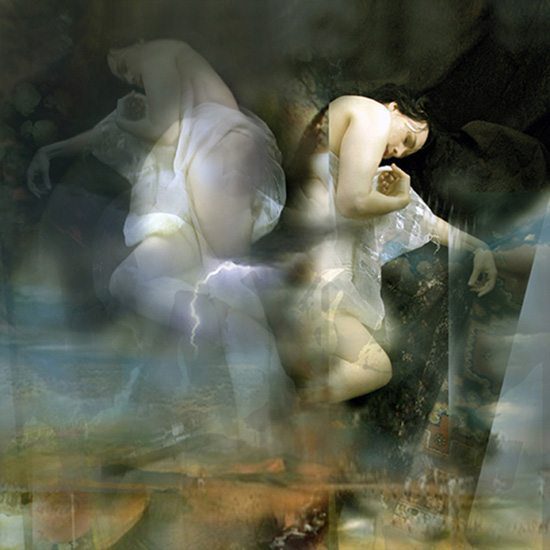 From across the room you'd be mistaken for thinking a Klimt painting had been snuck into the show. But on closer inspection Lisa Holden's digital prints are carefully worked pieces that incorporate a lot of familiar classical elements. Using layered textures she creates a depth and detail that mesmerises the viewer drawing them willingly into lyrical vistas and over the porcelain forms of arranged nudes. Conceptually, Holden draws on classical myths and biblical references, reminiscent of Dave McKean's work with Neil Gaiman (such as Lamia, Lilith, and Danae), to illustrate her narratives on adoption and displacement.  In print she describes the darker overtones and meaning within these classical stories, matched with personal investigations into identity existing amongst forces (ordinary and supernatural) of change. Successfully mixing painting, photography and digital manipulation each piece is at once confusing and contained. Soaking it all in, the viewer gets a sense that the force of Holden's vision in many cases overrides her message, which works to Holden's advantage as it conveys the difficulties within the journeys of her characters.
Carol Robertson is something of a perennial painter in the London art world, long championed by the Flowers Gallery, her work continues to flourish globally in both public and private collections and her inclusion at the show could be seen as something of a coup. Abstract and fascinating, Robertson's work alludes to geometric shapes as archetypes using scale as context.
The pieces shown at the Hyatt were somewhat more discreet than her larger works I've seen previously but still had the same impact, as viewers nestled in to decode meanings from the thoroughly intentioned canvases.  Personally, I prefer the bombast of her other shows but as always Robertson's work satisfies the criteria of Art in a conservative sense while at the same time seeming fresh. Robertson has created her own space within the art world where originality is king and maintains her position with this collection of paintings.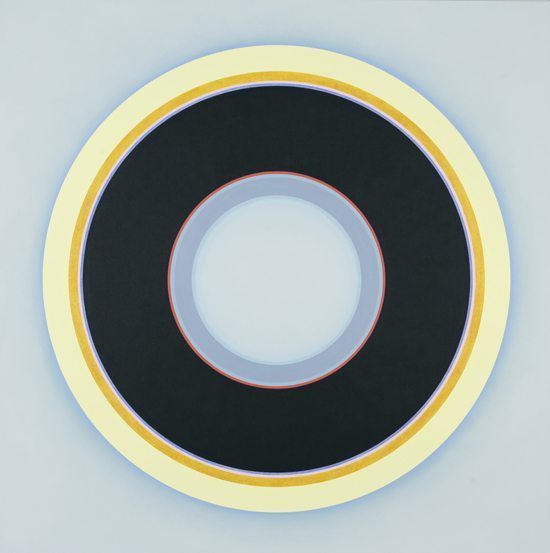 This group show was supported by leading cultural consultancy Candlestar and held at the Marylebone Hyatt (official hotel partner to the Frieze art fair). What the six main artists work say about contemporary female perspectives is reasonably moot as arguably only Lisa Holden and Martha Parsey deal with the relationship of artist as Woman explicitly.
If there is a larger statement to be made on the issue of women in art it is that female contemporary artists do not feel required to imbue all their works with the biological and cultural issues surrounding sex and sexuality. However, by virtue of being women they are occasionally grouped in such as fashion.
One of the leading issues of International Women's Day is the income disparity between men and women in similar positions. Whether this is the case for artists would be difficult to quantify as the sale and valuation of art seems subjective to buyer's tastes and gallery marketing.
Pierre Bourdieu when writing about The Rules of Art pointed to swinging trends in the art market between figurative and abstract work, compelled by the need for artists to be appear to be new against the prevailing trend. If we take the Crossroads exhibition as an example of sanctioned female contemporary art then we see a trend towards art developed from college orientated artists that exhibit clear historical lines backwards from the artist as painter, to the teacher as master technician, to the institution as regulating body.
Accepting that 'what isn't' shown is as important as 'what is' we can note the exclusion of street art, installations, kinetic art, and sound art. From this we can assume that for Candlestar and the Hyatt, art of a traditional pedigree was a) deemed appropriate on this occasion and b) signifies a shift in trend from outsider art (difficult to hang, difficult to sell) back to insider art (easy to hang, easier to sell). This in turn undermines the claim that 'the variety of work attests to the diversity of women practicing with the art world' since the true diversity of talented women in art is underrepresented.
Outside of these considerations, which are really only of issue when you take the hyperbolic press claims at face value, the show is a great success and showcases six talented artists who happen to be women.  Highly recommended.
Crossroads, Hyatt Regency London – The Churchill, March 2011 – June 2011
Kleio Gizeli
Lisa Holden
Martha Parsey
Carol Robertson
Susan Gunn
Rana Begum