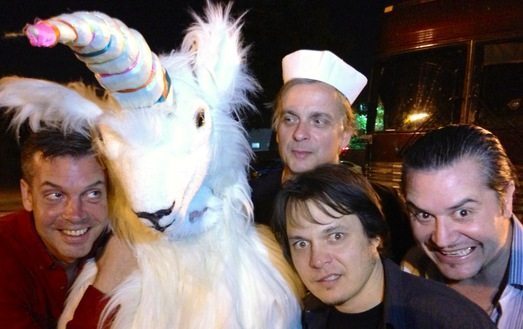 Best song from Patton in ages… Denison as great as ever. Well worth a listen and whew the new album is going to be killer.
---
Tomahawk's video for "Stone Letter" the first single from their forthcoming album Oddfellows, is here!
The clip, directed by Vincent Forcier, was shot during the band's late October tour and features a studio performance from the quartet that includes Duane Denison (Jesus Lizard, Unsemble), Mike Patton (Faith No More, Mondo Cane), John Stanier (Battles, Helmet) and Trevor Dunn (Melvins Lite, Mr. Bungle).
"Stone Letter" was released as a limited edition single for Record Store Day's Black Friday event and is available now as a digital single.
'Oddfellows' Album Pre-order – album released January 28th.
Photo credit: Tim Moss; left to right: John Stanier, Unicorn, Duane Denison, Trevor Dunn, Mike Patton
The aim of art is to represent not the outward appearance of things, but their inward significance. – Aristotle